I've been wanting to try growing Queen Anne's pocket melon (also known as plum granny, vine pomegranate, dudaim melon, apple melon, and vine peach or peach vine) for several years. So when I noticed that Seed Savers Exchange had the seeds for sale, I quickly added them to my spring order. The description there echoed what I had read about this novelty: that "Victorian women carried these in their pockets for the perfume-like qualities." Well, all I can think is that pockets must have been a lot larger back then, because I sure can't imagine carrying around one of these rather soft, tennis-ball-sized melons in my jeans all day.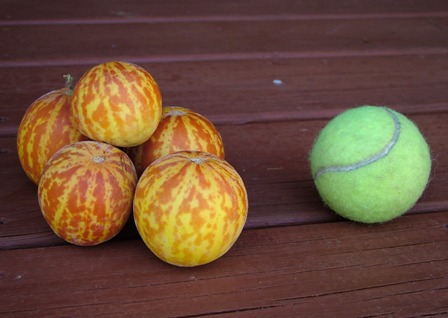 Another claim I've heard is that "just a few fruits can perfume an entire room." Sure, a very tiny room, maybe. But I've had a half-dozen on the kitchen counter for the past week, and apart from the occasional whiff of almost-overripe-cantaloupe, I don't get much from them, scent-wise. They are very pretty to look at, though, with their striped orange-and-yellow skins. The unripe fruits are cute, too: They're deep green with light green markings, rather like tiny watermelons.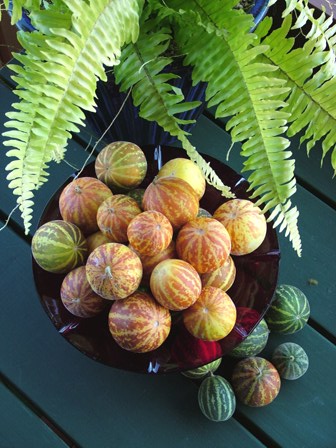 The plants were easy to grow, at least. I sowed three seeds in a 3.5-inch pot in late May, set them out in the garden as a clump in mid-June, and had ripe fruit by early September. The plants grow rather like pumpkins but on a much smaller scale. Reaching about 6 inches tall, the compact leaves and vines of my clump covered a space about 16 feet square and produced several dozen fruits before succumbing to bacterial wilt. With that many pocket melons in one place, I guess I should be grateful that they weren't as powerfully fragrant as they're supposed to be.
Would I grow Queen Anne's pocket melon again? I have a number of seeds left, so I might, just to use them up. I'm glad to have tried them once, and the plants did make an interesting temporary filler, but beyond that, I didn't see much point to them. I wonder if there are other strains that have better scent, or if they're more fragrant if grown in a different climate. I'd be interested in hearing from anyone who has tried them and thought they lived up to the hype!