It is this time of year when hues of brown, yellow and gold begin to overtake the landscape that I am more appreciative of the pockets of color that are still intact in my garden. As the days become shorter, the air crisper and the sky (at least this past week) as blue as it ever has been this entire season, I marvel at vignettes that seem to glisten against the backdrop of nature.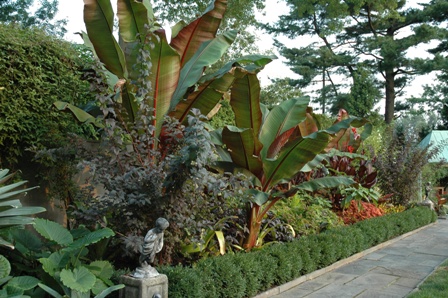 In this first picture, taken at Chanticleer in their formal garden, the rhythm of the bananas planted intermittently and juxtaposed against Physocarpus 'Summer Wine', along with an edging of small boxwoods is a reminder that you don't need to use sharp colors in order to create appealing combinations. Physocarpus 'Summer Wine' is a great deciduous shrub to use with practically any other color. Another plus is that it only grows 4-5 feet and is hardy in USDA Zones 3-8.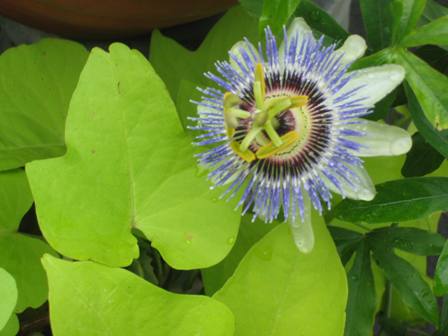 A close up of Passiflora caerulea, the Blue Passion Flower, with its greenish white petals covered with several white, purple and blue rays of the corolla, along with its deeply lobed dark green leaves against the almost heart shaped leaves of the chartreuse sweet potato vine is stunning. I never, ever get tired of this chartreuse sweet potato vine. Somehow it seems to end up draping over the edge of half of my containers. And I frequently use it dotted throughout my beds as a front of the border plant. Anyone else out there who can't get enough of this vine?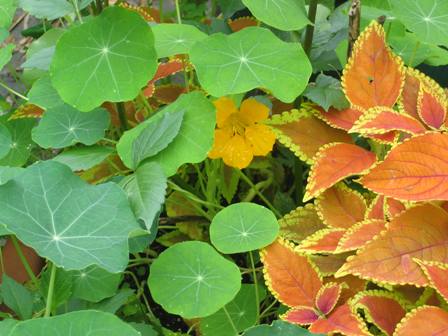 In this picture, I was able to shoot a butterscotch nasturtium and its wonderfully shaped leaves along with a two colored coleus. Again, the shape of the leaves and its bright green color nestled against the ovate shaped leaves of the coleus with its rust colored leaves and its chartreuse frilly border works for me.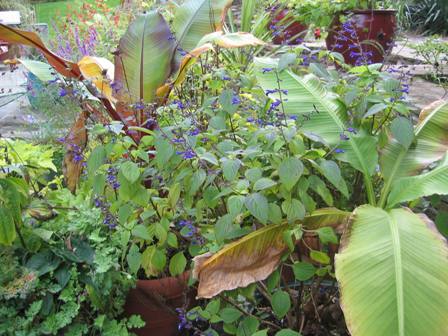 And finally, this photo of my garden taken last fall shows the beauty of the banana plants on their last legs, even with the lower leaves having turned brown, in tandem with Salvia guaranitica 'Black and Blue'. When I first came across this salvia years ago, I fell in love with its cobalt flower with its dark sepal. When I found out that it bloomed from mid-summer through autumn in my USDA Zone 6, I became even more excited. It can be purchased at Logees and Digging Dog.
It is often during these last days of summer that a sweet nostalgia filled with a drawerful of memories overtakes me. During these interludes, I am acutely aware that another gardening season is waning and will soon come to pass.And that today and these coming days are precious ones.