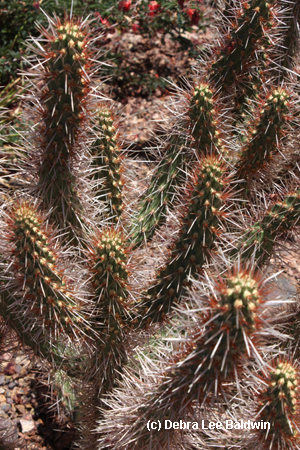 Recently when I addressed the Tucson Cactus & Succulent Society, I made the mistake of saying I don't recommend that anyone grow cholla (pronounced "choy-ah"). I mean, look at it. Could there be a more unfriendly plant? Well, you'd think I'd insulted a favorite son.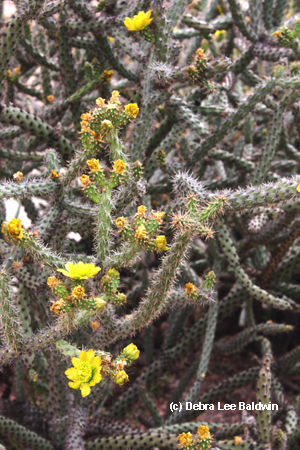 "There are more than a dozen different species," the members told me, each more eager than the next to extol the virtues of this cylindrical-limbed, jointed cactus. "Cholla is beautiful."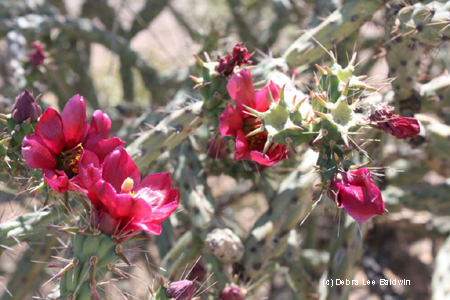 More than one species are commonly referred to as "jumping cholla," from the way branches detach easily—the main way the plant propagates itself. Spines are not something a cowboy wants to pick out of a horse's legs, or a gardener from her arm. "This is my cholla comb," one member of the group told me, pulling a small comb from his shirt pocket. "If I get spines in my clothing or skin, I just comb them out."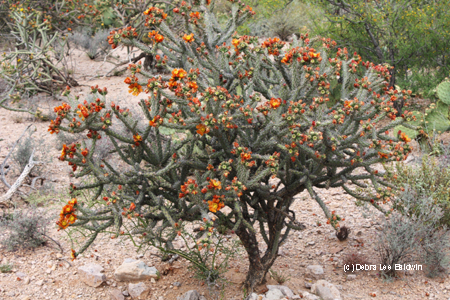 "Cholla is an important part of the desert ecology," another said. "Nesting birds feel safe in it. Snakes, coyotes and other predators can't get them or their young." Intrigued,  I went on a cholla hunt. I found this orange-flowered one at Tohona Chul botanic garden near Tucson. Not bad looking, considering it survives broiling desert heat and temperatures below freezing, with no water for months end.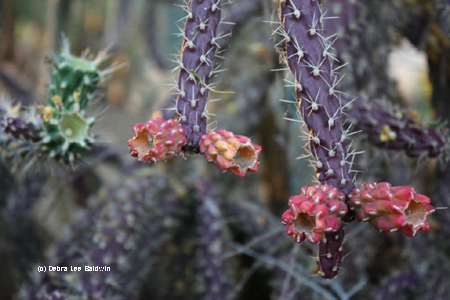 Cholla comes in more colors than I originally assumed—not only its flowers, but even its spines and skin.  Aptly-named Cylindropuntia versicolor is green, rose-red and maroon…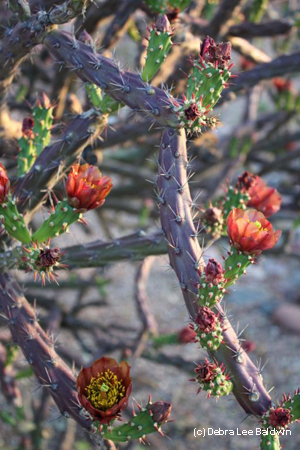 …with lovely rust-red flowers.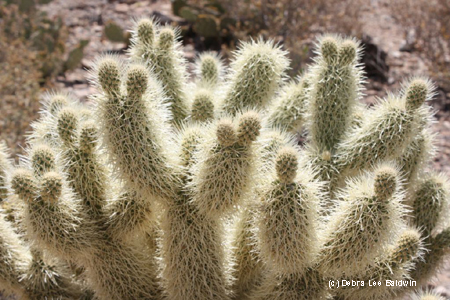 This is Cylindropuntia bigelovii, commonly called teddy bear cholla. Look at how fuzzy it is, and its cute little ears. Like all chollas, it's gorgeous backlit.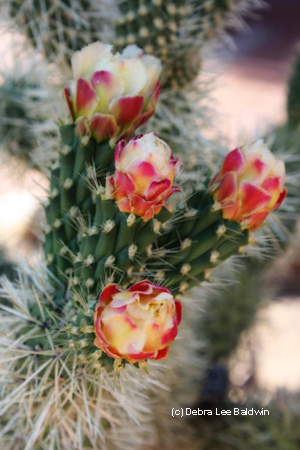 The flower petals of teddy bear cholla are buttery yellow tipped in rose-red.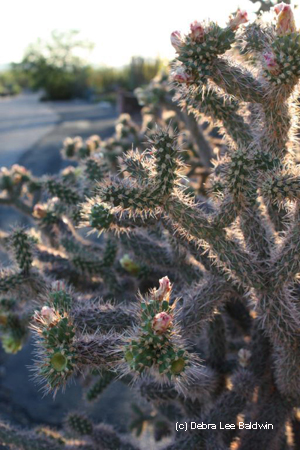 Cylindropuntia spinosoir, illuminated by the late afternoon sun, glows pink.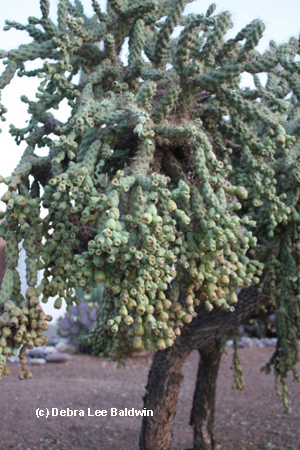 Cylindropuntia fulgida var. mammillata (chain fruit cholla) forms what look like beaded, ropy strands.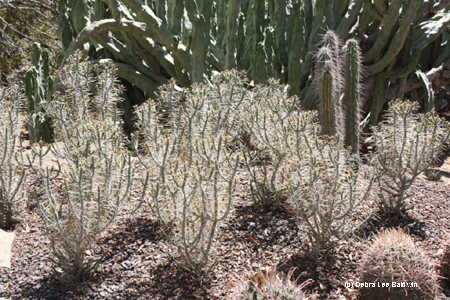 Cylindropuntia ramosissima at the Desert Botanical Garden in Phoenix.  The common name is diamond cholla because its pencil-thin stems lined with toothpick-like white spines appear to glitter.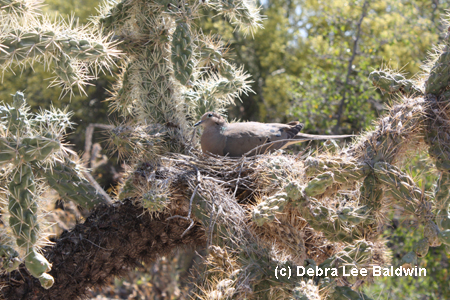 A dove nests in Cylindropuntia fulgida, at the Arizona-Sonora Desert Museum near Tucson.  Birds aren't the only ones to use cholla as a security enhancement; Arizona homeowners sometimes plant it under their bedroom windows.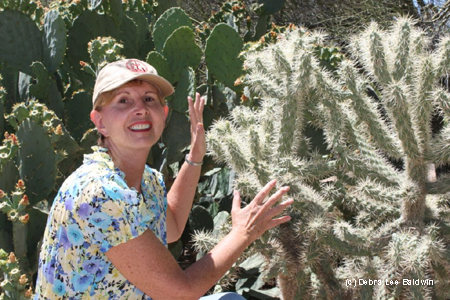 I pretended to hug Cylindropuntia fulgida, then sent this photo to my new friends at the Tucson Cactus & Succulent Society.
Many thanks to Vonn Watkins of the Tucson Cactus & Succulent Society for his help with cholla IDs.
My goal is to share the beauty of waterwise, easy-care succulents in gardens, containers and landscapes via blog posts, newsletters, public speaking and workshops, photos, videos, merchandise, and social media (Facebook and Pinterest). My books: Designing with Succulents, Succulent Container Gardens, and Succulents Simplified.  www.debraleebaldwin.com