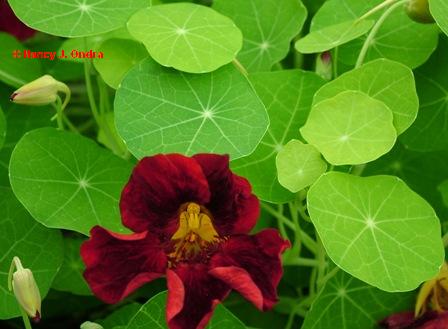 The recent abundance of posts about seed catalogs, along with the overabundance of catalogs in my own mailbox, has gotten me seriously thinking about my own orders for the upcoming season. I love trying new plants each year, of course, but as I'm sure many of you do, I also have some old favorites that I simply must grow each year, either from purchased seed or from seed I saved from last year's plants. I figured I'd share my list of favorites in the hopes of convincing some of you to try them too. A few fall neatly into the "flower" category; the others are technically vegetables but are great as ornamentals, as well. I offer this list of favorites with the disclaimer "as of January 2008," because it's always subject to change.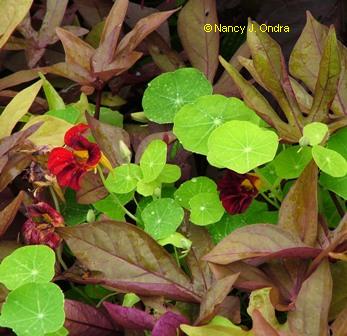 'Tip Top Mahogany' nasturtium (Tropaeolum majus). I've been growing this beauty for probably 15 years now, and I never get tired of it. The deep red flowers are nice, but they don't appear as abundantly as on many other seed strains. That's not a problem for me, though, because I grow 'Tip Top Mahogany' for its chartreuse foliage, not its flowers. The color is most distinct in spring and fall. During the summer, the leaves mature to more of a light green, but the newest leaves are usually still a bright greenish yellow. I've also seen seeds sold simply as 'Mahogany', but the plants I grew from these had ordinary green leaves. The true 'Tip Top Mahogany' isn't widely available, but you can sometimes get it from Territorial Seed Company.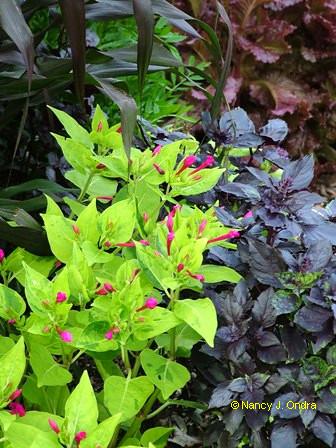 'Limelight' four-o'clock (Mirabilis jalapa). 'Limelight' four-o'clock is another super-easy annual I grow mostly for its foliage. The hot pink flowers are certainly showy, but you mainly see them only in bud, unless they're growing where you wander the garden in the evening (the flowers open in late afternoon). The leaves are usually solid chartreuse, but some seedlings show a mix of green and chartreuse in their leaves. It's a simple matter to collect the large black seeds to keep 'Limelight' going from year to year, or just let them drop as they mature. I usually end up with a few self-sown seedlings each year that way. I like to start a few in pots just in case the volunteers don't show up, but it's also a snap to direct-sow them in late spring to midsummer. You can find this one at Select Seeds.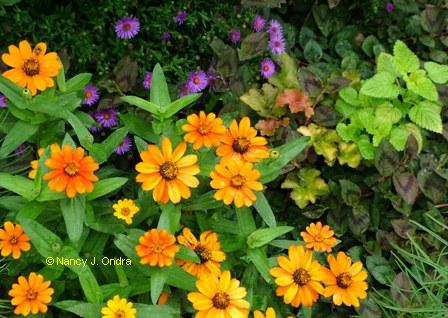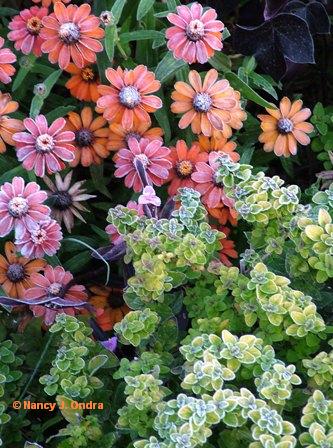 'Profusion Orange' zinnia. This one is hardly uncommon, but it simply can't be beat for rich orange color in its height range (to about 1 foot tall). It pairs perfectly with many other colors, and it blooms freely from early summer to frost; after that, the dead flowers tend to hold their form well for another month or two. I tried 'Profusion Fire' too this year, but Fire's plants were much more open and somewhat sprawly, while Orange's form was much denser and more mounded. For containers or for borders, 'Profusion Orange' is by far the better choice, as far as I'm concerned. You can find seeds or transplants of this one just about anywhere.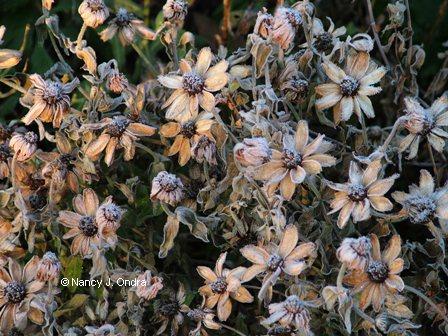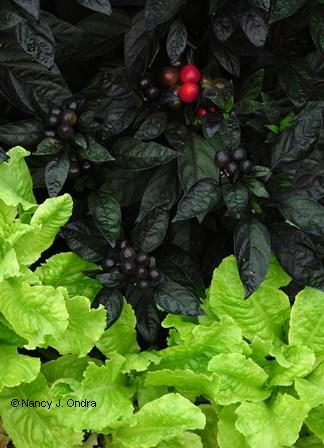 'Black Pearl' pepper (Capsicum annuum). 'Black Pearl' could count as an edible, I suppose, but from what I've heard, the fruits are incredibly hot. I'm not interested in eating them, anyway: I just like looking at them. The glossy, marble-sized fruits are practically black when immature and deep red when ripe; either way, they're a handsome addition to the near-black foliage. Rather than deal with handling the ultra-hot fruits for seed-saving, I wait until spring cleanup to pull out the plants, and in the meantime, the seeds drop on their own. The self-sown seedlings tend to be mostly green at first but quickly darken when they get lots of light. You can find seeds for 'Black Pearl' through several suppliers; I generally get mine through Territorial Seed Company.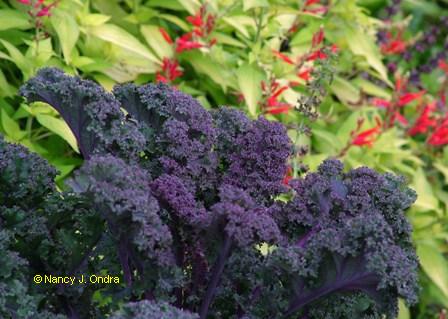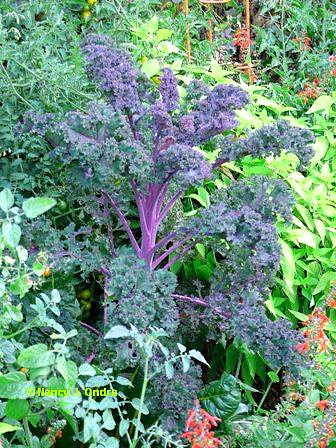 'Redbor' kale. I've written about this kale before, but here it is again, because it truly is one of my favorite ornamentals. I start the seeds indoors in March and usually set out the seedlings in May; at that time, and during the heat of the summer, the leaves are mostly blue-green with pinkish purple leak stalks and main stems. As the weather cools, the foliage turns a rich deep purple color – a perfect complement to the reds and golds of fall. I've never tried eating it, but apparently it's quite edible, too. I usually have lots of problems with cabbage worms on all cabbage-family plants in my garden, but for some reason, they rarely bother this one. A few places sell the seed; I usually buy mine from Territorial Seed Company. (They say 18 to 24 inches for the height, but mine are always at least twice that.)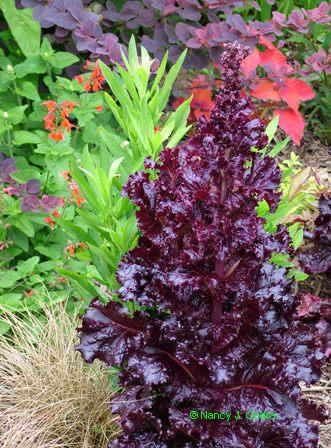 'Merlot' lettuce. I've also written about this lettuce (and others) in a previous post, but 'Merlot' is worthy of frequent mentions. I've tried a lot of red lettuces and always go back to this variety for its rich, deep red leaf color, which combines well with so many other colors of flowers and foliage. Even when it loses the typical loose-head form, the plants still look good. I usually set out indoor-grown seedlings in late April or early May. They start shooting upward in late June and flower around late July; then I pull them out at some point in August. Often, self-sown seedlings appear in September and add color well into November, through several frosts. Can't say that I've ever eaten this one, either; it's simply too pretty to pick. I depend on Territorial Seed Company for my yearly fix of 'Merlot', but several other places now carry it too.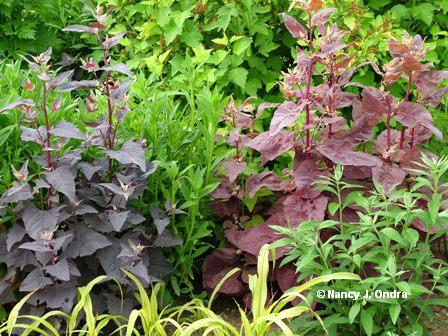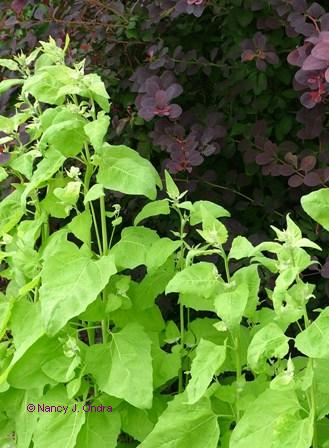 Orach (Atriplex hortensis). I've been growing and enjoying the "ordinary" red orach (A. hortensis var. rubra or 'Rubra'), shown at left above, for many years. As with many other plants on my list of favorites, this one offers very dark foliage. It self-sows generously and starts sprouting early in spring; by July, it's about at its maximum height (usually 4 to 6 feet here). It declines quickly once the seeds form and needs to be pulled out in August, so I try to thin out the seedlings carefully early on to avoid large groups that would then leave large gaps late in the season. A few years ago, I discovered some exciting variations, including yellowish 'Golden' (at right) and the more pinkish purple 'Magenta Magic' (above, at right), thanks to Wild Garden Seeds. Orach is also known as mountain spinach, and reportedly, the taste is "spinach-like."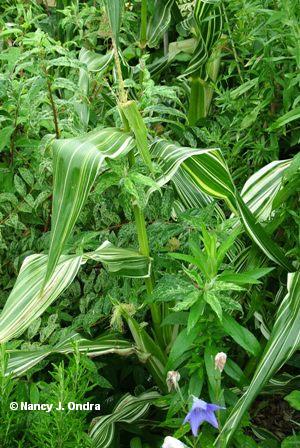 Ornamental corn (Zea mays). Even visitors who normally don't care for variegation often admit to liking the crisp, bright white stripes of variegated corn. You can find seed of the old heirloom type sold as 'Japonica' or 'Quadricolor' (shown below), among other names, and the resulting seedlings usually have some amount of pink along with the green and white on the 6-foot-tall plants, as shown below. (Some sources claim yellow as a fourth stripe color – hence 'Quadricolor' – but that's a bit of wishful thinking, I'd say.) 'Tiger Cub', at left, is a newer introduction; it doesn't have any pink, and the plants are much more compact (just 3 to 4 feet for me). You can start the seeds indoors, but it's just as easy to sow them directly after the last frost date; they sprout quickly in warm soil. The first leaf or two may be plain green, so don't be too quick to pull them out! In seed catalogs, you'll usually find ornamental corns (or ornamental maize) listed with other annuals grasses. Territorial Seed Company is one place that's selling 'Japonica' this year; Park Seed sells 'Tiger Cub'.