As I've often heard it said: 'beauty is in the eye of the beholder'.  My eye has always been and continues to be drawn to dead blooms in the late fall and winter garden as seen below.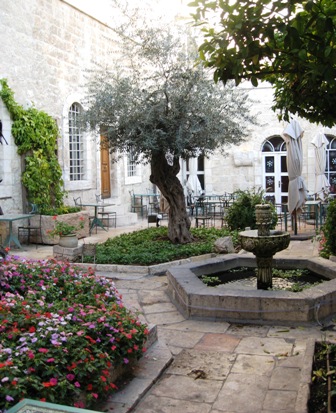 My frequent visits to Israel allow me to semi-legitimately expand my plant palette when writing about 'What's In Bloom'. Without extolling ad nauseum the virtues of Israel's sustainable approach to gardening , I've included some photos recently taken (such as the two above). The American Colony Hotel in East Jerusalem has been a meeting place for international dignitaries over the past century. At right is the courtyard where the olive tree takes center stage.
Lantanas grow prolifically in Israel, usually in the form of very large, wild like bushes. They continue their parade of bloom year round. I love the outlandish, circus like color of this particular one!