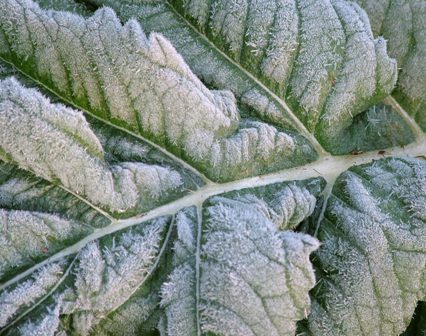 Here in southeastern Pennsylvania, we haven't yet gotten any snow, but we have had a series of sub-freezing nights, and they've brought out some amazing frosts. There's a magic time early in the day, just after the sun comes up but before it completely rises over the trees strong enough to start the melting, when the urge to grab a camera and capture some of the artistry is irresistible. So, if you will, join me on a quick trot around the garden on a recent morning…
Who'd have thought that that the normally-silvery leaves of 'Berggarten' sage (above left) could be any brighter? Apparently it's possible, though, with a touch of frost. The crystalline coating also does wonders in bringing out the crinkly texture of 'Redbor' kale foliage (above right). Below, the blooms of 'Mei-Kyo' somehow escaped the chill that coated the catmint (Nepeta) right next to it.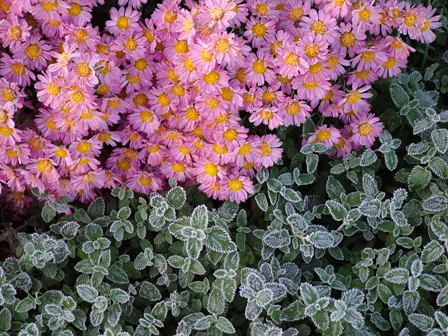 Topped with a touch of frost, the ball-shaped seedheads of Rudbeckia fulgida var. fulgida show off against the bleached stems of seed-grown little bluestem (Schizachyrium scoparium)–below left–and the more russet foliage of the cultivar 'The Blues'–below right.
Below, a coating of frost softens the contrast between a purple-leaved Lysimachia congestiflora and already-silvery 'Big Ears' lamb's ears (Stachys byzantina).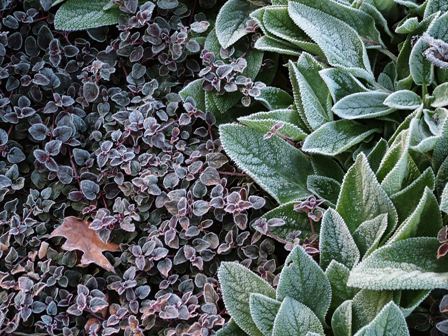 And to finish, a subdued but still colorful combination of an unnamed Japanese maple (Acer palmatum) underplanted with seersucker sedge (Carex plantaginea), and a monochromatic melange of woolly thyme (Thymus pseudolanuginosus), lavender, and a frosty-nosed bunny. Brrr.