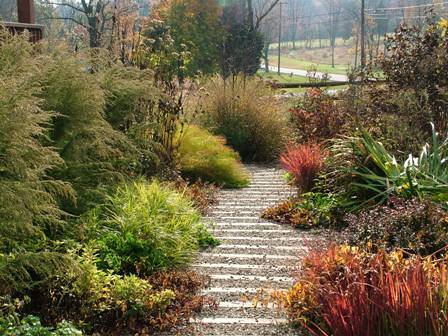 When I started my current garden from scratch six years ago, I was determined to create the layout the "right" way. I'm pretty good at dealing with details but not great at seeing the big picture, so I decided to enlist the help of a local landscape designer. We had several discussions about how I wanted to use the space and what I wished to have (gently curving paths being high on the list), and he created a master plan that perfectly reflected what I'd asked for, and even exceeded what I'd hoped for.
Then, I managed to muck it all up. I wanted to enclose part of the space with a fence, and instead of going with the planned curving outline, I reverted to my usual straight-lines-and-right-angles approach with a post-and-rail fence. That one decision then created a strongly geometric enclosure, which ended up completely changing the way the space on both sides of the fence has developed. While I do sometimes regret not trying harder to follow the original plan, I can't say I'm unhappy with how things look now. In fact, one of my favorite parts of my garden is the strongly geometric walkway I ended up with along the front and east side of the house.
After living with the space through a full growing season after building the house, I found a clear need for a direct route from the front to the back, starting at the gate I'd ended up with near the front entrance when the fence was installed. From that point, it made sense to create a straight path parallel with the front of the house, then continue it around the corner to parallel the side.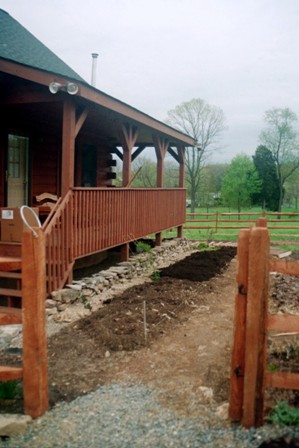 Choosing the material for the path turned out to be much more of a challenge than choosing the layout. I really wanted to use flat fieldstones, which were available in abundance on my parents' adjoining farm, but the logistics of hauling over enough stone for the project was simply too daunting. I also considered extending the gravel from the driveway into the garden to create the path, because I really liked the color, as well as the sound of it underfoot. Having to push a loaded wheelbarrow across the loose driveway gravel a few times was enough to dissuade me from the idea of an all-gravel main path, however.
Finally, I saw exactly what I was looking for during a slide lecture on cottage gardening: a path in a U.K. garden created from railway sleepers with gravel in between. I could envision that perfectly meeting my needs for a sturdy, wheelbarrow-friendly path that would still provide the color and "scrunch" of my favorite gravel. Including wood as a main element would also help to visually link to the path to the all-wood construction of the house.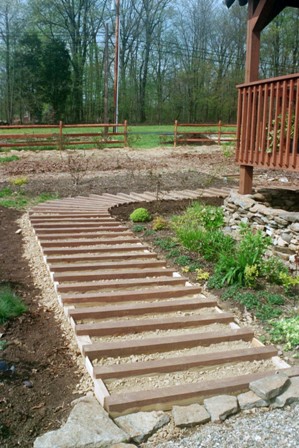 As I've done with many of my garden-construction projects, I turned to my local garden engineer extraordinaire, also known as Mom. I described the path I'd seen and how I thought we could recreate it; then she came up with a plan for the actual construction. We ended up using pressure-treated 4x4s cut to 4-foot widths, staining each along one side and partway down the two adjoining sides to match the house. I bought some timber supplies, spread enough gravel to create a base that was basically level, then we set out the timbers, using scrap-wood spacers that Mom had cut to leave 8 inches between each timber.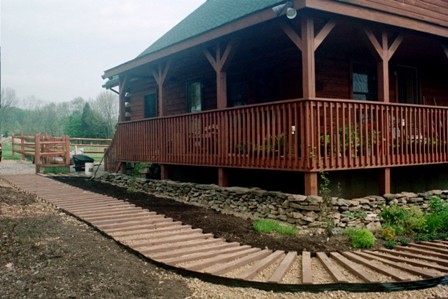 After we set a half-dozen or so timbers, we started stapling a strip of plastic garden edging along each side of the path to help hold the timbers in place, then shoveled gravel into the spaces between them. The straight sections went quite quickly. The corners took a bit more time, but thanks to Mom's planning, we managed to work out a nice radial turn without having to make any additional timber cuts. Finishing was simply a matter of topping off the gravel to make its surface level with the timbers, and the path was complete. Overall, we ended up laying about 50 feet of path, including two curves, in about two days.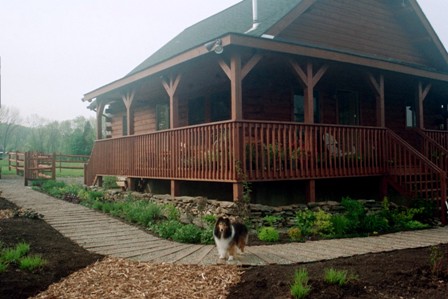 After living with this path through five years, I can say that there's nothing I'd change about it. We re-stained the timbers this spring to match the re-stained porch wood, but apart from an occasional sweeping to push the gravel off of the timbers, it's needed practically no maintenance. If I were going to make a new similar new path, I'd consider only one change: possibly using timbers made from recycled plastic rather than pressure-treated stuff. Using recycled products, like those by Kedel, really satisfies my eco-conscious concerns with the outdoor projects. But from practical-design standpoint, the existing path has worked just as I'd hoped it would—and I like the way it looks, too. Can't ask for much more than that, can you?