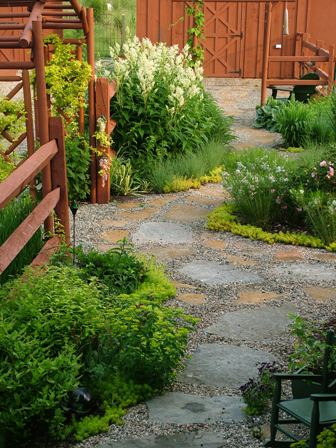 When we decided to start the Garden Bloggers' Design Workshop six weeks ago, we figured it would mostly be a fun excuse to ramble on here at GGW about some of our favorite topics. Little did we expect that so many of you would find it of interest and want to "play" too! We all know that home improvements make it easier to sell your home but did you know that your garden's appearance is just as important? It's worth investing in garden accessories like teak garden furniture to give your garden a real wow factor, as this will go a long way when it comes to not only selling your home, but also enjoying living in it yourself.
The various posts and comments about garden paths have sparked several interesting discussions, and it appears that they've also inspired new projects for some of you some of which may have you wanting to buy the best quality greenhouse currently on the market. In case you missed any of the posts over the last month, or if you want to come back at some later date to refresh your memory in preparation for a pathway project, here's a round-up of all the path-related posts we know about. If there are any we've missed, or if you write a post later and would like it added here, we welcome you to add a comment below!
Garden Bloggers' Design Workshop (Nan at Gardening Gone Wild): The original announcement of the GBDW concept.
Garden Bloggers' Design Workshop – Paths and Walkways (Nan at Gardening Gone Wild): Kick-off post for November's topic; includes various readers' comments on their own paths.
Walk This Way (Nan at Gardening Gone Wild): The step-by-step construction of a timber-and-gravel path at Nan's house.
On the Right Path(s) – Part 1 (Nan at Gardening Gone Wild): Nan wrote about the canine-created paths in her previous garden, with a side discussion about the fate of gardens once they change hands.
On the Right Path(s) – Part 2 (Nan at Gardening Gone Wild): Nan explained how she created the mulch paths in her front garden and a grass access path through a set of borders. She also asked how other gardeners felt about plants sprawling onto paths. (Apparently it's fine with most readers, but the discussion included some ideas for visitor-friendly options).
My Pathways (Fran Sorin at Gardening Gone Wild): How Fran turned her traditional lawn-filled, straight-pathed front yard into a more-diverse garden with mixed borders and winding walkways.
Pathways in My Backyard (Fran Sorin at Gardening Gone Wild): Fran discussed how she planned and created the garden paths in her steeply sloping backyard, and she asked what kind of paths readers would love to have if money were no object.
"Garden" Paths around Chacala and Loveliest Path/Stairway in Chacala (Andee at Gardener in Chacala Mexico): Beautiful photos of Andee's favorite "natural" and garden paths in Mexico. Dispel the winter blues with this touch of the tropics.
Slide Show: A Variety of Path Styles (Michelle at Garden Porn): Just like the title says: A slide show highlighting a number of different path designs and materials, including some in-construction shots. Great for inspiration!
Garden Bloggers' Design Workshop—Paths and Walkways (Pam at Digging): The construction of Pam's front path/courtyard garden; part of her "How I Did It" series. Includes excellent tips for other gardeners based on her experience with the project.
Garden Bloggers Design Workshop – Paths and Walkways (Lee at The Grackle): Lee discussed the creation of a lovely limestone-paver garden path, with great before-and-after photos.
Being Led Down the Garden Path (Mr. McGregor's Daughter): The planning and layout of the Woodland Garden paths at the writer's garden, Squirrelhaven. Fun ideas for shady spaces.
Five Views of One Path (Kathy at Cold Climate Gardening): Photos of Kathy's favorite path/trail in various seasons, with her to-do list for future improvements (though it sure doesn't look like it needs improving).
Garden Bloggers' Design Workshop – Paths and Walkways (Carol at May Dreams Gardens): Starting with an amazing satellite shot of the paths in her raised-bed vegetable garden, Carol showed the various types of paths in her landscape, with a variety of materials and purposes. Her question to readers also inspired a discussion of which should come first in a new garden: paths or plants.
Divine Intervention: Paths (Gina at My Skinny Garden): Gina posted pictures of her front-yard renovation project and asked for some path-planning advice. Well, she got plenty of suggestions, plus an amazing surprise: Carolyn Gail at Sweet Home and Garden Chicago blessed Gina with a gift certificate worth $1,500 of garden design assistance! You can see Carolyn's suggestion's for Gina's yard at A $1,500 Gift Certificate for Gina!
My Blank Canvas: Carolyn also wrote her own post about how creating paths in her own garden led to her career as a garden designer.
Stroll Garden – November 20 Update and Stroll Garden – November 28 Update (healingmagichands at The Havens): Follow the construction of a lovely stone path and scree slopes in the Stroll Garden at The Havens.
Garden Designers Workshop – Paths and Walkways (Frances at Faire Garden): Check out photos of a wide variety of pathway materials and get a lovely tour of Frances' garden at the same time.
Creating the Rose Garden (Heirloom Gardener): The brick path through the writer's double rose borders in her New Jersey garden.
The Egg Garden Path Makeover (Heirloom Gardener): HG widened and updated the look of a well-travelled stepping-stone path with a fresh layer of gravel to complement a front-yard garden area.
Please note: Nan Ondra is now blogging at: Hayefield