Rothschild Boulevard is one of the busiest, most central and expensive streets in  Tel Aviv. It represents a thriving, major hub of the best of Tel Aviv.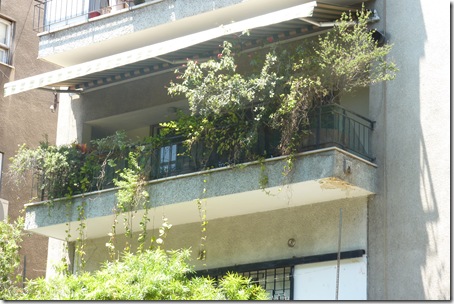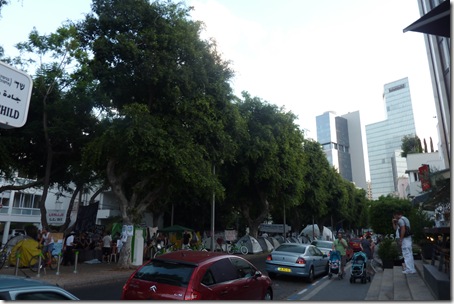 It's a community of sorts, an allee with grassed strips on either side of the walkways. The stateliness and beauty of this boulevard is due in large part to the dozens of several decades old ficus trees that line the central strip. They offer a canopy of shade… a respite surrounded by urban beauty.
Teenagers, elderly folks, and parents out with their toddlers and babies, converge here. At cross streets, kiosks with seating areas are filled with people enjoying the scene, eating some food, and hanging out with friends.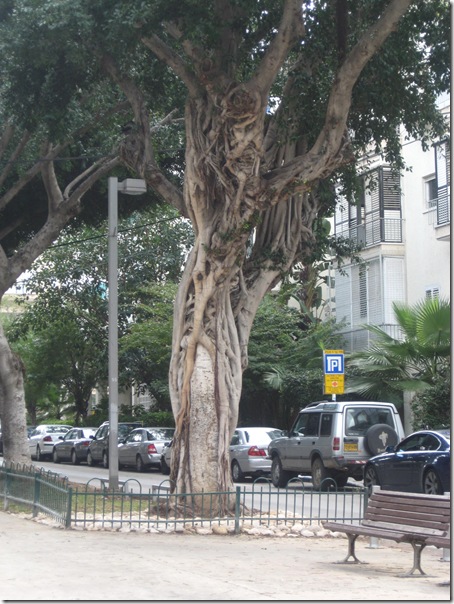 It was only a month ago that a protest about the cost of living in Tel Aviv began; started by one young woman on Facebook. Within a matter of a week, hundreds of people pitched tents in the city in order to make a statement.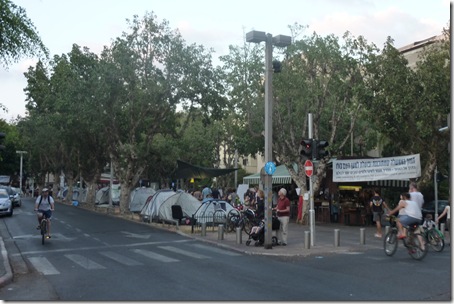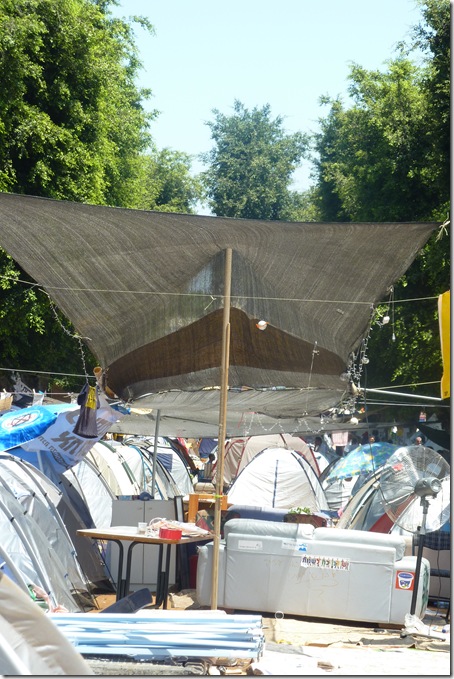 It's by no accident that the epicenter of what has turned into the largest social action protest that Israel has ever experienced is taking place on Rothschild Blvd (and has now spread to other tree lined streets in Tel Aviv and throughout the country.)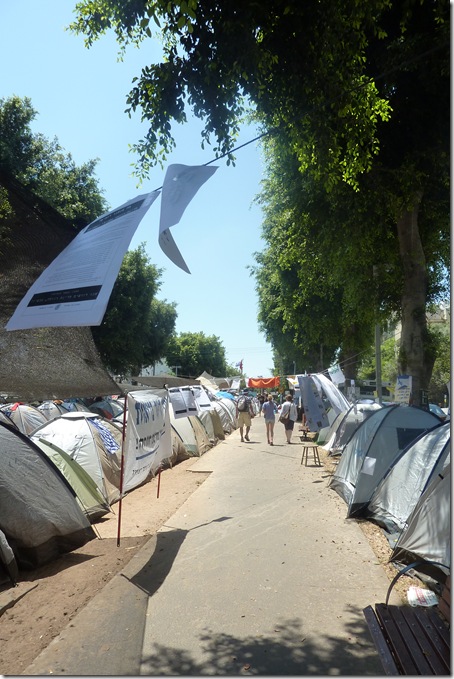 The entire boulevard is lined with 2 rows of tents in the center strip and the 2 side strips that plank the walkways. Hundreds of tents have cropped up. What has become known as Tent City has now spread to other major tree lined streets in the city. People have brought furniture, refrigerators, beds; many are actually living full time in their tents. It is reminiscent of Woodstock, kids playing their guitars and singing, signs posted all over, ad hoc kitchens set up with the food donated by the community, and of course, organizers keeping this informal revolution moving forward….twittering, facebooking and organizing…so much so that less than 2 weeks ago, 250,000 people peacefully congregated on Rothschild Blvd. and proceeded to march throughout the city, culminating with a rally in the main square of Tel Aviv, Rabin Square.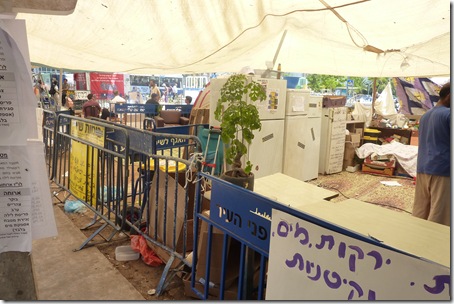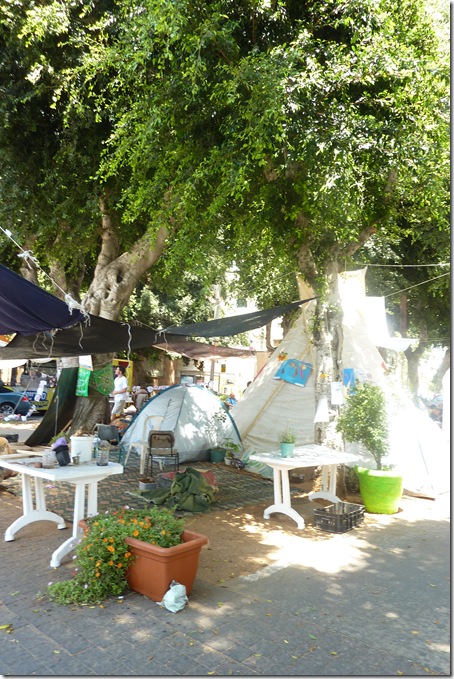 Over the past decade, the public has been made aware of the environmental benefits of trees. But the health benefits of trees, both mentally and physically, have been less talked about.
Here's a laundry list of some of their benefits:
Trees make communities livable for people and their activities.
People exercise more…. jogging, walking, and bicycling.
Children and adults have a cool place to sit, relax, play, and hang out. They spend more time outside.
All of these activities increase the interactions with others and facilitate in creating a sense of community.
As reported in  Keep Indianapolis Beautiful…
"Trees Reduce Crime, Increase Public Safety and Build Community
•  A University of Illinois study finds that trees in urban areas are directly
correlated with lower levels of fear, fewer incivilities, and less violent and
aggressive behavior.
•  In an inner-city neighborhood, the greener the residence, the lower the crime
rate.  Residents reported fewer violent crimes and property crimes in green
neighborhoods as compared to those that were barren.
•  Researchers found fewer reports of physical violence in homes that had trees
outside the buildings. Of the residents interviewed, 14% of residents living in
barren conditions have threatened to use a knife or gun against their children
versus 3% for the residents living in green conditions."
To read about THE HEALING POWER OF TREES in the same article and more, click on here.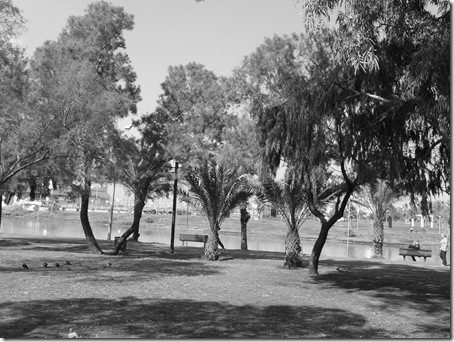 Directly across the street from Rothschild 2 new 'cultural' buildings. They are monoliths; cold, impersonal, and glitzy. I don't know how much they cost. But to put it in perspective, Tel Aviv could have become 'a city in a garden' had this money been allocated to greening, creating public parks, and 'horticulturizing' the city. If Howard Roark, the protagonist in Ayn Rand's famous book, The Fountainhead, was alive today, he would be livid.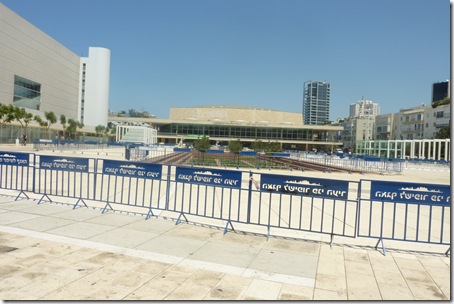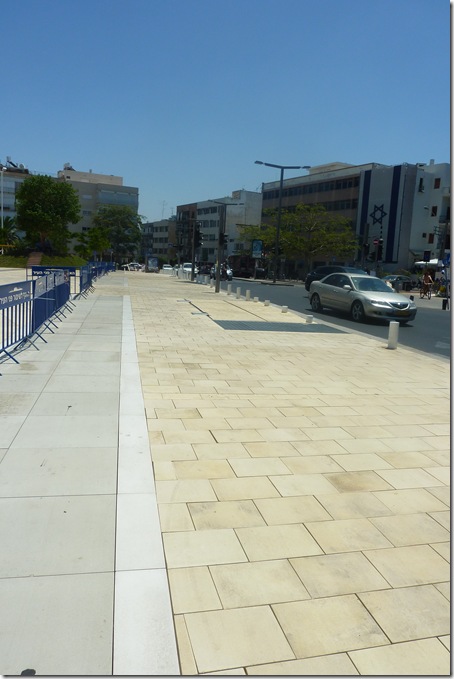 One of the first things I noticed when I got to Rothschild and saw these massive structures across the street was not only the bareness of them but the emptiness. Not one person had sauntered over, not even the tourists who had come to check out the scene. The only folks on that side of the street are the international and local press who are following a story that won't disappear.
The real culture though, the culture of the heart and citizens, and what has now being called a revolution, is taking place under the canopies of trees. So thank you trees for this extraordinary community….and revolution… that you've helped to create.