Launching the world's first gardening soap opera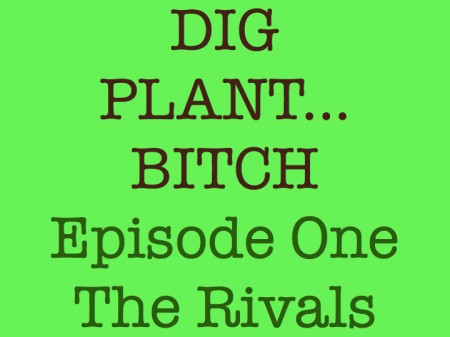 Meet Petunia Martin, creator of Avalon Gardens and her neighbours Archibald and Rose Watkins-Smythe up at the historic garden of Mere Castle. Meet their respective gardeners: Bonzo the ex-heavy metal roadie and born-again Johnny Dalton, a local nurseryman or two and a cast of other colourful characters such as the village herbal healer Catkin Moonspirit and imperious garden school guru Marguerite O'Halloran.
A story of gardening rivalry, a comedy of manners on the age-old theme of old money versus new money, and a source of horticultural information, Dig, Plant and Bitch is a soap opera style story which will unfold through a series of episodes available on Amazon for Kindle, iPad and smartphone reading. It will be funny, planty and sometimes a little naughty.
**********
"Do you realise that when you give someone a bunch of flowers, you are giving them a bunch of sex-organs" bellowed Wayne Martin after James Treasby as he stepped outside with Wayne's wife Petunia. "Ignore him" said Petunia, "he always makes that joke to everyone who comes round to see the garden, even the old ladies." "I can see the garden isn't quite his thing" replied James. "That's right" explained Petunia, "although he's very proud of what I've done, and as we get nearer to opening it properly, I mean for ourselves, not just for charity, he's getting kind of interested." "Ah" said James, "he sees the business potential." "Absolutely' replied Petunia as she stopped, to breathe in chill autumn air – it felt like the first cold day of that year's season of decline and mellow fruitfulness.
 Petunia had taken a few steps out of the house, towards the top of a gentle slope, where she could look down over the garden she had begun to create ten years ago. She had known next to nothing about gardening when she and Wayne arrived here, both taking a distinctly early retirement. Now, here at the place they had called Avalon Gardens, there were sweeping rivers of grass, broad borders of perennials, and young trees just about big enough to give a first hint of their future prime. Everything looked established enough so that those who knew as little about gardening as Petunia did when she came, would turn to her and say "what, only ten years, it looks like its always been here." That always gave her a warm glow of satifaction.
 James stood, somewhat nervously, a few steps away from her. He generally carried about him an air of brusque and superior confidence, but he found it difficult to keep it up when he went on a 'by appointment' garden visit like this. Owners of large gardens, usually people of wealth, social status, or success, rather intimidated him. Especially, when like today, he had not actually made the first move. It had been Petunia who had rung him, catching him unawares and feeling tired at the end of a long day at his nursery business, Treasby's Plants of Distinction. "Petunia Martin" the voice had announced at the other end of the line, "you know me, I've bought plants off you, quite a few times", she had waited long enough for James to grunt some sort of assent and recognition, "you know I'm making a garden, quite a big garden, I'd like you to see it, you haven't seen it, have you?" James admitted he had not, and felt immediately embarrassed, as he knew that his failure to visit one of his best customers who he knew to be quite ambitious in her garden making, was almost a failure of etiquette, to say nothing of failing to take full advantage of what might be a good business opportunity. "I, I, I'd love to see it" he stammered, "really would." "Oh gooood" replied the rather squeaky voice at the other end of the line, "oh goodie", and dropping to an almost seductive huskiness, "and I want to ask your advice about things." A time was agreed and Petunia had rang off, leaving James clutching his cordless receiver in a cold sweaty grip. He wondered what sort of advice she might want. After all, she was a regular at Marguerite O'Halloran's garden school 'Ranunculus', where the redoubtable Mrs. O. supplied the local gardening ladies with all the advice they could possibly want, whether this advice was requested or not……