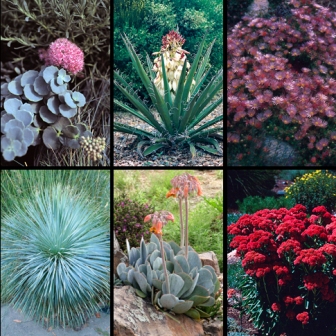 This month's subject, Spring Flowering Trees, brought in the most responses we've had since starting the contest this spring. Rob Cardillo, our judge, decided on 2 FIRST Prize Winners, 1 Second Place Winner and 4 Runners-Up. Rob has also been kind enough to make comments on all participants' photos.
Please note: the Yucca rostrata 'Sapphire Skies' , the first photo on the left in the 2nd row, is ©Joshua McCullough at www.phytophoto.com.
Our First Prize Winner from America will receive a fantastic succulent selection from High Country Gardens.
Our First Prize Winner from overseas will receive a different type of gift. We've discovered a not-for-profit micro-lending organization, Kiva, that we think is doing some pretty incredible things. Their mission is to connect people through lending for the sake of alleviating poverty. The winner will receive a gift certificate for $50 from Nan and Fran to lend to the entrepreneurs of their choice whose projects are listed on Kiva.
Both winners should contact Fran at fran.sorin@gmail.com in order to receive their rewards.
Here are our winners!
FIRST PLACE (OVERSEAS): ABBY 
"This one knocks my shoes and socks off. The line of magnolia flowers are through the frame but don't obstruct the tree's overall striking architecture. The additional blooms become well placed echoes and the trunk is pleasantly off-center. The white vertical branch in the background adds an additional strong line to the frame. Extremely well composed and considered. And the lighting is sublime! Hard frontal lighting usually washes out whites completely but Abby has caught a moment when the light is still directional but not too harsh."
You'll have to click through to Abby's site to see the photo: First Promise of Spring
FIRST PLACE (US): LYNN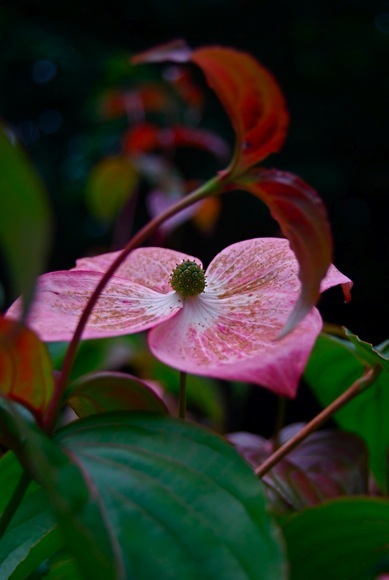 "The lovely composition and great sense of depth make this image a winner. The focus is right where it should be – on the blossom's center – and Lynn 's thoughtful use of out of focus elements add a lot to this richly-hued close-up. Black backgrounds can look artificial sometimes but the red and green branch in the back keep this real. The browning petals are a nice touch too – a dramatic and sensual look at the end of a season."
SECOND PLACE: JO
"I can't stop looking at this one. It's an unexpected view and beautifully executed one at that. So a big kudos to Jo for her creative effort here. I'm not generally a fan of overly manipulated images: they usually look hokey or fake and offend my sense of reality. Here, however, Jo has simply photographed a delicate set of flowering branches against a well-chosen colored backdrop and then split and mirrored the image with photo editing software. We know it's not real,  yet the forced symmetry allows us to re-examine the real-life details. The circular background perfectly enhances the calligraphic effect."
You'll have to click here to see Jo's photo: Tree Photo Contest
Four Runners-Up
PAM/DIGGING: "This set of expressive blooms is  wonderfully rendered and thoughtfully composed. And Pam has allowed the background to be just sharp enough to see the tree's form. The little fly is a nice discovery."
KIM: "This classically composed misty view beautifully evokes a spring morning. The massive trunk is nicely off centered and its main branch seems to embrace the delicate dogwood in an almost paternal gesture. Great job, Kim!"
DIANE McCARTHY: "These two blooms look like dancers on a stage with a kicking chorus line behind them. Diane's lighting here is key and the red, white and blue hues make me want to whistle a Sousa march."
CRAIG @ ELLIS HOLLOW:  "Beautifully lit and tightly cropped, Craig's shot has it all. The strong curves and intense colors make this image a keeper. Excellent technique! Check it out at: http://www.remarc.com/craig/?p=708.
Comments on other entries:
HEALING MAGIC HANDS: "A genuine caught moment in the garden! The dew on the opening buds is precious. I might have tried a horizontal approach and heightened the image a little more."
HEIRLOOM GARDENER: " Lovely styrax image! I like the grouping but I might come in a little tighter with my composition."
WILD SUBURBIA: "Nicely seen and rendered! I like the off-centered composition and the lighting is dramatic."
KIMBERLY: "Another wonderful magnolia photo! I like the composition very much. It's like a flock of birds taking off."
SUSIE: "Cotinus is a hard plant to shoot because it can be so dark but your lighting makes it much more interesting. I think you're getting a bit of lens flare which is hard to avoid when backlighting"
ESP: "I love seeing the bee's head buried deep in his breakfast. Some interesting lighting going on here too. Wish it were a tad sharper: but that's hard with a fast moving flyer."
TEXAS DEB: "As a photographer, I wish I could have more days when freezing rain coats every growing thing. Great job in braving the elements to record some of this ephemeral beauty. I might have recomposed so the main drip is a bit off centered a bit."
DONNA: "You have some nice soft colors here and I like the inclusion of the house in the background."
MEEMS: "I like this graphically strong "X" design a lot. I might have come in tighter to see the blooms a bit more."
M.HEART: "Very nice contrast of the white blooms against a rich blue sky."
JOANNE: "Wow! Who wouldn't love this tree in their front yard? I think the composition might need a little more breathing space though."
KAREN: "A beautifully lit dogwood bloom! I might have tried for a slightly less distracting background!"
RAJI: "Killer combo shot for sure! Next time try de-focusing the yellow blooms ever more so the iris become a stronger focal point."
ANNIE: "I like the off centered  redbud and how the house line works but this choice view might look even better on an overcast day."
TERESA: "Sharply focused and nicely composed with your subject off center. I might have tried for a little more environment in the background."
COUNTRY MOUSE: "An interesting subject and one worthy of photographing. I might try to get a little closer next time."
SUE: "Love that fifties look! And I like how her pose reflects the slender and graceful trees in her midst."
RHONDA: "Nice composition of what must be your very pretty front yard. The two redbud branches cutting across the big trunk really catch the eye."
ILONA: "A delightful angle! We see the flower's pretty gold interior and the background is well chosen."
DOUBLE CREEK ROAD: Wow! I  don't think I've ever looked at a CM this closely. There's some interesting botany happening there and I'm glad you went exploring with your camera."
LOUISE: "The emerging leaves and bright colored flowers make for a good strong subject. I think I would have come in closer on the one clump to the right that's in focus. Good colors!"
And a final note from Rob:
"Thanks to everyone who entered and also to Fran and Nan for organizing this event. I found all of the entries appealing and I had a hard time choosing the winners. I encourage you all to continue to explore your gardens photographically and to enter the next contest."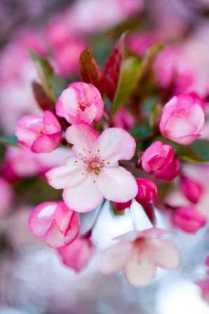 And from all of us at GGW, a BIG THANK YOU goes to Rob Cardillo for being our judge and to David Salman of High Country Gardens for rewarding one of our winners with the magnificent succulent plant selection.
Remember, another Picture This Photo Workshop will be posted the first week of August. We love having you participate, so keep it up. It's good for the gardening community and I hope for all of you that enter: you never know when you're going to be the next winner!
An addendum to the montage of plants being given away from High Country Gardens above, the photo on the left hand lower side of Yucca