With no apologies I welcome spring.  I welcome the chance to post new photos.  I welcome the challenge of simply taking new photos.  I welcome  the chance to get back to work.  Welcome back Gardening Gone Wild.
I have not posted new photos for a couple months now, and Fran let me slip through January without any post at all.  There were some pretty major complications with my eye surgery but now's time to get back into shape for the new garden season.  Welcome spring.  I will step gently.
Camellia sasanqua 'Kanjiro' is still blooming.  It had just started blooming in early November, back when I first explored the new vision, recovering then from the first battle with the detached retina.  Some of you may remember the Camellias in the What I See post.  That Kanjiro is still there,  so silently offering and inevitably shedding her flowers, nearly brings me to tears. The photo needs to be just right.
Let me treat it with a very light touch, open up the exposure that the camera caught.  Open my heart to the riveting pink, let me breath the bright light my soul sought.
The flower opening this post did not really look quite so bright in real life.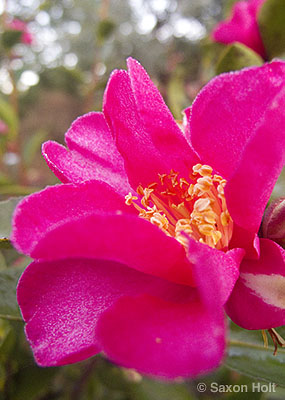 It is a rich pink and the day was dull.  But the camera always lies, whether you want it to or not.  The truth must be in what you really see, not in what is really in front of the camera.  The truth is in how a photo makes you feel, no matter what the photographer intended. If the photographer can make the viewer feel some sort of essence of what s/he felt, then the photo is a success.
Back at the computer, as I studied what to do with the original raw capture in order to bring out the inspiration the flower had giving me, I needed to crop to horizontal.  I had thought the vertical would give me the uplifting feeling of hope and gratitude I felt being in the garden with my camera, but the horizontal seems to be more succinct.  And making everything brighter than "reality" is the lie I want to feel.
These are simply photos.  Flower  close-ups really.  I didn't travel.  I used my G11.  They are tight, hand held with a fairly high ISO so I can keep them sharp as I bend and twist to find an angle.  They fulfill a simple need.
I need the quick hit of proof that spring is coming on, that its promise of the fresh start is more than hope.  I walked out of the studio to get away from the frustration of work.  Complications seemed everywhere.
I didn't even realize the quince were blooming.  The sasanqua Camellias are winter shrubs but Chaenomeles certainly mean spring. Their blossoms seem to swell up and burst open overnight.
Part of the challenge of macro work for a garden photographer is to show a sense of place.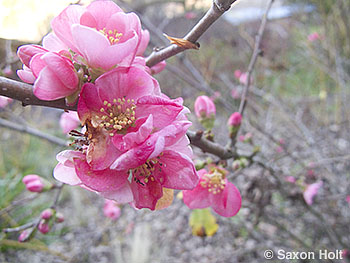 My G11, and most modern point-and-shoot cameras, has the capacity to do wide angle macro, so I could show both bud and flower of the quince.  Even so, being right on top of the flower still showed more of the bare garden than I wanted.  And the raw capture was blue and washed out.  Repair in Photoshop….
Cropping and color control are easy fixes in post production, especially if you have pre-visualized what you want to do.  It is easy to get lost in the magic of digital tools, but they are essential and relatively quick if you know what you want to say.
If you have something to say with your photos, the post production can be an economic application of a tool.  If you only have an interesting photo and hope to use the tools to make it say something, you may get lost.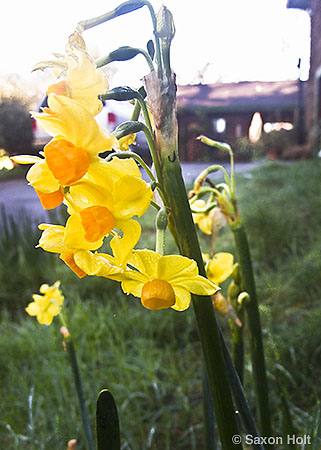 I include this last photo of daffodils simply because it can not be spring without them.  More proof that spring is upon us here in California.  I grabbed this photo one morning last week when an editor in New England showed me a photo of their offices under 19″ of snow.
I need any excuse to use the camera and this was a simple exercise.  This is a tiny patch of meadow by my driveway and the only way to show this in relation to my studio was to let the flowers hide my truck.   I probably could have spent the 45 seconds it would have taken to move it, but hey, gas is expensive.  This is not an expense account shoot . . .
It is really just a welcome opportunity to see what I can see.  Slowly getting back to speed.  Nice to be back.
More back to work photos on my Mental Seeds blog.