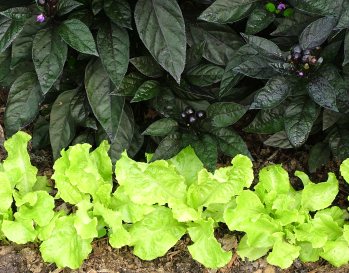 Of all the things I enjoy about gardening, experimenting with plant combinations has long been one of my favorite pastimes. For most of that time, though, my efforts were rather haphazard: I ended up with some pleasing pairings each year, but I didn't concentrate on any particular themes. About three years ago, however, I started creating foliage and flower combinations based on specific color contrasts and harmonies, in preparation for a book I was writing (Foliage: Astonishing Color and Texture beyond Flowers). Part of the point was to have the combinations available for photography, and part was to be able to actually live with the pairings, so I could see how they really looked and how they performed over time. (It's one thing to create combinations that sound good on paper and quite another to see what the plants themselves want to do.) Some I absolutely loved, while others were "interesting" at best; either way, they've added an extra dimension of richness to my gardening experience.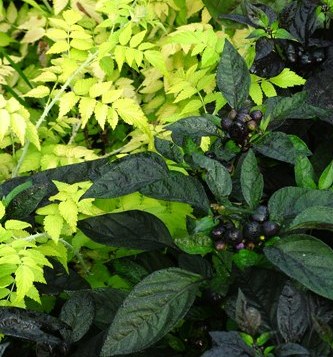 One color theme that simply never gets old for me is near-black foliage contrasted with bright yellow to chartreuse. The photo at the top of this entry features one of my most-prized plants for practically-black leaves, 'Black Pearl' pepper (Capsicum annuum), edged with 'Australian Yellow' lettuce. At right is the same group of pepper plants from a slightly different view, set in front of the lacy yellow foliage and prickly white stems of 'Goldenvale' ghost bramble (Rubus cockburnianus). The effect is amazingly intense and lasts through nearly the whole growing season with practically no maintenance. (Once the lettuce started to go to seed, I pulled it out so it didn't cover up the peppers, then set out another batch of 'Australian Yellow' seedlings in late summer to continue the effect until frost.)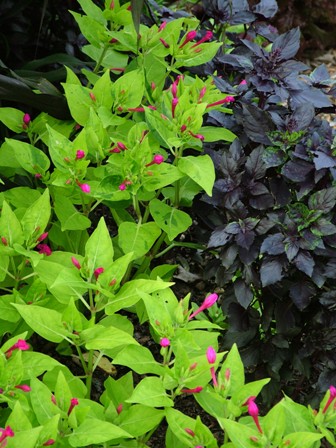 Purple basils (Ocimum basilicum) are also invaluable for deep, dark foliage. Like the peppers, they're basically temporary, because they're around only during the frost-free season. But when you consider how easy they are to grow from seed or to buy as transplants, it's easy to see their advantages: You can grow lots of them even on a limited budget, and you can have fun experimenting with them in different sites and pairings each year. 'Purple Ruffles' is an old favorite for good color as well as its interesting texture, but I also really like the taller, smoother-leaved strains, such as 'Osmin', 'Red Rubin', and 'Violetta'. At left is a simple pairing of 'Osmin' with 'Limelight' four-o'clock (Mirabilis jalapa). Not too many plants can hold their own against the combination of glowing golden foliage and shocking pink flowers, but 'Osmin' does it in style.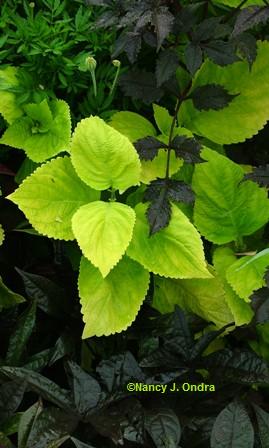 When you have lots of space to fill, you simply can't beat purple-leaved sweet potato vines (Ipomoea batatas). 'Sweet Caroline Purple' is my favorite to date, with deeply cut leaves and a consistently deep purple-black color. It's made for the front of a bed or border, carpeting the edge and weaving among taller bedmates. The photo at right features another of my seed-grown favorites: 'Limelight' coleus (Solenostemon scutellarioides), which is also sold as 'Exhibition Limelight' or 'Giant Exhibition Limelight'. With one starter plant of 'Sweet Caroline Purple' and one pack of 'Limelight' seed, you can fill quite a few square feet with this traffic-stopping contrast. (The combination shown here also includes a bit of 'Bishop of Llandaff' dahlia foliage draping itself over its coleus companion.)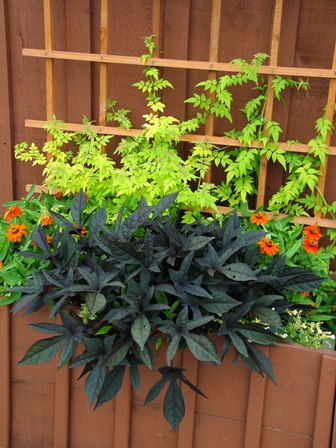 Another great feature of 'Sweet Caroline Purple' sweet potato vine is its restrained growth habit, which makes it a perfect addition to pots and planters. This planter showcases 'Sweet Caroline Purple' spilling out the front, with lacy yellow Fiona Sunrise jasmine (Jasminum officinale 'Frojas') clambering up the trellis behind and a few 'Profusion Fire' zinnias tucked in for an extra punch of color. Like the other combos featured here, this one shines from planting time to frost and needs minimal care (mostly just regular watering). That's a whole lot of impact for very little input!