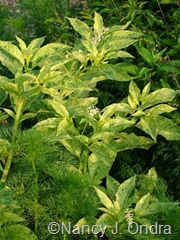 A while back, I started "The Unpopular Plant Series" category to discuss plants that I never get to write about in my books. It's not that these plants aren't interesting or beautiful or otherwise garden-worthy: It's just that they're usually too obscure, unavailable, or politically incorrect to be included, or otherwise oddball enough to not make the cut. (You'd think a 130,000-word manuscript would be enough to cover even eccentric plants, but trust me, it's hardly enough to cover even common stuff.) So, I figure this is my chance to cover some cool plants I've grown or seen but normally never get to write about. And now, a round of applause, please, for today's Unpopular Plant: variegated pokeweed (Phytolacca americana 'Silberstein').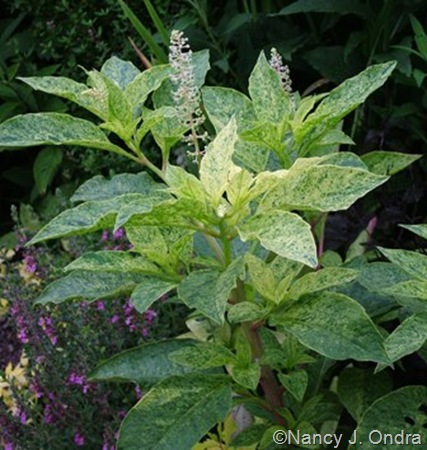 Ordinary pokeweed is a beauty in its own right, of course, with lush green leaves, rich magenta-purple stems, white flowers in summer, and clusters of near-black berries in fall. And let's not forget its cast-iron constitution, thanks to its deep, arm-thick roots—a feature that, along with the ability to self-sow enthusiastically, accounts for the "weed" part of the common name. But if you can look past the "weed" and see the ornamental features, and if you have the space for a plant that can easily reach 6 to 8 feet tall after a few years, then just maybe you might consider trying pokeweed in your own garden. And if you're going to take the plunge, then why not go for the variegated version?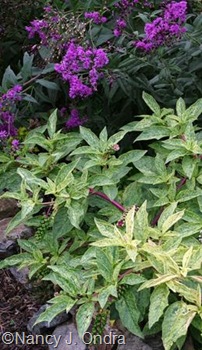 'Silberstein', also sold as 'Variegata', is sometimes described as originating in Japan, but according to rare-plant collector Steve Silberstein, it was found growing in New Jersey. (As a side note, you may see this plant sold as 'Steve Silberstein', but Steve himself credits his wife, Melody, with the discovery.) Regardless of what name they're sold under, the plants are grown from seed, so the amount of variegation can vary somewhat. I can't swear that all of the offspring are variegated, but based on my own experience growing out the seedlings, I'd say at least a very high percentage of them are marked to some extent. The variegation takes the form of ivory to cream-colored speckling, often so heavy that some leaves appear to be mostly pale with just some green stippling. Apart from the dramatic leaf variegation, the other features are mostly the same as with common pokeweed. (The variegated plants do seem to be somewhat shorter when mature, typically reaching 4 to 6 feet.) As for growing conditions, anything from full sun to partial shade seems fine. Average to moist, but not soggy, soil is ideal. Hardiness seems to be USDA 5 to 10, or thereabouts.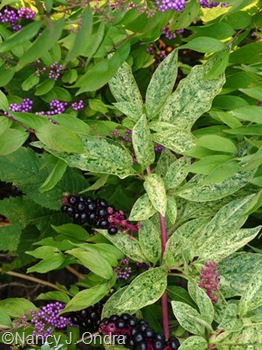 Think you'd like to try it for yourself? I found a few seed sources on-line: Summer Hill Seeds lists 'Silberstein', as does the fantastic Gardens North, and The Fragrant Path lists "Most Variegated Poke". Or, spring for an already-started speckled poke from Plant Delights Nursery. A few years ago, Avant Gardens sent me a selection of P. icosandra called 'Berkeley Gold' as a bonus plant: a stunner with irregular yellow edging instead of the pale speckling. (What an amazing gift! To me, it was worth even more than all the plants I had paid for, which were themselves worth every penny.) Sadly, it didn't survive the winter here in southeastern Pennsylvania, and it appears no one is currently selling it.
As a final note, I should mention that yes, any pokeweed can be weedy, and yes, the plant can be toxic if ingested, unless you really know what you're doing and pick the shoots at the right time of year. But as long as you're not in the habit of gathering salad fixings from your ornamental border, you should be okay.