One of the finest books of the year was first published in 1870.  And who else but Rick Darke, could pull off an update, reminding us just how well "The Wild Garden" speaks to contemporary gardens and current ecological thinking?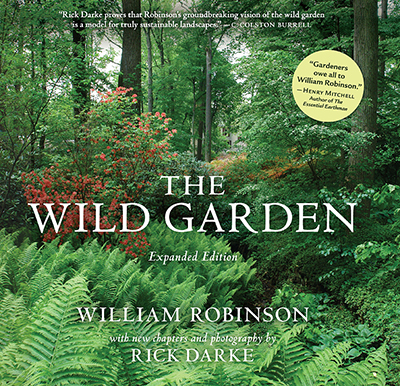 When William Robinson first published "The Wild Garden" it influenced gardeners on both sides of the Atlantic, from the likes of England's great garden designer Gertrude Jekyll to Frederick Law Olmstead, designer of some of the greatest parks in North America.  Even though "The Wild Garden" is a 19th century book based on a gardening style perfected at Gravetye Manor, a dilapidated 16th century English estate when Robinson purchased it in 1885, Rick Darke has shown its relevance to American gardens on any scale.
Darke has been writing and speaking about appropriate gardening and landscape ethics for years.  His books such as the 2006 "Grasses for Livable Landscapes" and 2002 "The American Woodland Garden" are classics, advocating a sensible, naturalistic garden style with locally adapted plants, not simply native plants.  He understands Robinson's point that a wild garden is not simply "a garden run wild".
Darke takes the Fifth Edition of Robinson's book and adds more than 100 of his own wonderful photographs to show us how very relevant "The Wild Garden" is today.  He shows us Woodlands and Prairies, Coastal gardens and City gardens.  He really got me when he pointed out that Robinson loved meadows, saying 130 years ago that "mowing the grass … is a costly mistake" and how much time is wasted "in this ridiculous work of cutting off the heads of flowers and grass".  (Is this where I can plug "The American Meadow Garden"? (g))
Many of us are looking for examples of authentic sustainable gardens.  There is much talk about what should work and what might work.  By reintroducing "The Wild Garden" to a new audience, Rick Darke has shown us what does work.  The reader will have to make adjustments for their own climate and garden zone but the principles are sound.  The book will inspire us for another 100 years.