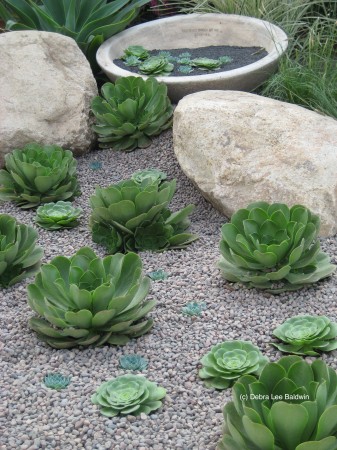 These vignettes suggest water—flowing, tumbling, cascading, splashing or dripping water—yet there is none. Each illustrates the ingenuity of a garden designer in the dry, hot Southwest, where water is scarce. Yet the same concept, of creating the look of water, might apply to any garden.
In this composition, by Akana Designs for the San Diego County Fair, dry-climate plants look like wet ones. Aeonium canariense—which like all succulents stores moisture in fleshy leaves in order to survive drought—appears to float downstream like water lettuce (Pistia stratiotes).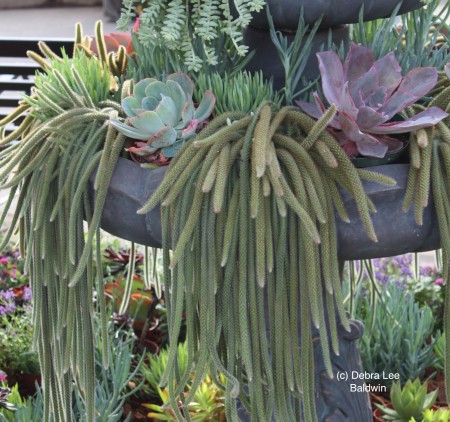 Also at the Fair, rattail cactus (Aporocactus flagelliformis) cascades over the edge of a dry fountain.  This composition and the one below are by Jim Bishop of Bishop Garden Design, San Diego.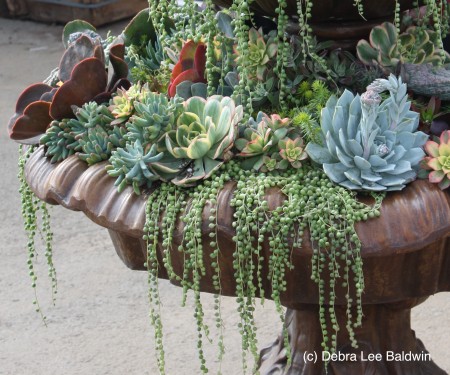 String-of-pearls (Senecio rowleyanus) simulates water droplets.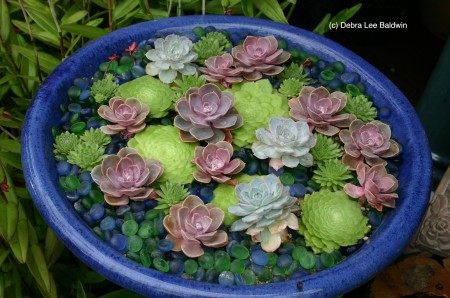 A birdbath at California Cactus Center in Pasadena has Aeonium tabuliforme lily pads and Echeveria 'Perle von Nurnberg' water lilies.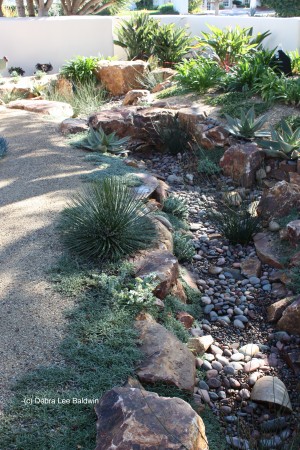 Not only are dry creek beds easier to maintain than water features, during a rainstorm, such arroyos can channel water into the garden. Here, Schnetz Landscape of Escondido, CA, used several sizes of rock spaced unevenly, to give the creek bed a natural look. Note, too, how rounded rock (which looks like it has been tumbled by water) lines the meandering course. Along the banks grow dwarf agaves, aloes and the tough-as-nails groundcover, dymondia.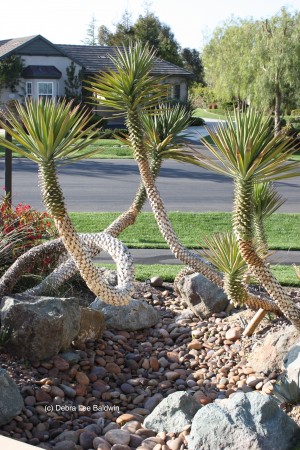 In this whimsical composition, Michael Buckner of San Diego's Plant Man Nursery used yuccas that resemble tropical palms. Originally positioned sideways, the yuccas have turned upward, thereby lending character and a sense of motion. Their highly textural, shingled bark is a result of pruning downward-pointing leaves.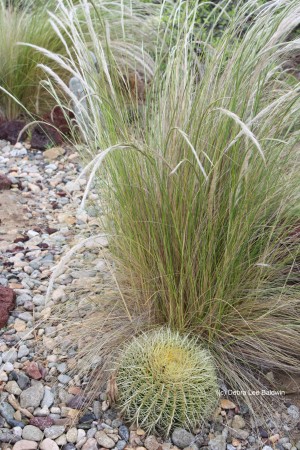 And in a dry stream bed at the San Diego Botanic Garden, drought-tolerant ornamental grasses spray skyward as they collide with boulder-like barrel cacti.
My goal is to share the beauty of waterwise, easy-care succulents in gardens, containers and landscapes via blog posts, newsletters, public speaking and workshops, photos, videos, merchandise, and social media (Facebook and Pinterest). My books: Designing with Succulents, Succulent Container Gardens, and Succulents Simplified.  www.debraleebaldwin.com 
Please leave a comment, if you like, then follow the links below to find out what other design-oriented garden bloggers have to say and show on the topic of water.
Tara Dillard : Vanishing Threshold : Atlanta, GA
Lesley Hegarty & Robert Webber : Hegarty Webber Partnership : Bristol, UK
Jenny Peterson : J Peterson Garden Design : Austin TX
Douglas Owens-Pike : Energyscapes : Minneapolis, MN
Christina Salwitz : Personal Garden Coach : Renton, WA
Rochelle Greayer : Studio G : Boston, MA