ANNOUNCING THE WINNERS! Nearly 50 people entered to win, so with five calendars to give away, the odds were about one in ten.  The winners are (drum roll):
Marty O'Brien (Palm Springs); Odette Allen (Phoenix); Francine Schmidt (Vermont); Shirley Kost (Los Angeles); and Fernando Huerto (San Diego).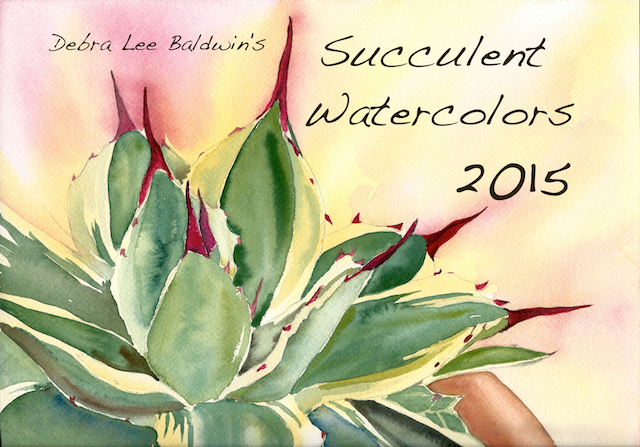 Like photography, watercolor is all about light. When saturated paint right out of the tube is diluted with liquid light (clear water), then brushed onto bright white paper and allowed to dry, the resulting image positively glows.
I discovered this in December of my 16th year, when I decided to do a watercolor based on a photo my mother loved of a vine-covered ruin in Italy. It took me so many tries to get it right, I nearly gave up. The gift delighted her and was proudly displayed in my parents' home for decades. When I inherited it, I realized I didn't care very much for the subject, but the painting had value—sentimental, yes, but also because of what I went through to create it. I had discovered how a slender brush and translucent paint can not only replicate, but also interpret, a photo.
Decades passed before I would attempt additional watercolor paintings—even though I admired, and occasionally purchased, those by others. The resurgence of my inner artist happened when, as a design writer for the San Diego Union-Tribune, I was assigned an article about an in-home art studio. I told artist Diane Palley McDonald how much I admired her talent (I believe my exact words were, "I think I hate you"), and she invited me to take a class. The pang of longing I felt at this surprised me, and although I didn't have time, I made time. Among other things, I learned about colors and washes; and how to use a light table, salt and masking fluid.
Did I paint up a storm afterwards? No. I need a deadline or similarly compelling reason to tackle a time-consuming hobby (other than gardening, which of course doesn't count). I found the perfect excuse three years ago: a new book to promote. Happily, succulents are ideal watercolor subjects for relatively inexperienced artists. The plants have simple lines like those in the pages of a coloring book. And if you're nervous about colors accidentally running together and ruining the painting, you have the option of doing one leaf at a time. (Let it dry before moving on to those around it.) My Succulents 2012 Watercolor Calendar was the result.
As 2013 loomed, it was time to do another calendar, but I didn't allow nearly enough days to accomplish a dozen paintings. I rushed through a few, ending up frustrated, discouraged and convinced I'd lost any ability I might have had. Fear of similar failures (The time that might be wasted! The blows to my pride!) prevented me from renewed attempts until a few months ago. I needed a gift…a very special gift…for a dear friend. A watercolor based on a photo I'd taken in her garden seemed perfect. However, the first version was so awful, I was glad I hadn't told her my plan. If I'd had other excellent gift ideas, I would have pursued them. Instead, I did a few more paintings of the same subject, gaining confidence (and having more fun) with each. The result is Miss January of my Succulents 2015 Watercolor Calendar.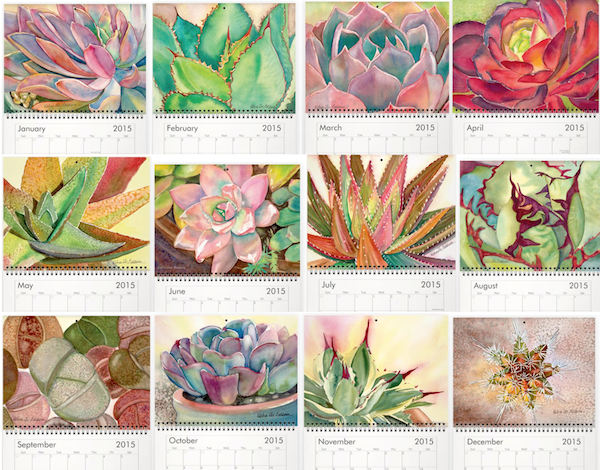 I'm pleased to share 2015's paintings with you here, and to announce that the calendar (and other gift items based on my photos and artwork) are available at Succulent Chic, my online Zazzle store. More happy news: From now until Black Friday, new subscribers to my Success with Succulents e-bulletin automatically will be entered to win a free Succulents 2015 Watercolor Calendar. If you're not yet a subscriber, email me at Sunwriter7@cox.net with "Subscribe" in the subject line; and in the body of the email, give your first and last name and city or region. Note that this giveaway is for NEW subscribers only. So if you already receive my e-newsletter, pass the word to your friends! Five winners will be selected at random, then notified by email and announced here (at the bottom of this post), on Nov. 28, a week from today.
If like me, you enjoy painting but would rather not have to sketch the subject beforehand, you might enjoy my earlier GGW post, The Easy Way to Paint Watercolors.
If you'd like to purchase my Succulents 2015 Watercolor Calendar, perhaps for yourself or as a gift, please don't pay full price!  Through the end of the year, you can get 15% off any Zazzle item (which means the calendar would cost $19.55) with this discount code: HOLIDAYSMADE. Zazzle occasionally offers even better discounts, especially on Black Friday.
And if you covet an original, 9×12 watercolor similar to those shown here, I'd be pleased to create one for you. Each takes about a day, and the cost is $425 apiece, unframed (FedEx included). Availability depends on my schedule; email me at Sunwriter7@cox.net.
Happy Aloedays, and good luck! May you win a free calendar! — Debra