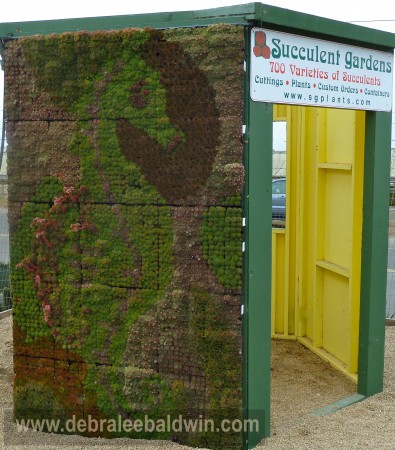 See the seahorse? It's sempervivums planted in vertical panels. This was one of many lovely and unusual sights at the second annual Succulent Extravaganza at Succulent Gardens nursery in Castroville, CA last week.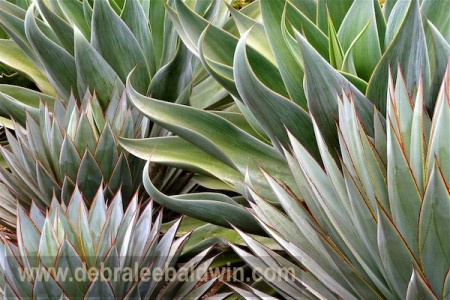 A terrace at the nursery is planted with Agave 'Blue Glow' (foreground) and Agave 'Blue Flame' (background).
One-third of my forthcoming book, Succulents Simplified, is all about using succulents in design projects, and that was the topic of my presentation on Friday.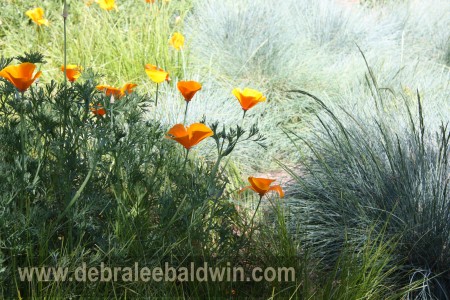 Saturday, I spoke on Companion Plants for Succulents. If you'd like to view the photos I showed, they're at this online storage site. You're welcome to download and share them however you like so long as you leave the watermark intact.  Above: Two textural and colorful drought-tolerant companions for succulent landscapes are blue fescue and California poppies.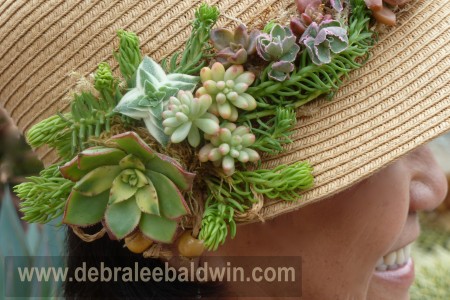 A succulent-bedecked hat worn by Laura Balaoro of San Jose (above), founder of the Succulent Fanatics, stole the show. No way would daisies or other flowers have held up for two days without water, exposed to hot sun!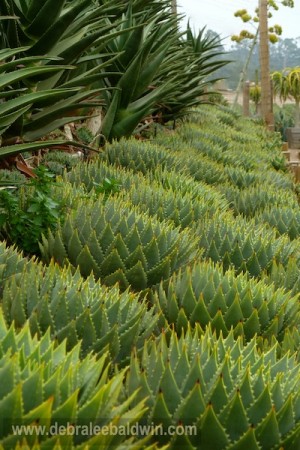 The nursery was looking terrific. There were lots of cool plants in abundance, such as these spiral aloes (Aloe polyphylla)…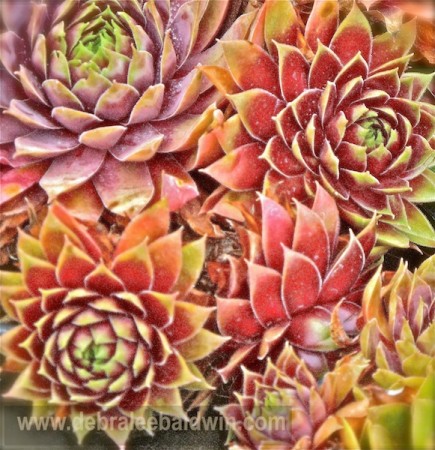 …sempervivums (above) and variegated aeoniums (below).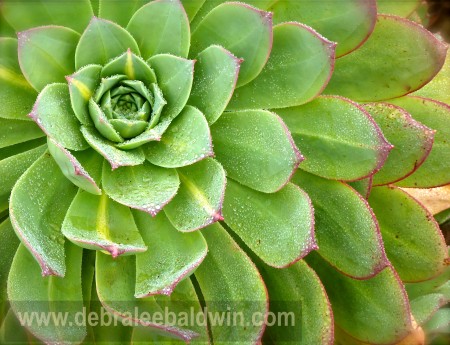 Speakers included Brian Kemble of the Ruth Bancroft Garden in Walnut Creek, who conducted a walking tour of the nursery…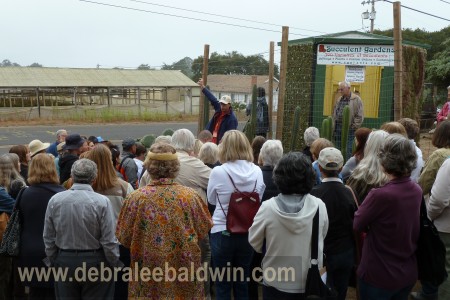 …Bay Area garden designer Rebecca Sweet—here is a photo of succulents in her own garden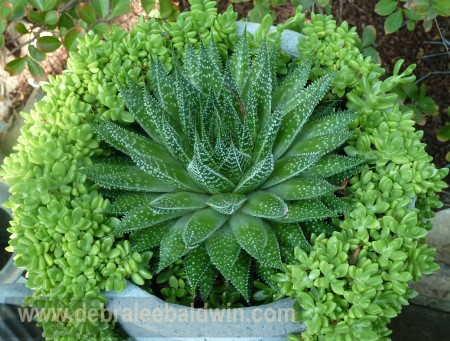 …and Flora Grubb of Flora Grubb Gardens, a nursery in San Francisco (yes, that's really her name). Flora, a renowned visionary in the world of horticulture and design, made these key points:
Succulents will be in demand as houseplants because they're long-lasting, thrive on neglect and are more interesting than the traditional houseplants. Low-light succulents, such as rhipsalis, hatiora, sansevieria, haworthias, etc., will become popular, especially with residents of downtown urban areas who lack garden spaces.
 We're going see succulents used in design applications, like wired onto florist's picks for bouquets, that take advantage of the plants' remarkable tolerance for difficult conditions. They'll be used creatively as a decorative option that lasts a lot longer than flowers, and afterwards can be planted.
Non-cactus rosette succulents, small and large, will be increasingly incorporated into traditional landscapes to help reduce water bills, so that people can have a look of lush abundance instead of a "xeriscape" that they feel pressured to have but really don't like the look of.
What I enjoyed most about the event wasn't the plants, however. I enjoyed making new friends and seeing old ones, especially Succulent Gardens' owner Robin Stockwell.
Remarkably, the event was free of charge, and attendees were invited to stay for a barbecue Friday. Now that's hospitality.
I don't have stats on attendance, but there were 250 seats in the makeshift auditorium, all filled (SRO at times), and I'll bet nearly 100 stayed for grilled burgers that were large, juicy and, well, succulent.
My goal is to share the beauty of waterwise, easy-care succulents in gardens, containers and landscapes via blog posts, newsletters, public speaking and workshops, photos, videos, merchandise, and social media (Facebook and Pinterest). My books: 
Designing with Succulents
,
Succulent Container Gardens
, and 
Succulents Simplified
.  
www.debraleebaldwin.com