With the publication of Piet's latest book in collaboration with Noel Kingsbury, Planting: A New Perspective, I thought it worth re-visiting a 3 Part Interview about Piet that I wrote in 2009. Fran Sorin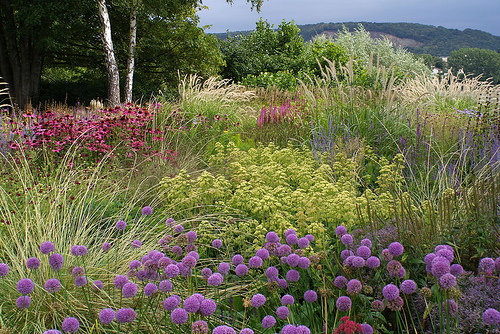 When I first saw Piet Oudolf's work several years ago, it startled and provoked me. Since that time, I've bought every book that he has written, and I return to them time and time again for inspiration and his unique understanding of plants. So, when planning a trip to Holland last spring, I was hopeful that I'd be able to visit Piet and his gardens and interview him.
Within a week after e-mailing him, I received a response: not only did Piet say that I could visit him, but he offered me a few times when he would be home (my window of opportunity to see him was only 2 days). From this initial response, I was pretty sure that I would be meeting a generous, gentle and humble individual.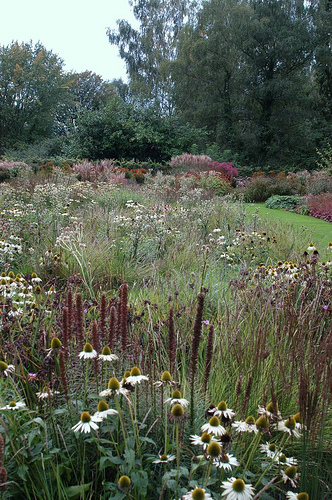 As fate would have it, I had to unexpectedly cancel my trip to Holland. My disappointment at not being able to visit Piet was palpable. Since I'm an individual who believes that things happen for a reason, I was temporarily able to shake off the feeling of having missed something special. But over the months, I kept on returning to Piet and his work: it gnawed away at me. As is my habit, I allowed my unconscious to lead the way, and I wrote to him requesting a phone interview. Again Piet's response was more than gracious: he said that I should contact him in a few weeks, after he returned from working on a job in the U.S.
I prepared for the interview with a list of questions that I thought would cover much of Piet's career. But a few minutes before calling him, I knew that my real motivation in wanting to talk with him was to get a glimpse of who the individual is behind the magnificent gardens he creates. As importantly, l wanted to know what Piet's process is from the time he takes on a commission until it is completed.
So, by the time I called Piet, I was clear on my intention. Once I heard his quiet 'hello', any trepidation I felt had vanished. I explained to him that rather than proceeding with a traditional interview, I wanted to try something different. Without hesitation, Piet agreed. And so began our conversation.
PIET'S EARLY YEARS
Initially, Piet was what he described as 'a conventional Dutch garden designer' influenced by Mien Ruys, the only garden designer in Holland who was talking about the importance of plants at that time. A trip to England in the late 70s whet Piet's appetite and fueled his imagination and the desire to create different types of gardens. He was especially taken with Alan Bloom's garden and Hidcote.
In the early 80s, Piet and his wife, Anja, feeling that they needed more space, moved to a less populated area in Holland, a village outside of Hummelo. It was during those years that they travelled to England, Germany and the Balkans in order to bring back a wide range of plant material that had never been used in Holland.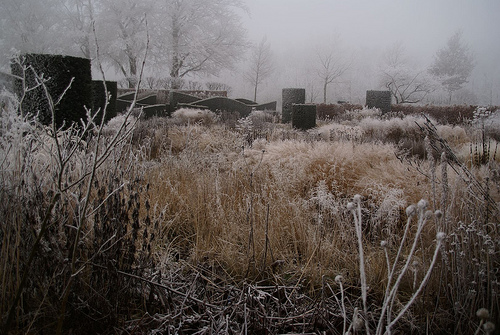 In the introduction of the book Designing With Plants that Noel Kingsbury co-wrote with Piet, Noel writes "In 1984 Piet and Anja conducted an experiment which proved to be a watershed in the Dutch horticultural industry. They held an open day, which they advertised in the media, inviting like-minded nurseries to come and sell plants. Nothing like it had been seen in the Netherlands before: people came and bought plants, while the nursery owners networked with each other."
Piet and Anja opened a nursery years ago that is still in operation today. It's known for its carefully chosen plant selection. Piet continues to rigorously trial plants and selects only those that he considers to be up to his standards. He has named over 70 plants and in a collaboration with others in Holland's nursery industry has created a line of plants called Future Plants that is being exported to Europe and the United States.  To learn more, click on: Future Plants.
** All photographs courtesy of Piet Oudolf
Click on to read Part II of the interview
More of Piet and Noel at:
** Check out the dozens of articles written by Noel on Gardening Gone Wild
NOW IT'S YOUR TURN. What is your favorite Piet Oudolf book? Share any thoughts you have about his designs and the effect it has had on you.