Over at A Study in Contrasts, Kim started "Not in My Garden": a fun discussion about plants, ornaments, and design features she'd never add to her garden. I've been pondering this topic for several weeks now. Every time I think "Yes! That's something I'd never have!", I realize that I actually do have it (and no, I'll never tell exactly where that gnome is hiding, but it's here, and it's staying). Or, it's something that maybe I would have if I could afford it, but I pretend I don't want it since I can't have it. But I think I've finally settled on something I'll never probably not ever deliberately add to my garden: Allium 'Hair'.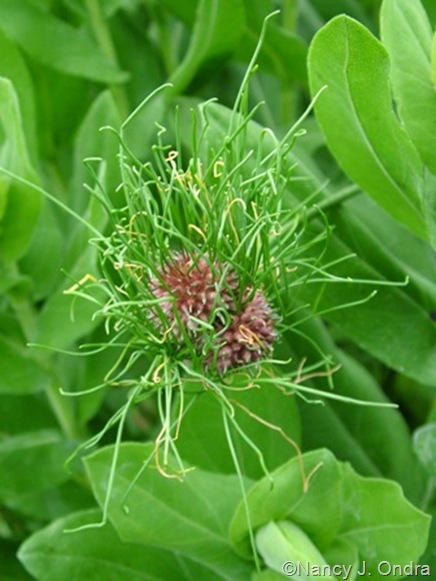 Now, I'm not saying it's not delightfully bizarre-looking: It truly is. When it first showed up in bulb catalogs a few years ago, I was ready to pull out my checkbook and place my order. After all, some sources were claiming that it was a mutation of drumstick chives (Allium sphaerocephalon), which is definitely near the top of my most-loved list, so I figured this too was a must-have.
A few months later, though, I noticed that some strikingly similar plants were already growing in abundance in the meadows all over our farm. I knew that the plants we had were the common wild garlic (A. vineale), and I realized that nearly all of them showed this same trait. Hmmm.
While most sources still list the name simply as Allium 'Hair', some do now list the full name as A. vineale 'Hair'. So, it is just a selection of wild garlic! Well, that settles it: I'm not buying these bulbs, simply because I already spend way too much time pulling wild garlic out of my gardens. I guess it's not the worst garden weed, because it's dormant for the main part of the growing season. But from September through June, the grassy, oniony-smelling leaves shooting up here and there require endless pulling, and the tiny bulbs are difficult to dig out completely. Perhaps it's not so bad in other parts of the country? If any of you have been growing it for a few years without it becoming weedy, I'd love to hear it. Maybe, just maybe, you can convince me that I really do need it after all.