Written by Noel Kingsbury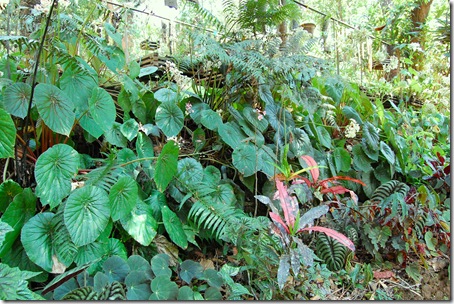 A visit to the Gurukula Botanical Sanctuary in Wayanad region of Kerala in south-west India is a real inspiration and a very special place. Its basically a private trust who own a slab of virgin forest (in the Western Ghats bio-region, where only 3% of the original forest is left) and who are involved in habitat restoration on former tea and coffee plantations. They do also have a very good display garden of tropical flora (local, Indian and global) for educational purposes. Their conservation and research work is clearly rooted in a lot of good horticulture. I have a fantasy of coming here and spending time learning about the very different ways that have to be used to manage tropical species; there is clearly a lot to learn.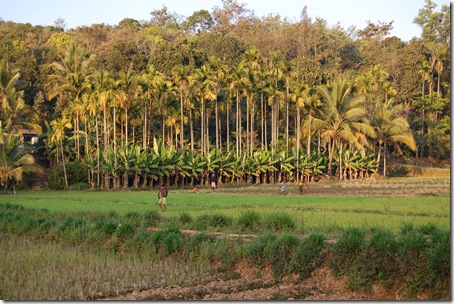 coconut, betel-nut, banana, rice
Kerala is intensely green – densely populated with houses set amongst what looks like a very efficient agriculture: small plots of coconut and betel nut palm with bananas and coffee underneath, pepper on vines climbing up the palms, a few open areas with rice paddy or cassava/manioc – so small-scale and intensely managed it's almost farming as much as gardening. Odd mango, papaya, jackfruit. This kind of layered planting system is the inspiration behind permaculture and forest gardening, which although it clearly works beautifully in the tropics I have never agreed that it can be meaningfully translated to temperate climates where light levels beneath trees preclude much productivity.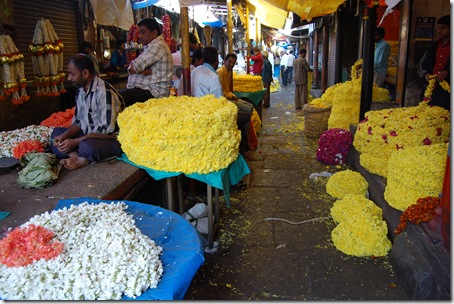 With scenes like those in the picture above (the yellow is garland-strings of chrysanthemums) it is obvious that flowers play an important role in Indian life. But I have always found this a deeply disappointing country for gardens. Whereas the cultivation of plants in pots on any little scrap of available concrete seems second nature in Thailand and China, it is here much less common. India's Hindu-based culture is immensely deep and varied but there appears to be no tradition of ornamental gardening – which I find very puzzling. Indian gardens are either Islamic in their cultural origin or British – neither struck deep roots here, and neither Islam nor the 'former colonial masters' (as we Britishers are so touchingly known) are politically flavour of the month here. Never mind that north Indian Mughal Imperial gardens are the absolute high point of the Islamic garden tradition. I remember Pakistan (on a trip five years ago) as being somewhere where the idea of making a little garden in odd public spots (freeway restaurant facilities, a regional airport) seemed somehow to come to people much more naturally, and always recognizably Islamic in inspiration (roses, clipped cypresses,a particular geometry).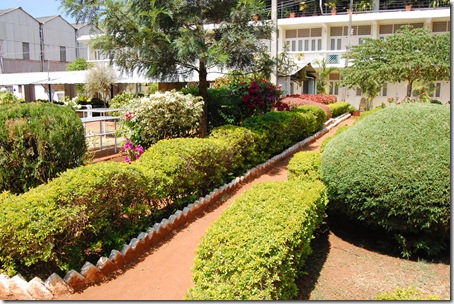 hotel garden in Mysore…clip,clip,clip… little to inspire the gardener
The British input in gardening lives on in the charming form of what I suppose should be called 'heirloom' annuals – marigolds, phlox, cockscomb etc, but much more expansive, looser, and less intensively-bred than the ones we are used to. I love these, so much freer in feel than the compact varieties we tend to have. Seeds are readily available in markets.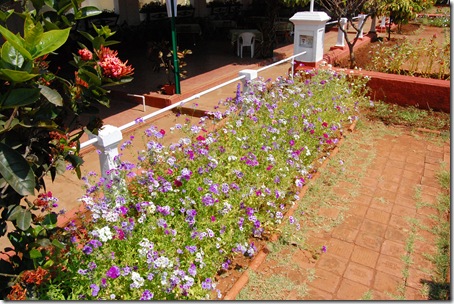 annual phlox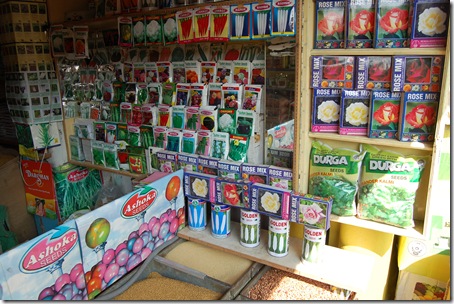 seed stall in market
Market stalls selling flower and vegetable seed are frequent, with packets and cans of vegetable seed available, and some real basics loose in bins (see bottom picture) – seeds always used to be sold like this, to be poured into a handy container, until the American Shakers in the 19th century invented the seed packet (and apparently also launched the modern seed catalogue). But I was surprised at how minimal the varietal naming was on the packets – only 'radish', 'carrot' etc, especially given how sophisticated the Indian seed market is for farmers (caterpillar-resistant GM cotton has been a roaring success). But things will change – this is a country in the grip of incredible economic growth; wait til all those Bangalore IT folk get into gardening, which I think they inevitably will.