A big thank you goes to our first time judge from England , Andrea Jones, who pushed the limits by offering 'Genius Loci' as the topic for February. She did a fantastic job facilitating our entrants to shoot dazzling, insightful and compelling photos.  To order Andrea's books or any of her several magnificent prints,  click here……Fran Sorin
 Here's what Andrea wrote:
"I am thrilled that so many of you have taken on my challenge of 'Genius loci' – especially at such a bleak time of year for most of us!
Even more delighted that you 'got it '! I was concerned that the task I set in winter, of all time, was really too tough and that you might pass it over – stay indoors and wait for the next one! I'm sure it was tempting; but the results are better than I could have dreamt! Congratulations to all who took part.
Since setting the task, I have given a lot of thought myself as to what makes a good photograph – what gives a photograph the 'wow' factor. Sure, there's an element of luck. The light comes right at just the perfect moment – or the mist rolls in. But in this particular task, what I was really asking for was thought. Think before you shoot. In this age of digital technology it is so easy to just 'snap'.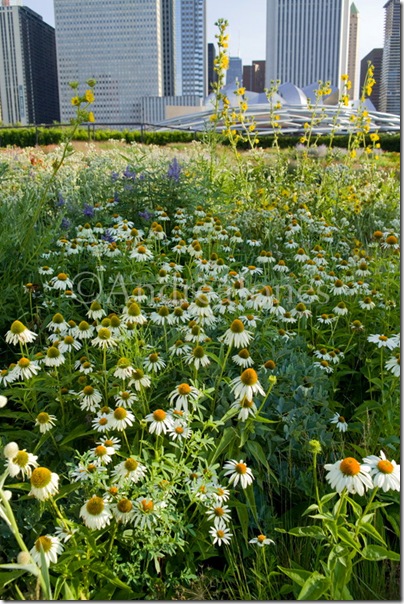 When I run photography workshops, the most beautiful music to my ears is when students say to me before they leave 'do you know I'd never have thought of photographing in that way before.?' Or 'I see things quite differently now! '
It's nothing to do with me – it's just that I have slowed people down and made them look. In some instances I don't even allow them to take a camera on the first trip! I suggest a black frame and a pen and paper.
Think back to when artists had no choice but to trek into the landscape with an easel and set up their painting in the wild and work for hours. It goes without saying that they would choose their position with a good deal of thought. After all, it's a lot of trouble to go to and then decide the composition might have been better if they'd moved over to that rock a few paces on the right!
Landscape artists have to think this through carefully before committing paint to canvas. And not just artists but early Photographers like Roger Fenton who captured landscapes and war scenes in the Crimea in the mid 1800s. He had a horse drawn caravan of photographic gear and a dark room to lug around! There was no 'snapping' opportunity for him! Take a look also at Alfred Stieglitz, an early photographic perfectionist from New Jersey with a relatively modern Single Lens reflex camera. Look at the amount of trouble these guys went to to 'get their shot'.
We have it relatively easy with today's technology – but sometimes being easy means we don't think too hard before we take a picture and just think 'oh well, I'll select the best one later!' That doesn't always work. My best shots have almost always been the ones that I have thought through first, considered what I want the image to say, sketched out the composition and worked out where the light will come from and been there in advance waiting for the moment.
Hugely frustrating at times but so very rewarding when it works!
Like that shot of the Palm House at the Royal Botanic Gardens Kew. Nine days returning to the same place . It was a Eureka moment when the sun came through the mist on the final day!
Judging is such a difficult thing to do – all the pictures submitted were wonderful and personal. Picking out a small selection – as with any editing process – is so hard. Believe me – a lot of soul searching was done along the way!
HONORABLE MENTIONS
Camera Gardening
I loved this photograph of a garden in Southern Finland. It has all the elements of Genius loci, the composition of the view , the light, the concentration of the pet black Labrador waiting in the snow for something to happen …
It's a story in a picture. Brilliant.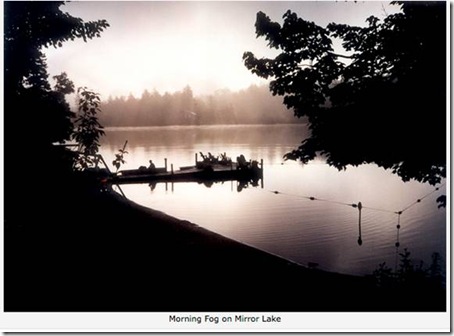 The Garden Worm
I can see that this is your special place – the light penetrating the atmosphere is wonderful – so to the speck of orange of your daughters life jacket bringing that personal element to the scene.
"This is a location in the Adirondacks that speaks to my heart, and one that I think of often; that calms me when restless, and that cheers me when sad. We have many fond memories of visiting there. The picture was a film shot from many years ago and I had no idea that it would turn out like this until it was developed. There is one teeny tiny bright spot of color – my daughter wearing her orange life jacket! Serendipitous!"
(By the way GW I also loved Fog rolling in newar Old Fort Niagrara, Youngstown NY).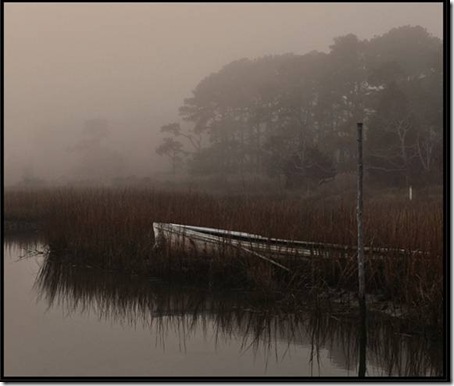 A Tidewater Garden
Undoubtedly Les, this captures the spirit of the Place. I'd love to be there. This photograph has a feel of a special moment and a personal intimacy. It must have been very still – I can almost smell the watery atmosphere. Love it.
FIRST HONORABLE MENTION
Mamazuke
Lynn : " but one place kept coming to my mind as my 'special place'. It is Sunset Park in Cayuga Heights. This park is owned by the Town of Cayuga Heights. It is a small overlook that was made in the middle of a neighborhood so that everyone can share in the beauty of the landscape that overlooks Cayuga Lake. It is most beautiful at sunset. PJ and I sit on the brick wall watching the sunset while we talk about our dreams for the future. It's a very calming place to just reflect on life. It will always be my 'Genius Loci'!"
It's moments like this when we almost don't need a camera. I am sure Lynn that you could close your eyes and see this in your head. Do you ever do that? Sometimes think 'that's just too special , too personal to photograph?
It's a beautiful shot and one I can feel is full of romance and hope.
Specially enjoyed this.
SILVER MEDAL WINNER                       
| | |
| --- | --- |
| | |
| Planting Queen |   |
"I have been thrilled to the sights of tulip fields and windmills in Holland, ferns and glaciers in New Zealand, the majestic fjords of Norway. I have photographed poppies with the Parthenon, sunflowers in Monet's garden, and hibiscus with the pyramids in Mexico.
But I am still moved by the subtle beauty of my home state."
So here's proof that Genius loci is not all about rolling mists and sunrises. This image from 'Planting Queen' says it like it is. The strong graphic quality of this landscape makes it an instant winner for me. It does what the brief asked and encompasses a wide view giving the spirit of the place. I get the feel that in your Home State the maize grows on forever! Fabulous.
GOLD MEDAL WINNER
Macgardens
John says "The photo that seemed to me to best capture this special place came after a snowstorm just as the light was fading from the day and this is my submission for the February Gardening Gone Wild Challenge."
I can hear the silence in this photograph. The deafening quiet of this unblemished snow. It made my heart stop for a moment.
Isn't that what we want from our photography?
Congratulations!
End message: Respect photography, enjoy the art and take your time… Andrea
To check out this month's gallery of photo entries, click on here.
 We're going to take a break for March while all of you are getting ready for Spring. Picture This will be back in April with a great spring subject and one of our terrific returning judges.