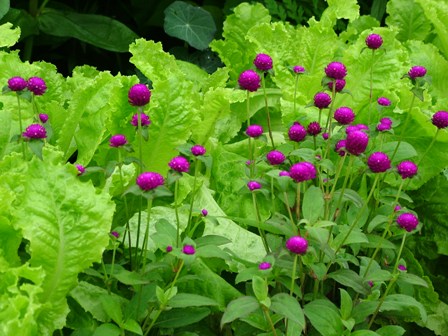 When you're choosing ingredients for a salad, lettuce is obviously one of the first things that comes to mind. And of course, the same is true when you're choosing plants for foliage interest in your garden. Wait—you mean it isn't? Well, it should be! There's a lot to love about lettuce as an ornamental. The range of leaf shapes and colors rivals some of the best foliage perennials, and it can grow well in average soil in full sun or partial shade without a lot of fussing. Plus, it's a snap to grow from seed, so for the price of one packet of seed, you can have dozens or even hundreds of plants in just a few weeks from sowing.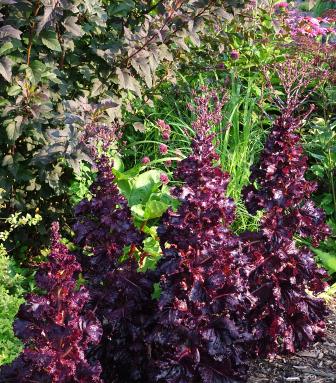 Ok, so maybe there are a few drawbacks. Lettuces are annuals, after all, and that usually necessitates starting new plants for seed each year. Plus, they prefer cool weather, so they're really at their best in late spring to early summer, and again in late summer or early fall to frost. When confronted with heat, lettuces tend to "bolt," which means that they expand upward from their normal leafy or heading form into a tapering column that's topped with branching clusters of small yellow flowers and tufted seeds. Bolting is a bad thing if you're growing lettuces to eat, because the leaves tend to turn bitter, but from an ornamental standpoint, the plants can look quite interesting. Plus, you'd be surprised how seldom even experienced gardeners recognize a lettuce plant that has bolted, giving you bragging rights for nurturing a rare Lactuca sativa to bloom.
Bolting does add some challenges from a design standpoint: The plants go from relatively low clumps that are ideal for the front of the border to a 2- to 3-foot-tall tower that looks a bit eccentric as an edging plant. But if you let the flowers and seeds form, you may get self-sown seedlings in fall or the following spring, and you can easily move the small volunteers to where you want them to grow.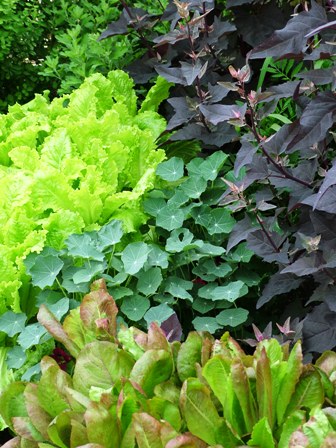 You don't have to let your lettuces stick around long enough to bolt, though; instead, you could use them as temporary fillers. In spring, start them indoors in cell packs or plug trays in mid-spring, then set them out in late spring to fill gaps where you plan to set out tropicals and other heat-loving plants once the weather warms up. Enjoy the lettuces for their foliage color and texture for a few weeks, then cut them to the ground to harvest their foliage for salads or pull them out and toss them into your compost pile. I like to start another batch of lettuce in cell packs or plug trays in late July or early August, then set them out in mid-August to fill gaps in borders and containers where earlier-blooming annuals, perennials, and bulbs have fizzled out. The lettuces just get better as the temperatures cool, adding fresh color until they get zapped by frost.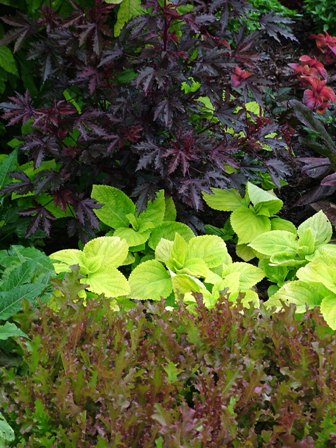 Because lettuces aren't long-term commitments, you can have great fun experimenting with the different colors and leaf shapes. You'll also find that some are much slower to bolt than others. My consistent favorite is 'Merlot', with glossy, crinkled leaves that stay the deepest garnet red you can imagine. My spring-sown plants started bolting in mid-June this year (the last ones to do so), and they still look good in late July, as they're just beginning to bloom. 'Adriana' is a butterhead type with smooth, bright green leaves that make a great companion for lacy leaves or bright flowers or foliage, such as that of dark-leaved dahlias. Other favorites to date include deep red 'Outredgeous', with rumpled leaves; brownish red, smooth-leaved 'Cimarron' (also spelled 'Cimmaron'); and reddish green, lacy-leaved 'Mascara'. While I tend to choose the red-leaved types over other colors, 'Australian Yellow' is a must-have where crinkled, chartreuse foliage is in order.
Just about every seed catalog or retail seed-display rack sells at least a few green and red lettuce varieties, but if you're looking for some of the more interesting kinds, a few suppliers I'd recommend include Johnny's Selected Seed, Southern Exposure Seed Exchange, Territorial Seed, Underwood Gardens, and Wild Garden Seed.