While working on my most recent book, Fallscaping, I developed a particular interest in finding perennials with great autumn foliage color. Before that, I could name only a half-dozen or so; now, it seems they're everywhere I look. At left above are some sunny yellow stalks of common milkweed (Asclepias syriaca), showing off beautifully against the deep green Eastern red cedar (Juniperus virginiana). And at right, a clump of foxglove penstemon (Penstemon digitalis) in rich fall color. I barely noticed this plant when it was in bloom; now, it simply cannot be overlooked.
Seedpods are another treat of the autumn season. At right above, the common butterfly weed (Asclepias tuberosa) is getting ready to release its silky-tufted seeds. At left above are the seedpods of Indian hemp (Apocynum cannabinum). Its open clusters of white flowers earlier in summer look something like a milkweed, but at this stage, it's easy to see its connection to bluestars (Amsonia): They're both in the dogbane family (Apocynaceae). Don't see the resemblance? If you're growing bluestar–particularly A. hubrichtii–and you didn't cut it back after it flowered, look for the seedpods now about a third of the way to halfway down from the stem tips. I've not noticed bluestar pods turning this reddish (they're usually yellow to orangey, just like the fall foliage), but the shape is very similar.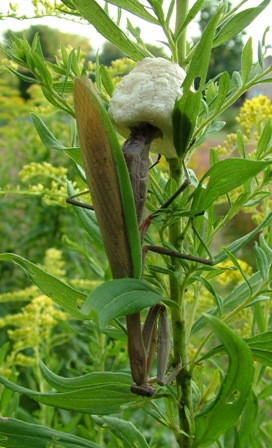 Of course, plants aren't the only thing that call the autumn meadow home; besides an abundance of birds and deer, and the occasional groundhog or red fox, there are lots of interesting insects and spiders, too. At right is a praying mantis laying an egg case on a goldenrod stem in early evening. I went back early the next morning, and she was still stitting there. I guess it's a long process! And finally, I've included a few spider webs below, just because they're neat. They also point out another advantage of wandering the meadow in early morning: The dew makes it much easier to admire–and to avoid walking through–the webs. By the way, if you find insects and similar critters fascinating, you need to check out the site called "What's That Bug?". Be prepared to spend a couple hours there, though!