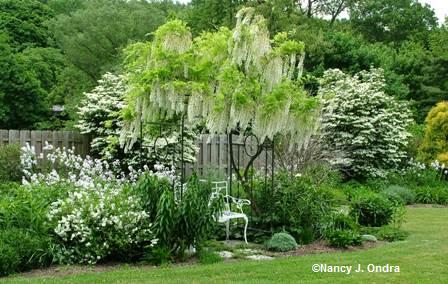 So sayeth I, frequently. My reasons? For the first, I offer a simple equation:
white + a mulberry tree + birds = purple-spotted white
Seven years of purple-spotted white fences and garden furniture. Need I say more?
My second objection to white is its lack of potential. Think of the crispness of a freshly painted white bench, or the pristine petals of a newly opened white bloom. When you start out so perfect, there's simply nowhere to go but downhill. On fences and furniture, white quickly gets splashed with mud, stained by birds (see objection number one), greened with algae, and discolored by wind-borne dirt and road grime. And pure white flowers seldom stay pure white for long: If you're lucky, they'll take on greenish, bluish, or yellowish tints as they age, but most often, they're all too soon a yucky brown. So, that's why I don't like white.
Well, I guess I could qualify that statement: I don't like white – in my own garden. I do rather like seeing it in other people's gardens, actually. The photo at the very top of this entry is from my friend Nadeen McShane's garden. She has an excellent eye for creating great combinations (oh, what she can do with chartreuse and blue!), but this white vignette in her garden is one of my favorites. Ok, so I don't mind white the way other people use it, but I don't like it in my own garden.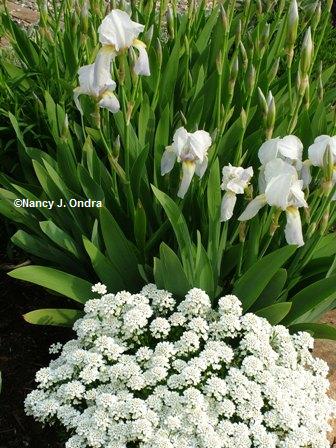 So…if I don't like white in my garden, I have to ask myself: "Why, then, do I have so many white-flowered plants?" Myself has no good answer. Well, I have a sentimental reason for keeping this 'Florentine' iris (which reads as white from a distance but is ever so lightly tinged with blue up close), and it makes a nice contrast of form and texture with the perennial candytuft (Iberis sempervirens) I'd acquired for a project I was working on.
And, well, I'd heard everyone raving about the Shasta daisy (Leucanthemum) 'Becky', so I had to try it too. Above left, it's paired with bells-of-Ireland (Molucella laevis) and Rozanne geranium (Geranium 'Gerwat'); on the right, it's with the foliage of 'Dallas Blues' switch grass (Panicum virgatum) and southernwood (Artemisia abrotanum). I'll grant that it was a beauty for several weeks, but it didn't add anything through the rest of the year. Both clumps died after two years, anyway, so I didn't have to decide whether I really liked them well enough to keep them.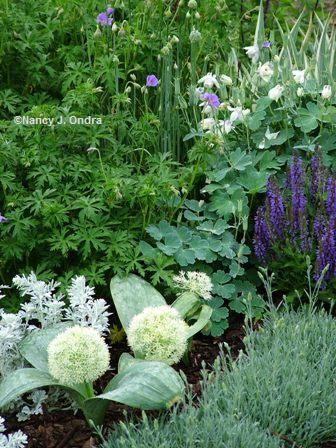 You know, though, white is quite nice with blue. I bought Allium karataviense 'Ivory Queen' for its foliage and shape more than its color, but it turned out to be a pretty companion for the blue leaves of white-flowered dwarf fan columbine (Aquilegia flabellata var. pumila f. alba) and 'Spotty' dianthus, especially with a shot of green from the foliage from 'Brookside' geranium and the intense blue flowers of 'Marcus' salvia. And below, a sprinkling of white from the flowers of 'Cramer's Plum' love-in-a-mist (Nigella damascena) saves this combination of 'Walker's Low' catmint (Nepeta), 'Caradonna' salvia, and Rozanne geranium from being just too blue (if such a thing is possible).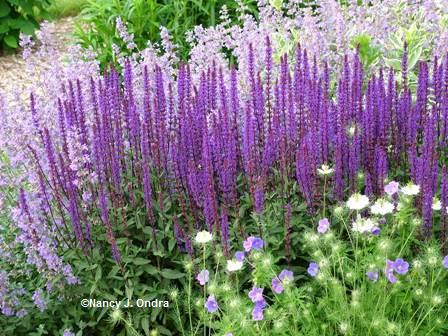 White may be short-lived when it's in the form of flowers, but it can stay sharp and clean for much longer when it appears in foliage form. Now, I realize that leaf variegation is a touchy subject for some people, so if you object strongly to stripes, spots, and splashes, I suggest you click away now. Okay, you've been warned! To continue the blue-and-white theme, I first offer 'Loraine Sunshine' oxeye (Helianthus helianthoides) with 'Sarastro' bellflower (Campanula).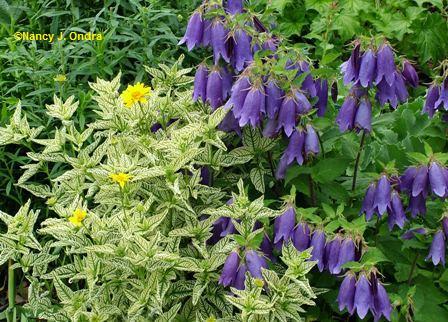 And here's another pairing along the same lines, this time the finely speckled foliage of 'Spider's Web' fatsia (no, it's not hardy here; it's in a pot) with a self-sown seedling of blue mist shrub (Caryopteris x clandonensis).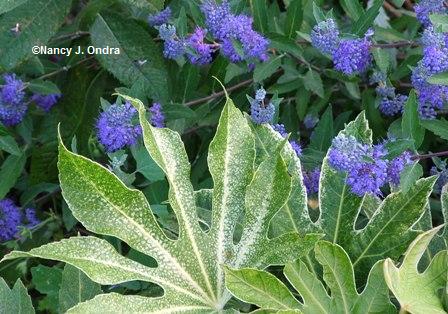 White-variegated foliage isn't good only with blue, of course; it also pairs well with white flowers, and with silvery leaves. Below is a patch of variegated tawny daylily (Hemeocallis fulva 'Variegated Kwanso') flanked by a bit of white-blooming 'Ravenswing' cow parsley (Anthriscus sylvestris) and the exceptionally silvery 'Looking Glass' Siberian bugloss (Brunnera macrophylla).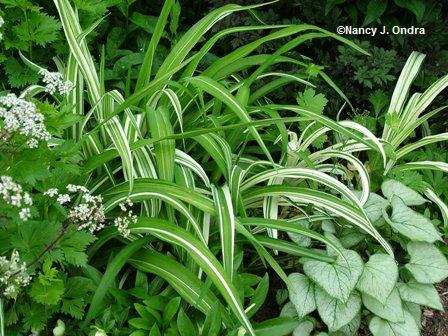 But why stop there? If a little white foliage is good, then more must be better, right? Below left, variegated heartleaf iceplant (Aptenia cordifolia 'Variegata') covers the ground around a clump of 'Snow Fairy' caryopteris. And below left, white-variegated flax lily (Dianella tasmanica 'Variegata') adds height to a pot of 'Harlequin' wintercreeper (Euonymus fortunei) and 'Burgundy Glow' ajuga.
Um…a little too much of a good thing? Maybe so. But you know, white's so nice in the garden that it can be hard to avoid getting carried away with it. I should know. So….what was I talking about anyway? Oh, yeah: I really like white! How about you?