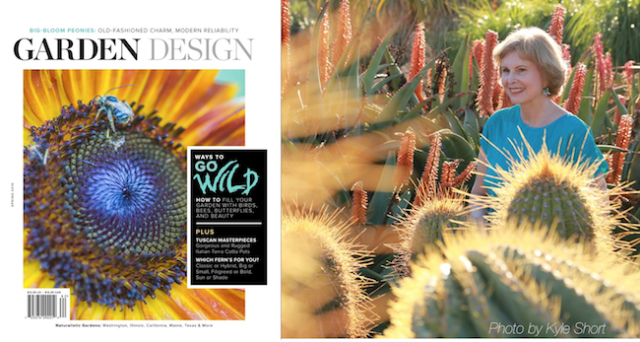 No doubt you know that Garden Design is a fabulous "bookazine" for those who love luscious photos of gorgeous gardens and superb design. It's a huge honor and a high point of my career to be profiled in the Spring 2016 issue as a "groundbreaker" (See "Succulent Chic," pp. 32-35).
Consequently, I took the opportunity to come out as a cactus lover.
Well, I had to. They asked about trends in the world of succulents. I believe my progression is fairly typical. Most of us start out loving succulents that look like fleshy roses—echeverias, graptoverias and the like. As we gain appreciation for the lines, textures and shapes of all succulents, we inevitably arrive at those that exhibit elegant simplicity at its best—never mind that they have spines (in fact, sometimes because they do).
Note I'm not talking about common prickly pear—the plant most of us have bad childhood memories of. (Ow!) There are SO many other kinds of cacti.
The article's portrait shot (above right, taken at Desert Theater nursery) shows me surrounded by columnar cacti with spines that glow yellow-orange in the late-afternoon sun. Yep, I wore turquoise on purpose.
If you're a formerly closeted cactus fancier, too, we should organize a pride march. Herewith, I offer a dozen reasons why cacti are the coming thing…in waterwise gardens and in Garden Design.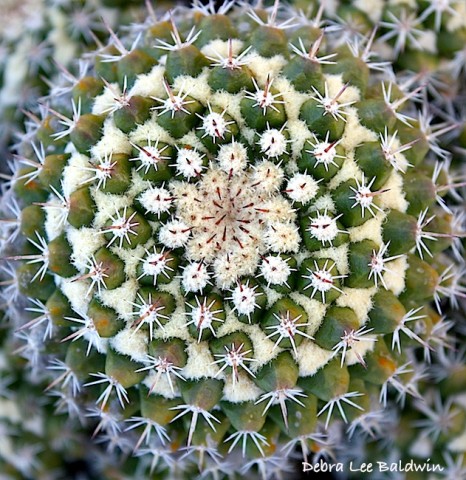 In a word: symmetry. Mammillarias in particular have it nailed.  Above: Mammillaria eichlamii
For such simple plants, they offer astonishing contrasts. I mean, c'mon, spines and fur? Above: Oreocereus celsianus
 Endearingly, cacti don't take themselves too seriously. Above: Echinocactus pectinatus rubrispinus
 Some think they're snowflakes.
Others, waterlilies. (Trichocereus hybrids)
A few are in touch with their feminine side.

Others, not so much. (Lophocereus schottii)
More than a few are darn cute. Each of these thimble cacti is less than an inch in diameter.
And how about geometry, red spines and buds like Russion onion domes? This ferocactus has them all.
Love 'em or hate 'em, you can't deny cacti are intriguing. Like this stack of pink-and-teal golf balls I photographed at a

Cactus & Succulent Society

show. (Tephrocactus geometricus)

But here's what I like best about cacti (the spinier the better): How they're haloed by the sun. When I asked horticulturist Patrick Anderson why he grows cactus, he replied, "Stand over there." I circled the plants until he told me to stop. Lo and behold, backlit by the sun, a dozen golden barrels glowed. I've been circling cacti ever since. (Echinocactus grusonii)
Get the Spring, 2016 issue of Garden Design.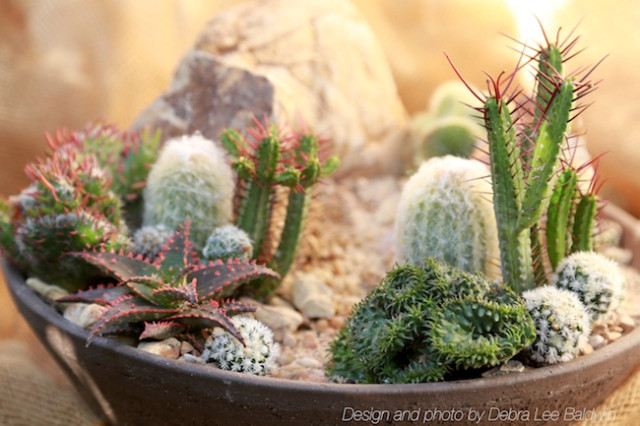 View my video of the "Mini High Desert Succulent Garden" shown in the article.
Join me at Waterwise Botanicals nursery's Cactus Chat, April 8 at 10 a.m. Free.