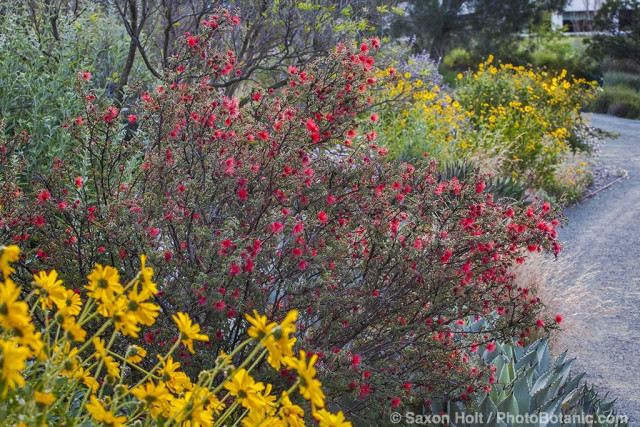 I am on the road, photographing California native plants, and just too dang busy to think about anything else.  My post will just be a "best of" selection from a presentation I gave at Santa Barbara Botanic Garden.
So here is a portfolio selection of great gardens using California natives.  For those of you in other parts of the world – be amazed.  Our natives do not look like what you see in most garden publications – which is the reason I am so busy photographing them.
But whether it's California or any other region, gardeners must learn to use natives ornamentally to truly move to sustainability. Native plant enthusiasts know this, but too many traditional gardeners think natives are not garden worthy. And too many native plants gardeners don't care about garden design.
I'm here to say we can have it all, utilitarian natives beautiful design.  The more I look, the more wonderful native plant gardens I find.
Often native plant gardens will include select plants from other similar regions.  In California we look to other summer-dry regions of the world, such as Western Australia or the Mediterranean, such as the daffodils in the shrub border above.
Surprisingly though, I am finding many gardens that are only natives.  Gardeners are really learning the nuances and nurseries are introducing many more varieties that allow the creative gardener to combine natives ornamentally.
And to conclude, I have to sneak in a poppy photo – this one from this morning:
I hope you will all go out and explore you own native plants and let me now what YOU are finding in gardens.