In 5 minutes, you can transform an overgrown succulent bowl like this…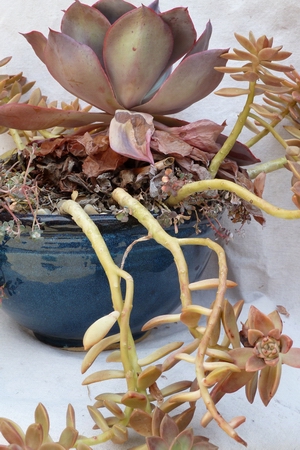 into a tidy composition like this, using the same plants!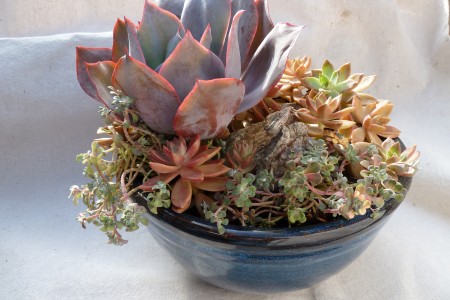 Here's how:
(1) Cut off the tips (about 4″) of the leggy Graptosedum 'California Sunset' stems. Set cuttings aside.
(2) Pull the Echeveria 'Afterglow' (the big rosette) out of the bowl, root ball and all, taking care not to mar its inner leaves. Trim away the lower, dry, unsightly leaves. Set the echeveria aside.
(3) Salvage any nice clumps of the small-leaved Sedum 'Cape Blanco', roots and all. Set aside.
(4) Empty the pot, discarding old dirt and plants.
(5) Fill the pot with cactus mix, or potting soil amended 1/2-and-half with pumice or perlite.
Reassemble the composition
(6) Tuck the echeveria's root ball and stem into the soil. My composition is asymmetrical, but you might want to put the rosette in the center of the bowl. I also added some ornamental rocks, but they're not necessary.
(7) Cluster the graptosedum cuttings around the echeveria. Pull off lower leaves on the cuttings' stems before inserting them into the soil. Roots will form where leaves were attached to the stems.
(8) Fill gaps with Sedum 'Cape Blanco', pushing the root balls into the soil.
(9) For a nice finishing touch, cover any bare soil with pebbles or rocks.
(10) Water lightly to clean the leaves and settle the soil. Give cuttings a week or so to root, then keep soil about as moist as a wrung-out sponge.
Want more tips on creating an appealing succulent container garden? My 6-minute video shows how the original composition came together, step-by-step.
My goal is to share the beauty of waterwise, easy-care succulents in gardens, containers and landscapes via blog posts, newsletters, public speaking and workshops, photos, videos, merchandise, and social media (Facebook and Pinterest). My books: Designing with Succulents, Succulent Container Gardens, and Succulents Simplified.  www.debraleebaldwin.com