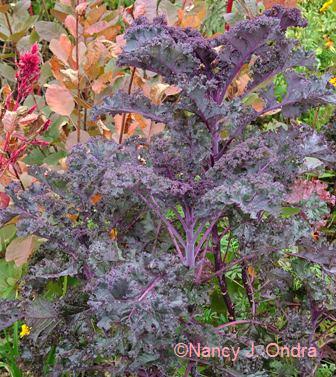 I can sympathize with Fran's feelings about the use and abuse of chrysanthemums (see "The Pushiness of Chrysanthemums"), but I must confess that I've done my fair share of September shopping for fall-garden fillers. Mums? Check. Pansies? Yep. Ornamental cabbage and kale? Oh, yes—gloriously yes. I know, I know: They're big and frilly and gaudy, but what can I say? I find them almost impossible to resist.
I say almost impossible, because in the last few years, my gardening style has changed a bit. I've been gearing my gardens toward fall interest, with lots of long-lasting foliage and late-blooming perennials, plus July-sown annuals (such as cosmos and dwarf sunflowers) set out in August to add fresh-looking flowers well into fall. I've also developed a tolerance—even a fondness—for seedheads, so I'm not as quick as I had been to cut out dead-looking stuff. All this means I don't have too many empty spaces that need temporary fillers in early fall, and so far, none of them have been big enough to suit an ornamental cabbage or kale. But still, I've found a way to have my kale and eat it, too: by growing edible varieties with leaves that look great from spring well into winter.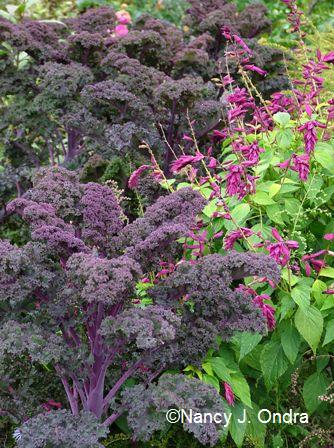 While many kales offer great-looking foliage, my top favorite is—and has long been—the one known as 'Redbor'. The seedlings don't look particularly promising: The leaves are basically blue-green with purplish veins and jagged edges, much like many other kales. As the season progresses, its stout, pinkish purple stems shoot straight upward, often reaching 4 to 5 feet by fall. The leaf edges become distinctly more crinkled, and the color develops more of a purplish tinge, especially in full sun. Once it's touched by a bit of frost, the whole plant takes on a rich purple color, which looks just as good with pastel asters as it does with bright yellow goldenrods and tan-seeded grasses.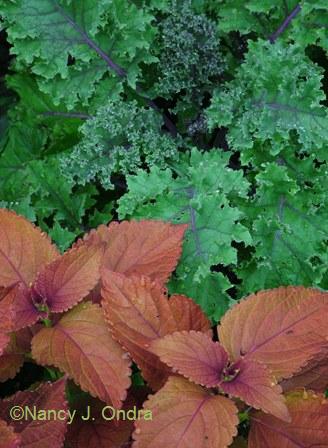 A close second for both color and texture is a beauty known by a plethora of names: dinosaur kale, palm kale, black kale, Tuscan kale, cavolo nero, 'Lacinato', 'Nero di Toscana', and 'Toscana', to name just a few. By any name, it's a stunner, reaching about 3 feet tall with long leaves that are curled under along the edges and covered with a pebbly rumpling. The newer leaves are typically a bright powder blue, gradually turning an almost black-green as they age. Its bold-textured foliage looks fantastic with fine-textured companions, such as asters and grasses.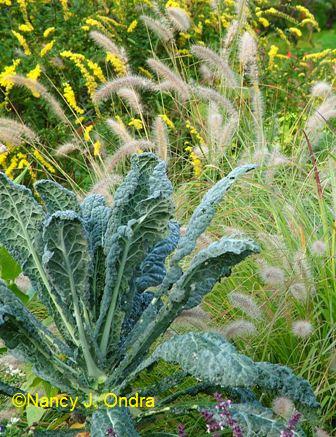 Both of these amazing kales are easy to grow from seed sown indoors in early spring, then set outdoors in late spring. (Or, you could sow in June or July, then set them out in August; the plants would then be shorter and more appropriate near the front of the border, instead of the middle or back.) I like to set out the seedlings in groups of three to make a dense clump, but they also look great planted singly and repeated along the border.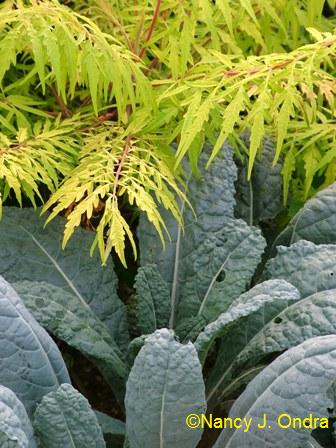 While mine occasionally get nibbled on by various bugs, I find that they seldom get attacked by cabbage loopers—even this year, when many of my other cabbage-family crops were chewed into lacy skeletons. I've also noticed that both kales show a tendency to overwinter here in southeastern Pennsylvania, although dinosaur kale looks pretty sad by spring. 'Redbor' quite often resprouts nicely from the cut-back stem and produces sprays of light yellow blooms in late spring and early summer; if allowed to go to seed, it will even self-sow lightly. That's a generous return from an often-overlooked vegetable!