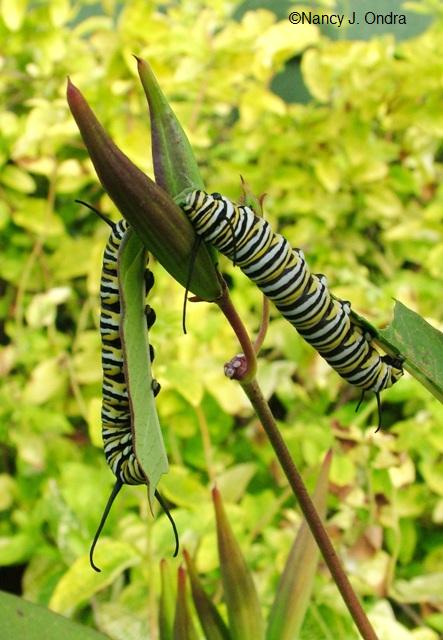 Asking gardeners if they're interested in wildlife is like asking them if they're interested in plants. It's kind of hard to have a garden (at least an outdoor one) without both, after all. But, just as with plants, gardeners vary widely in their opinions about various kinds of wildlife. Some  champion birds; others enjoy watching (and/or cursing) squirrels, deer, rabbits, and other sometimes-cute-and sometimes-destructive critters. It was interesting to see that while this month's participants had their share of wildlife challenges, most were willing to take a live-and-let-live approach to dealing with them. If nothing else, the various forms of garden wildlife provide some great photo opportunities! So without further chatter, let's get to this month's contributions.
Wildlife-Focused Blogs
Some of our readers focus most or all of their blog posts on various forms of wildlife. Here's a list of some old favorites as some new-to-us blogs we've found this month:
The Urban Gardener (Sunita): Sunita writes about the wildlife and plants she encounters in her two gardens in Mumbai, India.
Pollinators Welcome (Gloria): Calling herself a "wildlife habitat provider" (which is a pretty cool synonym for "gardener," I think), Gloria blogs about her experiences in creating a wildlife garden in an urban setting (Chicago, Illinois).
Shirl's Gardenwatch (Shirl): Check out the variety of birds, hedgehogs, and other forms of wildlife that pass through Shirl's garden in Perthshire, Scotland. She even has videos with musical accompaniment (warning: these are very addictive). You can find even more images at Shirl's Birdphotos.
Robin's Nesting Place (Robin): Garden birds are one of Robin's specialties, but she also blogs about many other creatures that visit her central Indiana garden. Her bird photography, in particular, is amazing.
Montana Wildlife Gardener (David): A wildlife biologist by trade, David writes an information-packed blog about wildlife gardening with native plants on a small city lot in Missoula, Montana.
Thanks for 2 Day (Jan): Backyard birds are one of Jan's favorite topics, so you'll find plenty of posts about them (such as her Backyard Bird Series), as well as other forms of wildlife in her Virginia garden.
Wildlife-Related Posts
Birds, bugs, deer, and other wild creatures are a recurring theme for many garden bloggers, so there are plenty of gems to be found in just about any garden-related blog you follow. Here are some favorite posts from this month's contributors.
Garden Bloggers Design Workshop – Wildlife in the Garden (Nan at Gardening Gone Wild): Kick-off post for this month's topic.
Never Again in My Name (Joco at Joco-Serious): It's easy to enjoy "pretty" creatures like songbirds and butterflies, but what about the unpretties and downright destructive ones? Joco muses on where to draw the line between control and tolerance for all forms of wildlife in the garden.
Salamander Rescue Society (TM and CM at Town Mouse and Country Mouse): Read the story of Sal the Arboreal Salamander in this post, as well as the follow-up here. You can find more wildlife-related posts here.
Colletes thoracicus (Colletidae), Cellophane Bees (Xris at Flatbush Gardener): A very cool post about the ground-dwelling cellophane bees in Xris' Brooklyn, New York, garden. Check out his primer on Bat Houses too, and various other mammal-related posts here.
A Co-operative Subject (Yvonne at Country Gardener): Yvonne's 10-acre garden in Ontario, Canada, provides great habitat for a wide variety of critters. The first post focuses on a photogenic monarch butterfly; there are also snapping turtles (Snappy Crossing), a coyote (Wild Garden Visitor Snacks on Crabapples), redwing blackbirds (Favorite Sign of Spring) and Yvonne's favorites, barn swallows (Our Barn Swallows are Back, It's Amazing How Fast They Grow, and Barn Swallow Babies), among her many visitors.
Creating a Rock Pile in a Habitat Garden (Gloria at Pollinators Welcome): As you might guess from the name, wildlife in the garden is a favorite topic of Gloria's. In this post, she shows some ways to use rocks to provide shelter for small creatures. Other links she shared include Birds Will Come…An Urban Habitat Garden, and Why Grow Natives? And in Bee Housing Extraordinaire, she gives links to an awesome German blog that shows some beautiful and intriguing ways to create habitat for solitary bees. There are plenty more great posts in her archives, too!
At the Gate (Frances at Fairegarden): Even fairies can have problems with destructive wildlife, apparently. Read all about the story of the barbaric squirrels versus the fairy gazebo!
Wildlife in Garden (Lois at Lois de Vries' Garden Views): Lois gives us an overview of some of the many creatures that live in and around her garden in northwestern New Jersey.
CSI – Critters in the Garden (MMD at Mr. McGregor's Daughter): In this first post, MMD uses some of her forensic skills to come up with a rogues' gallery of the four-footed menaces that haunt Squirrelhaven. Take a Walk on the Wild Side explores some of the kinder and gentler forms of garden wildlife she encounters.
Design Workshop Pets in the Garden (Pam at GardenDesigns+More): Pam shared this post for last month's Design Workshop, but it applies here too, because she talks about the wild creatures as well as the domesticated critters that share her garden.
GBDW – Wild about My Garden (VP at Veg Plotting): VP muses on the relationship between "slow gardening" and wildlife-friendly gardening, proving once again that less can be more. You can find lots of other great posts that she's tagged with "wildlife," on birds, bees, snails, and…um, a flying pig?
Deer (Craig at Ellis Hollow): Craig has big-time deer problems in his New York garden, so he's come up with a number of coping strategies over the years.
The Winter-Interest Secret Most Gardeners Forget (Genevieve at North Coast Gardening): Interesting seedheads, bright bark, and evergreens are all well and good, but don't overlook the color, sound, and movement that birds can bring to the winter garden. Genevieve offers a number of tips to welcome these winged wonders during the colder months. This post also includes links to five other posts, in which she offers bird-friendly planting suggestions (even for containers!).
Gardening with Wildlife in Mind (Helen at Patient Gardener): Helen proves that taking a laid-back approach to gardening can be a big part of making your space more wildlife-friendly.
Pleasing the Bees (Catherine at Gardening Gone Wild): Catherine shares some observations of honey bee habits in the spring garden.
Wildlife in the Garden (Sweet Bay): Fifty-plus acres in North Carolina certainly provides ample room for all kinds of truly wild wildlife. Check out some of Sweet Bay's adventures and visitors in this post.
Winter Wildlife (Carol at Flower Hill Farm): As you can imagine, Carol's 20 acres provides ample opportunities for wildlife watching. Her Massachusetts property is home to many critters in winter, including a fox, songbirds, and wild turkeys, to mention just a few. She focuses on some especially showy visitors in Cedar Waxwing Winter Pastel I and II.
Just Ducky 2 (Linda at Each Little World): Linda may not have envisioned creating a wildlife habitat as well as a beautiful garden, but a variety of wild creatures – in particular, Fred and Ethel, the mallard ducks that spend their summers in her pond – seem very happy there!
Curb Your Enthusiasm (ESP at East Side Patch): They call that difficult street-side bit of ground a "hell strip" for a reason, but you can find intriguing wild creatures even there if you take the time.
The View from Kitchen Window (Jim at Art of Gardening): Subtitled "Or, That Friggin' Squirrel Taunts Us So." I probably don't need to elaborate what Jim means by a SLT sandwich.
Ok, Nan! A Word about Wildlife! (Shady Gardener at Does Everything Grow Better in my Neighbor's Yard?): Shady gardens in southeastern Iowa, where she encounters wildlife in all shapes and sizes, from spiders, snakes, and frogs to birds, butterflies, and deer.
Critters-Squirrels (Sue at A Corner Garden): Sue just started a series on some of the wild creatures in her Nebraska garden, beginning with squirrels. You can also find more posts that she's tagged with Wildlife in the Corner Garden.
Mini-Beasts are Wildlife Too! (Chookie at Chookie's Backyard): Chookie from Sydney, Australia, shares the story of finding a stick insect here, and the tale of another visitor in Dragonfly.
A Chicken-Wire Raised Bed Cover: How to Protect Vegetables from Groundhogs, Rabbits, and Squirrels (Heirloom Gardener): In which HG lays out her complaints against her local varmints and shows she's prepared to take serious steps to foil their nefarious designs on her poor veggies.
So Much More Than Flowers and Veggies (Meems and Hoe and Shovel): While some of our gardens are just waking up for the season,, Meems' central Florida space is already teeming with plenty of wildlife, including butterflies, birds, and more. You can find addition posts that she's labeled "critters" here.
I hope I've included everyone who responded this month. If I missed you, or if you want to add a link later, leave us a comment below. Thanks, all!