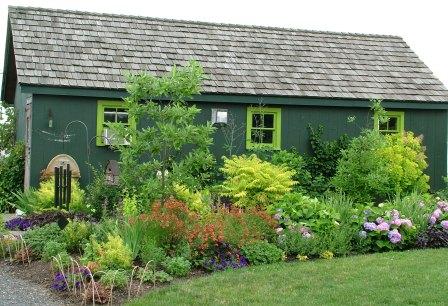 Well, there weren't as many responses to this topic as I'd hoped, but never mind: We still have quite a few great posts on the subject, and hopefully we'll pick up a few more along the way. Most of us are blessed (or cursed) with some sort of outbuilding, after all; the question is whether we treat it as a design opportunity or as a strictly utilitarian structure that's best ignored or hidden. The latter approach is certainly a reasonable one, especially if you have a sizeable garden with plenty of structure from fences, trellises, and other vertical elements. But if your space is already limited, or if your shed is in a highly visible site, maybe it's time to give it a makeover so it does double duty as a delightful visual element instead of an eyesore. Most people worry about the cost of sheds, however you can get shed kits which allow you to build your own shed at a great price. With this being said, even with the use of small garden storage boxes will provide you with at least some space to store your gardening essentials, if you find that your garden isn't big enough for the outbuilding you had initially hoped for. Anything is better than nothing. If you don't have a shed and would like one, then check out these sheds for sale. If your garden shed isn't all you wish it could be, check out these posts to find some inspiring ideas.
Garden Bloggers' Design Workshop – Sheds and Outbuildings (Nan at Gardening Gone Wild): Kick-off post for this month's topic.
The Shed Revisited (Frances at Fairegarden): No excuses needed for the garden shed at Faire Garden! A coat of paint, a clever windowbox planter, and a charming companion garden turn this kit shed into a lovely landscape feature. For more on its history, check out the appropriately titled Shed.
Garden Bloggers' Design Workshop: Sheds and Outbuildings (Heirloom Gardener): When I was a kid, a fort was simply a conglomeration of picnic-table benches and old sheets. Seeing the great fort that Heirloom Gardener's husband built for their kids makes me think I should have held out for something a little spiffier. The first link leads to her recent post with a photo of the fort in its garden setting. For more info on how it was built, visit Gardening with Children: How to Build a Children's Playhouse (the Fort).
Buffalo's Shed Spread (Jim at Art of Gardening): Trust Jim and the other participants in Garden Walk Buffalo to come up with an amazing array of out-of-the-ordinary outbuildings to amaze and inspire.
Outhouse Tool Shed (Lois at Lois deVries' Garden Views): Mom built me a super little shed that looks like an outhouse, but Lois has that beat: a real, old outhouse that now serves as her garden shed!
Garage in the Garden (Barbara at Gardening Gone Wild): Barbara's garden may be new, but she already has a shed setup that's the envy of any gardener, complete with potting bench, ample storage space, and extra windows to create a great greenhouse-like space.
Where Elvis Lives (Steve at Gardening Gone Wild): Steve's splendid garden shed has served many purposes, except perhaps the one for which it was originally intended. Find out how Steve is working on changing that – and find out exactly who Elvis is.
From Eyesore to Asset: New Shed Evokes Fond Memories (Pam at Digging): Pam has moved on to a new garden, so the story of Green Hall at her previous garden is now even more memorable.
If anyone else has a shed-related post they'd like to share, don't be shy: Leave us a link below! For even more inspiration, check out Debra Prinzing's new book: Stylish Sheds and Elegant Hideaways. You can find out more about her and her book at her web site, Debra Prinzing.