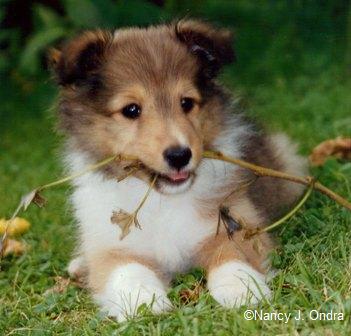 What an enthusiastic response to this month's topic! It's not a surprise, though, considering how passionate most pet people are about their furry and feathered friends. From cats and dogs to chickens and camelids, our companions often have a great influence on our design and plant choices, and we don't mind making allowances for their comfort and safety in our outdoor spaces.
By the way, I just noticed that Fine Gardening's February Photo Challenge is Pets in the Garden. Today is the last day to enter your cutest pet pics and possibly win a prize! You can find the entry details here and the gallery of entries here.
Garden Bloggers' Design Workshop – Pets in the Garden (Nan at Gardening Gone Wild): Kick-off post for this month's topic, including links to some past pet-related posts at GGW.
Gardening Greyhound Goes Coastal (Cameron at Defining Your Home): Dogs sometimes have a reputation for being garden menaces, but not Charm, the Gardening Greyhound.
A Borzoi Runs Through It (Mr. McGregor's Daughter): Ah, the many challenges of sharing a garden with a big dog. But MMD's beloved Natasha Fatale was worth making allowances for.
Growing the Perfect Cucumber…What Lengths Will I Go! (Kim at The Inadvertent Farmer): It's rather more complicated than buying a bag of fertilizer at the garden center, but it's certainly organic!
Gardening with Cats (Jodi at Bloomingwriter): Meet the entire cast of furkids that share Jodi's home and garden. (Despite the title, there are more than cats!)
Pets in My Garden – A Multi-Meme (Chookie at Chookie's Backyard): Guinea pigs in the garden? How's that for different! Chookie also offers tips for caring for chooks (chickens) here and in A Backyard Chook Primer.
Plan Ahead for Dogs in the Garden (Lois at Lois de Vries' Garden Views): Lois shares some tips that she's learned over many years of living with Labs, including a number of Seeing Eye puppies.
Five Reasons Why Cats Are Great For Gardeners (Heirloom Gardener): HG makes a great case for felines in the garden – and judging from the comments, many other readers agree.
Dogs and Gardens – How to Make It Work (Yvonne at Flower Gardening Made Easy): A great collection of garden safety and training tips for canine companions. You'll also want to check out Gotta Go – Dogs and Lawns and Pet-Friendly Garden Design.
Pets in the Garden (Carolyn Gail at Sweet Home and Garden Chicago): Carolyn shares the stories of the three "garden friendly" dogs that have been part of her life.
Design Workshop: Pets in the Garden (Pam at GardenDesigns+more): Pam introduces us to the variety of domestic and wild creatures who have visited her garden.
Cat Adaptation (Frances at Fairegarden): She has pets, and she has gardens, but normally the twain don't meet. Find out how Frances managed to pull off a "Pets in the Garden" post anyway!
Dogs in the Garden (Fran at Gardening Gone Wild): Fran introduces us to the many canine companions in her life and discusses some design modifications she made to keep her three Australian Terriers safe and happy.
Tyler, Jade, and Fred (3 Dogs in the Garden) (Craig at Ellis Hollow): If you're a regular visitor to Ellis Hollow, I'm sure you've noticed Jade popping up in a fair number of photos, and Fred too. Find out more about them, and their predecessor, Tyler, and enjoy some lovely pets-in-the-garden images too.
GBDW/ABC Wednesday F is for … (VP at Veg Plotting): VP says that she hasn't made design changes to accomodate her "garden helpers," but Skimble and Jess have managed to make themselves quite at home in the space anyway. She also mentions the controversy between cat owners and bird lovers.
A Little White Dog and a Little White Fence (Catherine at A Gardener in Progress): Gracie may be small in size, but she has played in important part in the layout and plant choices in Catherine's garden.
Pets in the Garden – Kitty Helpers (Kerri at Colors of the Garden): Enjoy a romp around Kerri's dairy farm and gardens with her many feline friends.
Rededicating the Bird Bath Garden (Dave at The Home Garden): Dave and his family lost a dear friend back in December (if you decide to also read A Farewell to a Feline Friend, I suggest having a box of tissues handy), but he's created a beautiful garden that will help them to celebrate her memory.
Poo's Corner (Jim at Art of Gardening): Garden Walk Buffalo once again comes through with inspiring design ideas, this time with some fun dog houses and accents as well as a clever dog potty area.
A Garden for Cats (Monica at Garden Faerie's Musings): Attention all cat lovers: You need to check out this great garden designed especially for felines. Wouldn't your own catchildren enjoy a special space like this?
Before we wrap up, I must share a brief story with you. A few weeks ago my garden was visited by a beautiful cat with a swollen lip. At first, I was nervous that she might have been caught up in a nasty fight, but after asking my neighbor who is a vet it turned out that he had seen the cat in question that same day chasing after a bee so it was likely that the feline had been stung.
Although it can be worrying when you notice a cat's lower lip is swollen, unless the swelling persists, it is not normally anything too serious. Lo and behold the cat made another appearance this morning and seems to have made a full recovery. The whole scenario has made me consider getting a cat of my own though. What type of breed do you think I should go for?
For now though, that's everyone who left a link on the kick-off post, plus a few others I spotted during the month. If I missed a post you've already done, or if you decide to participate later on, we encourage you to leave us a link below. Thanks, all!