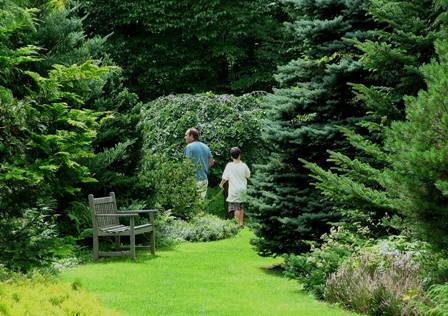 Whether you've been gardening for most of your years or have come to it somewhat later in life, you likely have some memory of a garden-related experience from childhood. It may be of grueling summer afternoons spent weeding or mowing, or it may be more pleasant recollections of playing by a garden pond by the pond water lilies, feasting on juicy-ripe berries, or experiencing the magic of watching seeds sprout. Either way, it seems that spending even a little time in a garden as a child has a way of changing a person – generally for the better.
We had quite a few participants this month, so without further delay, here's a rundown of posts we have links for. If you didn't submit a link before, or if you decide to post later on this topic, feel free to leave us a link below so others can find you!
Garden Bloggers' Design Workshop – Kids in the Garden (Nan at Gardening Gone Wild): Kick-off post for this month's topic.
Azalea Earth Day (Frances at Faire Garden): "Going green" in the garden isn't just politically correct: it's one important way we can help to protect the planet for the younger generations.
Apprentice Gardeners (Colleen at In the Garden Online): Giving kids a space of their own, as Colleen has done for her two "garden girls," is a great way to get them off to a great start in their gardening career.
Three Gardening Books for Children (Kathy at Cold Climate Gardening): Kathy reviews a few of her favorite books that provide solid, accessible information for kids that take gardening seriously. Check out the comments too, to find other suggestions from her readers.
Why Kids Belong in the Garden (Eleanor at OutofDoors): Eleanor talks about why gardening experience is so important for little ones, as well as some of her favorite plants, projects, and books for young gardeners.
Shell Containers (Kerry at About.com): This step-by-step project would be fun for kids of all ages!
Gardening is Childsplay (Ilona at Ilona's Garden): Ilona shares her thoughts on gardening with kids.
Outdoor Kid Space Play Yard (Michelle at Garden Porn): The renovation of a steeply sloping property provides a perfect opportunity to create a play space for the family's children.
Harry Potter Garden (Jim at Art of Gardening): You don't have to be a kid to enjoy reading about this magical garden created by Jim and his daughter.
Might I Have a Bit of Earth? (Chookie at Chookie's Backyard): A dozen do's and dont's to help you and your kids have more fun in the garden.
Ten Tips for Planning a Children's Garden (HG at Heirloom Gardener): HG's children are an integral part of her garden, so she often writes about their activities and play spaces on her blog. "Ten Tips" is just one of the many posts on the topic; here's a new post, where her children share their insights on their favorite parts of gardening.
Seeds (Jeannie at Garden Sprouts): Check out these fun seed-related projects for kids – and some more here.