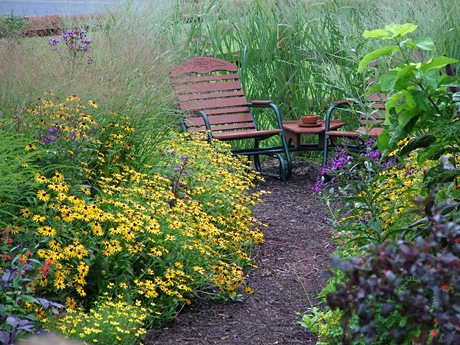 [Note: We hope to post the Picture This results in the next day or two. Sorry for the delay, folks.]
Thanks to all who joined us as readers and/or writers for this month's Design Workshop. In case you missed any of the contributions, here's a run-down of this month's links.
Garden Bloggers' Design Workshop – Garden Benches (Nan at Gardening Gone Wild): Kick-off post for this month's topic.
Rest and Be Thankful (Diana at Elephant's Eye): Diana tells us about the plantings around the blue bench in her garden in South Africa. There's also a follow-up post: Rest and Be Thankful 2.
Garden Bloggers' Design Workshop – Garden Benches (ESP at East Side Patch): He don't need no stinkin' plans to build a bench! ESP made it up as he went along and came up with a beauty that's perfectly suited for his Texas garden.
The Waiting Bench Retrospective (Gail at Clay and Limestone): Enjoy a series of season-by-season views of the bench in Gail's Tennessee garden.
My 4 Season Garden Fairy (Melody at Merrie Melody): Melody has created a shady sitting spot in her Utah garden, and she shares it with an avid reader all year 'round.
Rustic Benches (Lois at Lois DeVries' Garden Views): If you're considering a rustic bench for your garden, check out Lois' pictures of two different options: one from Utah and one from her own in New Jersey. She also includes some great construction tips. And in Gardening Resolutions Check-Up, she shows another bench, spiffed up with paint to match her front door.
Benches – Garden Bloggers Design Workshop (Frances at Fairegarden): Frances shares images of a variety of benches: those in her Tennessee garden as well as several that she's seen elsewhere.
New Garden Bench (healingmagichands at The Havens): The next phase of the Stroll Garden in this Missouri garden hadn't yet begun at the time of this post, but one element was already in place: a gorgeous new stone bench. For an update, visit On Assignment: Green World & Garden Benches.
I've Been Benched! (Christine at Last Frontier Garden): She may not have much time to actually use them, but at least Christine finally has the benches she longed for in her Alaska garden.
Gardening 365 – Day 115, Garden Benches I Wish I Owned (Mary Ann at Gardens of the Wild Wild West): Mary Ann hasn't yet found the perfect bench for her Idaho garden, but she has found a number of them to admire in her travels, and she shares them in this photo gallery.
Branches Bench in the Secret Garden (Kathy at Cold Climate Gardening): Finding the perfect bench for a special spot is always a triumph. Kathy has finally discovered the ideal seating for her Secret Garden. The Juneberry Garden, too, has a lovely bench to complement its beauty.