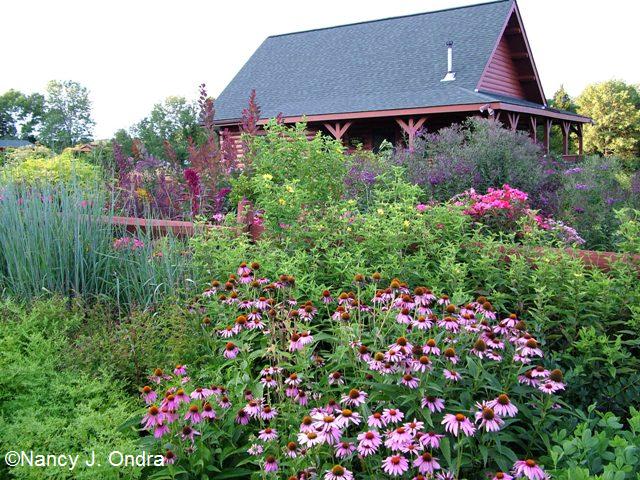 I was a little hesitant to repeat a GBDW topic, thinking that you all might be bored with the subject of front-yard gardens. Well, how glad I am that I was wrong! Our contributors this month have outdone themselves in generously sharing ideas and inspiration with other folks looking to turn their own barren yards into welcoming spaces filled with flowers and foliage – and wildlife as well. Wow, those before-and-now shots are amazing!
One quick note before we move on to the links: I want to personally thank each of you who joined us with a post this month. I apologize for not leaving comments on your blogs this time, as I usually do, and I promise get back to the normal routine for July's workshop.
Garden Bloggers Design Workshop – Front Yards Revisited (Nan at Gardening Gone Wild): The kick-off post for this month's topic. You can find the wrap-up post for the original workshop at GBDW – Front Yard Gardens Wrap-Up.
Done! (for this year) (Deb at Gardenista): Deb had multiple challenges to face in her Texas front yard, including established St. Augustine grass, a slope, shade, and deer. It wasn't easy, but she managed to prevail, and her new now-mow, low-water front yard is a must-see.
Our Front Yard Before and After (Loree at Danger Garden): Another take on a get-rid-of-the-grass project, this time in Oregon, where Loree replaced her front lawn with plantings and gravel mulch. You can find a follow-up post with more pictures here.
An Extraordinary Garden, An Extraordinary Gardener (MMD at Mr. McGregor's Daughter): In this post, MMD treats us to a virtual tour of Trudi Temple's Illinois garden, which includes a gorgeous front-garden garden. You can enjoy more of Trudi's handiwork in a slideshow in GBDW: Green Mustache Update & A Corner Front Garden, which also includes MMD's progress report on her front foundation planting renovation.
Garden Diary: The Front Garden (James at View from Federal Twist): From an unpromising expanse of barren gravel, James has created a multi-season, wildlife-friendly front garden that provides privacy while still welcoming visitors. (If you have trouble with this link, go to the main blog page at View from Federal Twist and look in the archives for November 20, 2007.)
Front Yard Mini Makeover (David at Montana Wildlife Gardener): Turfgrasses are definitely not welcome in David's front-yard prairie garden in Montana. Check out this beautiful and diverse planting, complete with interpretive signage that helps to educate curious passersby, and admire the before and now shots of his front walkway.
Front Garden Car Parks (Shirl at Shirl's Gardenwatch): The use of front yards for parking is a hot topic in U.K. garden circles. Shirl speaks up to offer her take on the subject, and to show how her graveled front garden in Scotland also provides some habitat for her local wildlife.
GGW Design Workshop VW's Front Yard (VW at VW Garden): Washington gardener VW may have a relatively small front yard, but she's put a great deal of thought into her plans for it, and she's got a great vision for how it will look in the future. If you're seeking ideas for spiffing up a front yard without going the lawn-less route, check out her post.
The Egg Garden in June: Replacing the Overgrown Evergreen in the Front Corner of Our Home with a Mixed Bed (HG at Heirloom Gardener): If you're faced with the remnants of an overgrown foundation planting, you'll be inspired by the "after" pictures of the beautiful mixed planting that replaced an old evergreen in HG's front yard. And in Front Yard Gardening Design Challenge: Five Ideas for the Downward Sloping Front Yard Garden, she shares some fantastic tips for dealing with a challenge that's seldom addressed: a front yard that slopes down to the house.
Front Yard Garden to Replace the Lawn…Check! (Janice at Calgary Garden Coach): Another gardener goes lawnless: all that remains is one grass path in Janice's diverse and colorful new mixed front-yard planting. For more views, check out My Favorite Plants for a Sunny, Low Maintenance Front Yard.
Front Garden in Dry Times (Town Mouse at Town Mouse & Country Mouse): TM's summary post of her California front-garden makeover gives you just a taste of the whole project. To fully appreciate its transformation from an attractive but water-hogging landscape into a water-wise habitat filled with California natives, be sure to visit the other posts in her Great Front Garden Remodel series.
Drought and Deer Tolerant Landscape (Michelle at Garden Porn): Michelle's post showcases photos of a gorgeous front-yard project that she designed and installed for a client in northern California about 9 months ago. Oh, did I mention that it's low-maintenance, too?
Garden Bloggers Design Workshop – Front Yards Revisited (Sue at a Corner Garden): Even if you haven't visited Sue's blog, you can guess from its name that she lives on a corner lot – and that essentially means having twice as much front yard! Well, to Sue, that means twice as much prime planting space, so she's packed her Nebraska yard with perennials, herbs, bulbs, and vines. Join Heidi for a guided tour of the gardens as they look now, then click on Front Yard to find other posts showing this space in other seasons.
The Evolution of a Front Yard Garden (Ellie at Healing Magic Hands): If you're stuck with a boring front yard and daunted by the prospect of turning it into something beautiful, you simply must see Ellie's inspiring "before to now" photos of her Missouri garden. She also offers some helpful planning and plant selection tips, and asks for some advice on replacing her home's "green moustache" of dying junipers.
GBDW: Front Gardens (VP at Veg Plotting): Veep generously decided to bare all this month and show us the challenges she faces in her front lot in the U.K., including a number of drain covers, limited space, and poor soil. Those of you who visit her blog regularly won't be surprised to see that she managed to come up with stylish solutions that offer multi-season interest.
Can You Have Too Many Flowers? (Cameron at Defining Your Home Garden): What? Too many flowers? Well, Cameron sure does have lots of beautiful bloomers in her large front garden, but in no way are there too many! Besides, the space needs plenty of plants to also provide great habitat features for birds and butterflies, and to deal with some deer challenges too. (By the way, Cameron, thanks for mentioning the Monarch Waystation program; it looks like a must-join!)