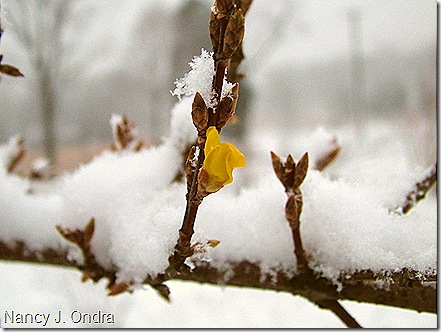 I appreciate all of the feedback that many of you have shared about the Garden Bloggers' Idea Gallery. This resource is only as good as the posts you all write about the art of garden blogging, so I'm thrilled that you keep posting and sending me links. Here are a bunch of links that have been added over the past month.
More Memes and Contests
While most of us in the northern hemisphere are thinking about spring, there's still a fair bit of winter to endure. If you want to whine about how cold it is in your area, drop by Frigid Friday at Mr. McGregor's Daughter to share a comment or link and get some sympathy.
Nearly a year ago, VP at Veg Plotting started Out on the Streets, a meme focusing on topics relating to public plantings. Every few months, she does an update, and she plans to continue this series in 2010. You can find the original OOTS post here and the most recent one here.
Leaf lovers will be delighted to hear that Pam at Digging has started a monthly meme called Foliage Follow-Up as a complement to May Dreams Gardens' Garden Bloggers' Bloom Day. Post pictures of whatever pleases you foliage-wise on the 16th of every month and leave a link at Digging so others can find you.
Pam also created Bloggers' Celebration of National Parks to celebrate the beauties of these special places. Checking out the list of links submitted by bloggers all over the world is a great pick-me-up on a dreary winter afternoon.
As you've probably noticed, we've started a new year of the GGW Picture This Photo Contest. The winners of this month's theme, Winter's Beauty, chosen by Alan Detrick of Alan and Linda Detrick Photography, will be announced on Wednesday, January 27. Fran has many more pros lined up to judge Picture This for 2010, so check back often to find out the new monthly themes and see the entries.
Anyone know of any other new memes or contests? Leave us a link below, please.
More Image Ideas and Blogging Resources
If you've visited Robin's Nesting Place, you've admired her amazing images of backyard birds. She shares some of her winter photography pointers in Backyard Bird Photography Tips.
Many of us use WordPress, Blogger, or Typepad as our blogging platform, but those aren't the only options. In a comment on Choosing a Blogging Platform, Anna (Flowergardengirl) explains why she chose Iweb for her new site, Decorate a Garden.
Freda at Defining Your Home, Garden and Travel offers advice to Blogger bloggers who want to add ID information to their posts in How to Automatically Add Your Blog Name to Each Post. Wondering why you should bother? She explains why in We Won the Battle Against the Blog Content Thieves.
For me, one of the most exciting finds in compiling this idea gallery has been the posts by Jean of Jean's Garden on using the free program Windows Live Writer for creating blog posts for a variety of platforms: Drafting Blog Posts with Windows Live Writer and Taming Images with Windows Live Writer. I can't begin to tell you how much less frustrating it is putting posts together now! It escapes me how this program makes it easier to put together WordPress posts than WordPress can, but so it is. Apparently it works just as well for other blogging platforms. It's also makes it incredibly simple to add watermarks and special effects to your photos, and to incorporate cool features like aerial maps. I found this one of my place as it looked about three years ago – pretty cool.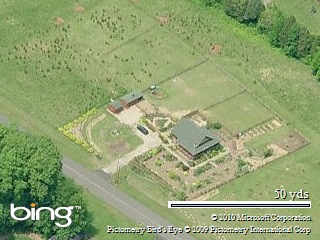 On Cameras
I've also added a new page to the Idea Gallery: Selecting a Camera and Accessories. There aren't nearly as many links as I'd hoped to find, but I'm sure there are more out there, so please let me know if you've already written or run across additional blog posts about cameras, tripods, and other photography-related equipment.