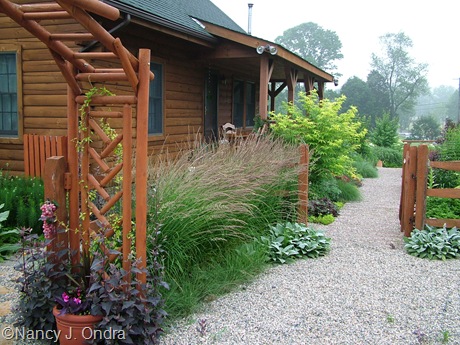 This month's Design Workshop topic was inspired in part by Great Garden Gates, a recent post by GGW Regular Contributor Debra Lee Baldwin. In there, she shared a gallery of photos showcasing over a dozen great-looking gates: some cute, some quirky, some classy, and all inspiring. Gates like these do double duty, adding personality to their gardens and making the experience of entering the gardens into an event.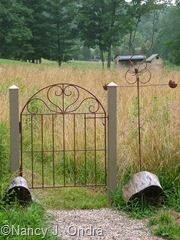 Here at Hayefield, I have lots of fences and hence many gates, but most aren't the charming kind: they're utilitarian wooden and metal gates for getting animals and equipment in and out of the pastures. The half-dozen gates to the garden and meadow aren't all that photogenic, either, largely because I have a habit of propping them completely open or removing them during the busy part of the gardening season so they don't get in my way. Still, I love the idea of gates as entrances and transition areas, and I enjoy the experience of opening and walking through them in other people's gardens.
Of course, gates aren't the only way to welcome visitors and mark transitions in the garden. Plain old posts (sans gates), arbors and arches, containers, and ornaments are other objects that can grab attention and say "Come on in!"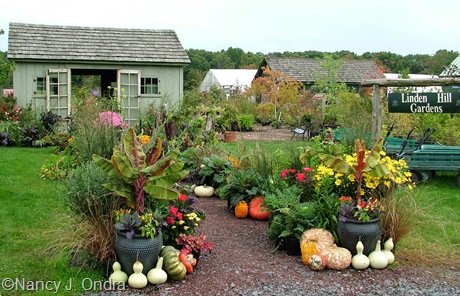 Dramatic plantings, too, are an elegant way to frame an entrance, drawing the eye and inviting visitors to see what's on the other side.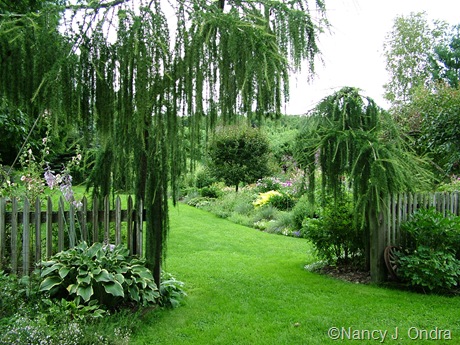 So, how do you like to dress up the entrances to your home and garden?
Have you created plantings to mark the end of your driveway or to flank your front walkway?
Have you turned part or all of your front yard into a garden to create an attractive, welcoming setting for your home? (We've covered the topic of front-yard gardens before – you can find the posts here and here – but new or old posts on the subject would work for this month as well.)
Have you chosen a special arch or arbor to accent a street-side entrance or a transition area within your yard? (We've had a GBDW on this topic too – the link is here – but feel free to share new or old posts for this topic too.)
Do you have a favorite way to bring the garden up to your front door, with pots that change with the seasons or a variety of garden-related accents and ornaments?
If you'd like to share your ideas for this month's Garden Bloggers' Design Workshop, write a post on anything related to entrance areas on your own blog and give us the link below, or simply leave a comment if you don't want to do a separate post. If you've written about the topic in the past, those links are equally welcome; it's not necessary to create a new post to participate.
I'll gather all of the links into one summary post for easy reference. It'll go up on March 30th, so please try to get your links in by the 27th.
If you're interested in checking out previous Garden Bloggers' Design Workshops, you can find them here.