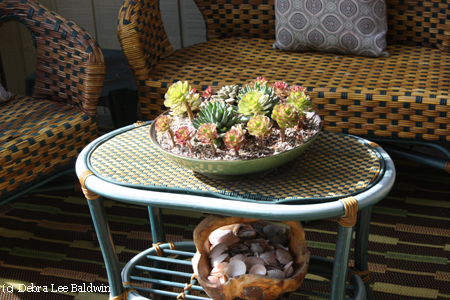 Your front porch is the first room of your home guests see.  It sets the stage, reveals how tidy you are, and how much the aesthetics of your environment matter to you. A porch also can be a semi-public sitting area, combining elements of indoors and out.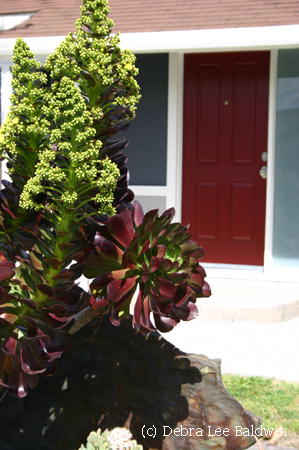 A red aeonium in the garden echoes the color of the front door. Or maybe it's the other way around. (Design by Gary Bartl, San Rafael, CA)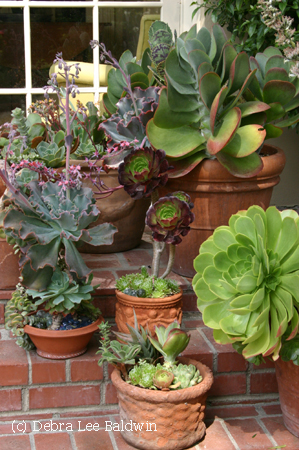 Potted plants enhance the garden-to-house transition, but not if wan and underwatered. Sun-loving succulents—plants that store water in their leaves to survive drought—are low-water and low-maintenance (providing they're protected from excessive rain, freezing temps and desert heat).
Above, terracotta unifies a grouping of green and red aeoniums, a flapjack kalanchoe (upper right), echeverias and sempervivums. (Design by Anna Clark Interiors, Los Angeles)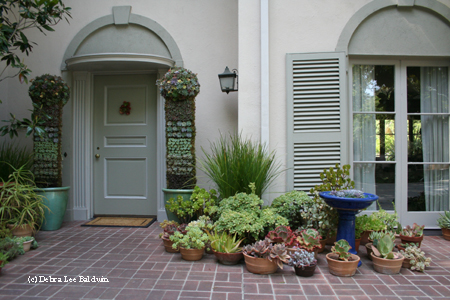 This pot grouping is a garden. A cobalt birdbath adds height and contrast, and is planted with echeverias that resemble water lilies.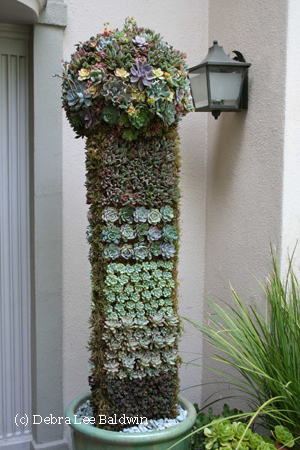 Succulent topiaries flanking the front door are a great way to say "Welcome!" (Home of Hannah Kully. Topiaries by California Cactus Center, Pasadena.)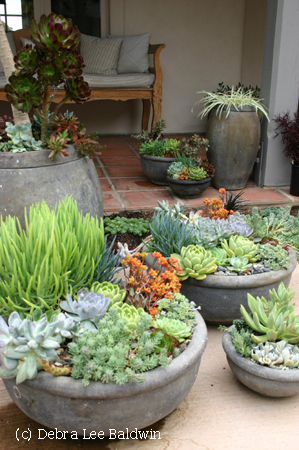 Pots also can create a pleasing view. These floral-style arrangements are planted with a variety of sedums, echeverias, and (for height) senecio. (Home of Barbara Baker, Rancho Santa Fe. Design by Chicweed.)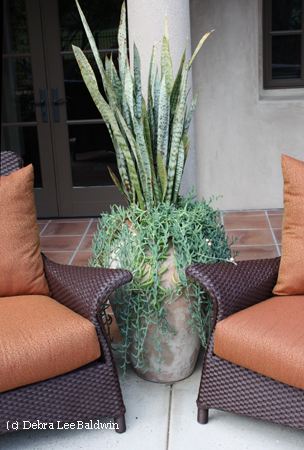 Got a porch pillar? Create a seating area in front of it by adding chairs and an urn  planted with sansevierias and cascading 'Fish Hooks' senecio. (Home of Mike Allen, Rancho Santa Fe, CA)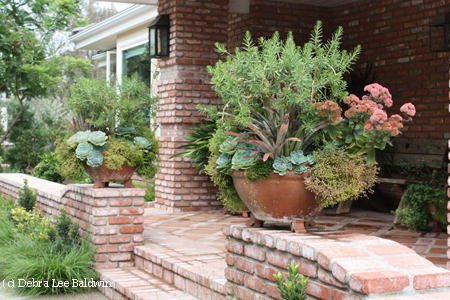 Here, pots atop a low wall announce the entry and hold living bouquets of Sedum 'Aurora' (in bloom), shrublike Crassula sarcocaulis, blue echeverias, trailing rhipsalis and bromeliads. (Design by Chicweed, San Diego)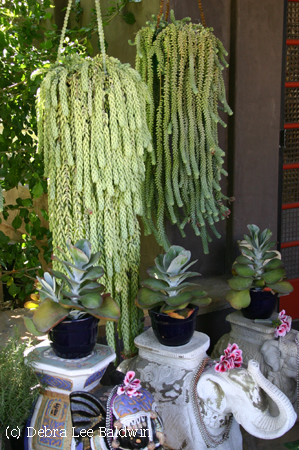 Design elements that repeat are a visual delight.  Here, baskets of burro tail sedum hang above elephant stands topped with flapjack kalanchoes in cobalt pots.  (Design by Evelyn Jacob and Mindy Rosenblatt, Santa Barbara, CA)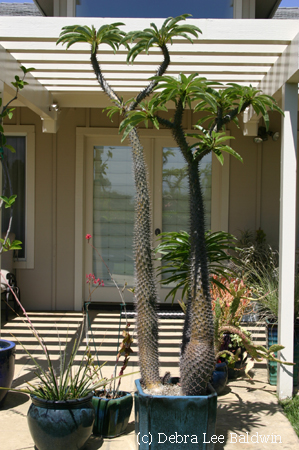 Textural bottle palms lend whimsy and vertical interest, and are conversation starters. (Kent and Nancy Wood garden,  Santa Barbara)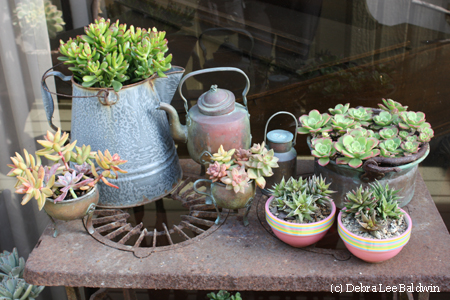 Repurposed items from salvage yards and second-hand shops are fun to collect and intriguing to look at. These hold jade, aeoniums, sedum, graptopetalums and haworthias. (This and the first design are by Kathy McCarthy, Del Mar, CA)
What's your own front porch like? Tell us about it!
My goal is to share the beauty of waterwise, easy-care succulents in gardens, containers and landscapes via blog posts, newsletters, public speaking and workshops, photos, videos, merchandise, and social media (Facebook and Pinterest). My books: Designing with Succulents, Succulent Container Gardens, and Succulents Simplified.  www.debraleebaldwin.com