I was all set yesterday morning to begin my post on drought tolerant plants, seeing as how we in California are in the midst of a really dry winter.  Then at breakfast my wife brought me a single Camellia  from the garden, set in a clever stone vase.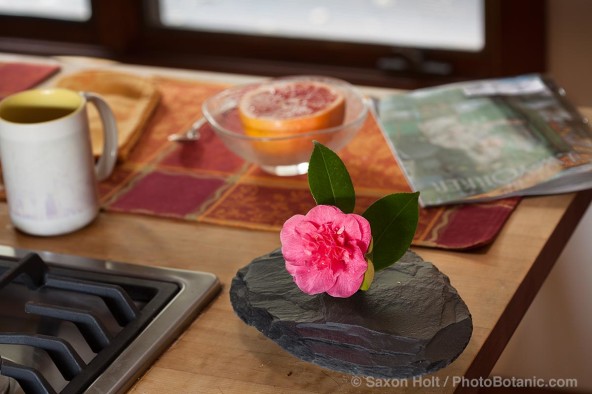 My day changed.  I am so easily distracted.
Our Camellia sasanquas have been blooming since October, but the C. japonicas have now officially started.  I was so joyful to have some new flowers blooming, something positive to ponder, I set out to make some photos.  Way more fun than writing a blog post or looking at my To Do list of office work.
As a professional photographer, I  can't just snap a photo of a flower and hope to sell it.   I need to create something special to stand out among all the other flower photos in the world.  This day now became an earning opportunity to see if I could make something to sell.
First a photo of the Camellia flower on the bush.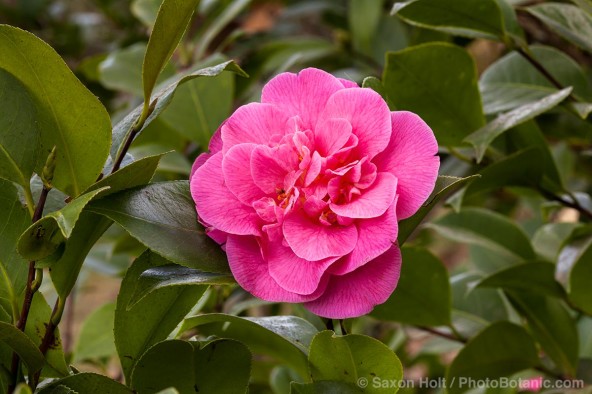 But since there were so few of these early blossoms, I ended up adding some more flowers. Locking down the tripod, I carefully added 6 more until the photo might be one a publisher would choose.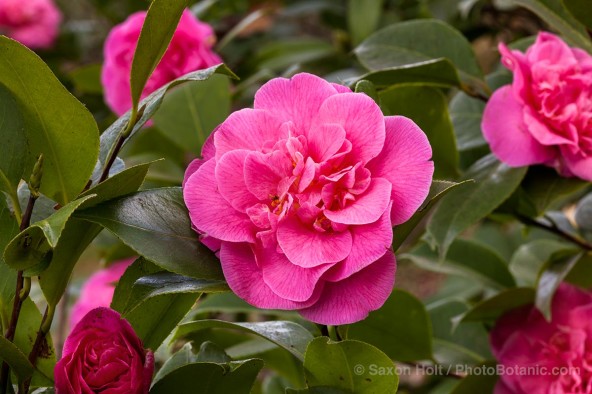 I know, the camera always lies.  That's my job.
As long as I am in the garden, I may as well get a shot of this wonderful hybrid.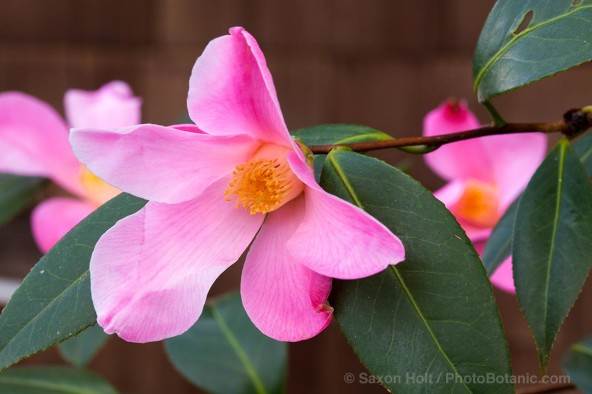 Remember this shot – it will be transformed.
Now into the studio. To do a really special macro study of a flower I do a multiple frame photo stack to get sharp focus and good depth of field, which is next to impossible with a single frame.  While I have done some of these photo stacks in the garden, it's hard out doors when the slightest breeze throws off the eventual alignment of multiple shots.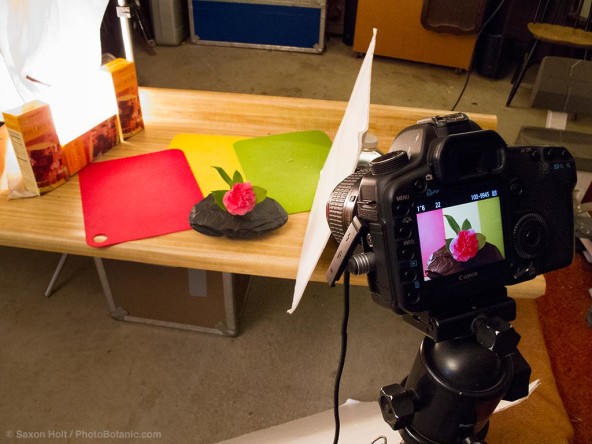 I set this up on a tricolor surface to see what color might work for a eventual background.  It seemed so interesting, I shot this way, but … ughhh.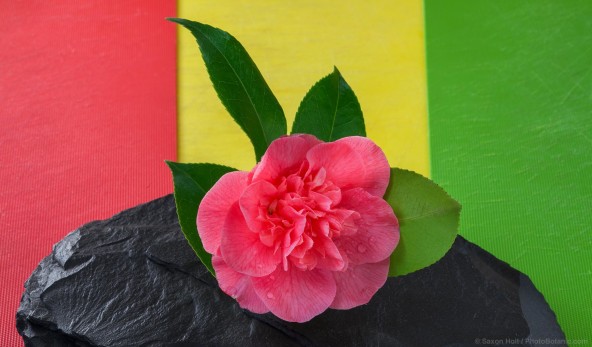 Good depth of field though, by using 7 separate frames.  What I really wanted was remove the background in PhotoShop and add some soft, solid color behind.
Much better.
As it turns out, I used the green tint, though you would hardly know from this photo.  After removing the other colors, I radically desaturated the green and put in a gradient filter.
The most fun of all though, was transforming the single flower of Camellia 'Tulip Time'.  Remember the other flower?  This lovely hybrid of C. japonica and C. saluenensis is new to my garden and I couldn't build a great flower-on-shrub photo.  But I had a LOT of fun with PhotoShop.
I have a series of photo illustrations of plants that I call PhotoBotanic extractions.  I shoot the specimens in the garden and "extract" them for an illustration, write about them in my e-book, and sell as prints.  On-line here at Fine Art America.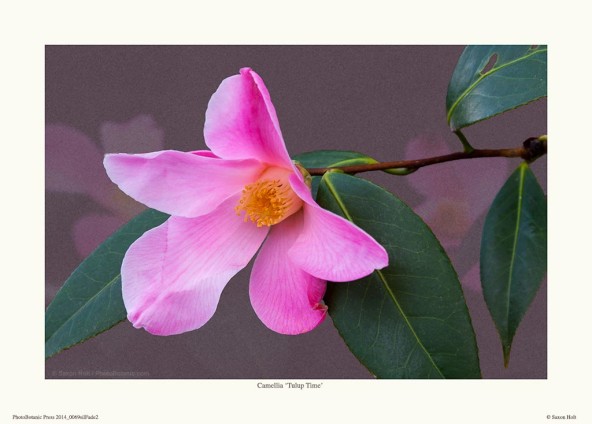 Why is the e-book not ready, you loyal readers may want to know ?  I am so easily distracted.  A flower can change your day.
For more detail on this process jump over to my personal blog click on Mental Seeds.