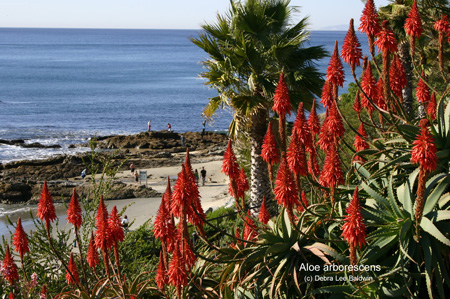 I love the way aloes brighten Southern California gardens this time of year. Shown above is the most widely grown aloe, Aloe arborescens. The location is about halfway between San Diego and Los Angeles, in Laguna Beach. This is an artist's enclave, and not surprisingly, aloe flowers against blue sea and sky are a popular subject for paintings.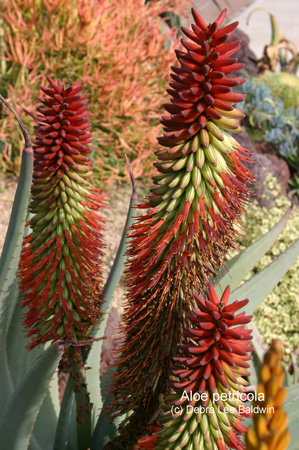 Depending on the species, aloe flower spikes can range from several inches in height to several feet. The blossoms most often are orange, but also may be crimson, cream, rose, yellow or combinations.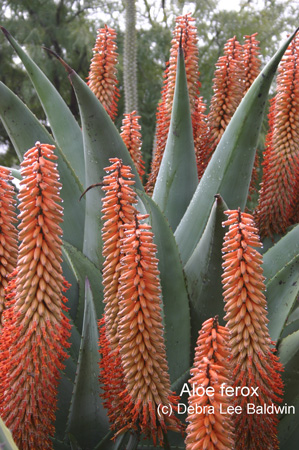 Buds along the flower spike open from the bottom up. When these are tightly closed at the top and full-blown at the bottom, the stalk looks fringed and conical. Aloe ferox (above), with 3-foot, candelabra-like stalks, is among the most spectacular. Those of equally dramatic Aloe marlothii (below) are more horizontal—they remind me of feathers.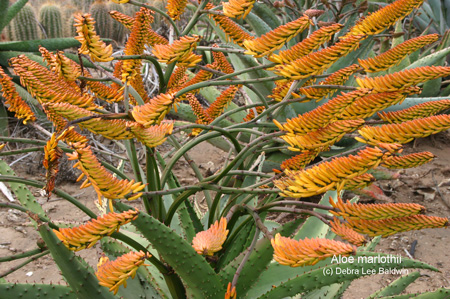 Aloes are succulents, plants that by definition store water in fleshy leaves and stems in order to survive periods of drought. Aloes, which are from Madagascar, the Middle East and South Africa, grow readily in frost-free regions that have minimal rainfall. Too much moisture can cause the trunks and roots to rot. Aloes are not fussy about soil, as long as it is fast-draining. In my north San Diego garden, aloes thrive in nutrient-poor decomposed granite soil. A rule of thumb is to let soil go nearly dry between waterings.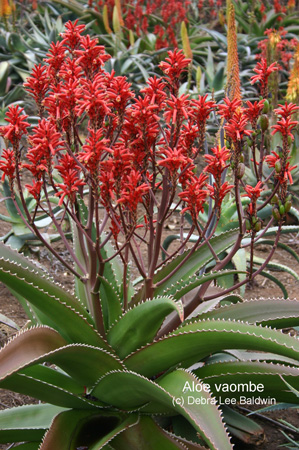 Aloe vaombe (above) has upright crimson blooms above large leaves that are dark green to brownish-red, and that are lined with white teeth.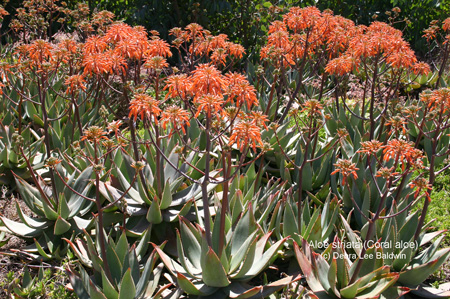 Rather than spires, the blooms of Aloe striata (coral aloe, above) form branching clusters.
All aloes have gel-filled leaves. The best known aloe, Aloe vera (below), often is grown as a windowsill plant in kitchens because the gel soothes minor burns. It is not the only medicinal aloe, merely one of the most juicy.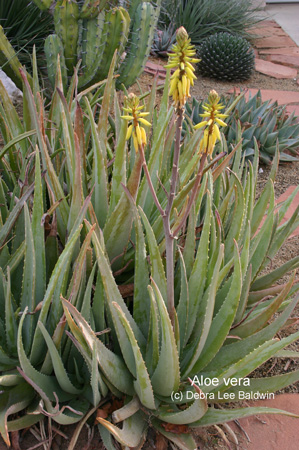 Aloes are beautiful in combination with other succulents. The colorful bed shown below has a carpet of variegated Portulacaria afra behind Aloe cameronii in bloom.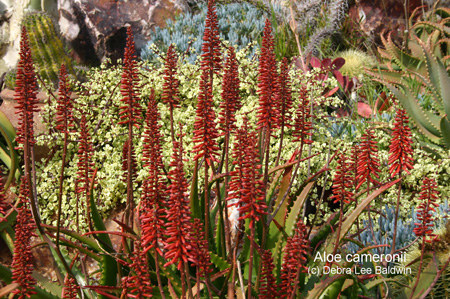 Aloes also are wonderful for wildfire-prone areas. When arranged around a garden's perimeter, they can serve as natural firebreak. In fact, a stand of Aloe arborescens protected the house on the cover of my book, Designing with Succulents, from burning during the wildfires of 2007.
My goal is to share the beauty of waterwise, easy-care succulents in gardens, containers and landscapes via blog posts, newsletters, public speaking and workshops, photos, videos, merchandise, and social media (Facebook and Pinterest). My books: Designing with Succulents, Succulent Container Gardens, and Succulents Simplified.  www.debraleebaldwin.com