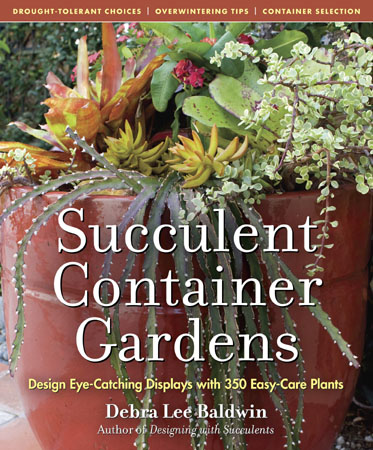 This is my newly released book, Succulent Container Gardens. Ever wonder how a garden book's cover comes about?  Consider: A cover has to be eye-catching and effectively illustrate the title, and convey that the book is the definitive source of information on that topic. Ideally, it also entices readers with appealing plants and an engaging idea.
A book's cover story begins with the author's proposal, about two years before the book becomes a reality.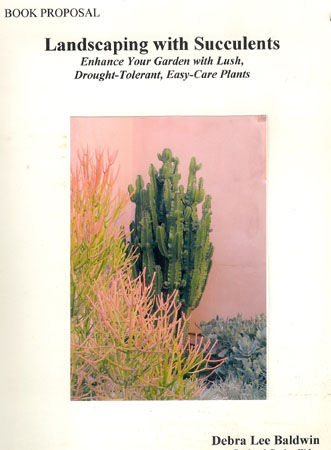 This is the cover of the folder I used for the proposal I wrote for my earlier gardening book, originally titled Landscaping with Succulents.  I chose a photo that I hoped expressed the book's emphasis on sophisticated garden design.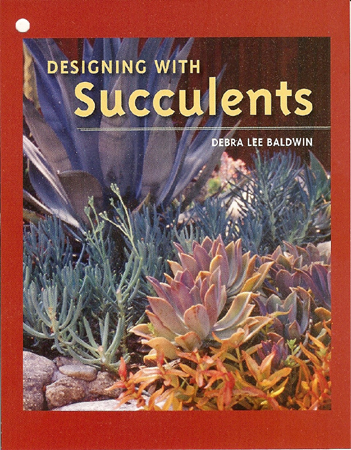 Timber Press accepted the proposal and renamed the book Designing with Succulents. Their first cover (shown here) was used in pre-release promotional materials. A cover that isn't green makes a gardening book stand out, but this one was scrapped because it didn't convey how a wide variety of succulents can be used as landscape plants.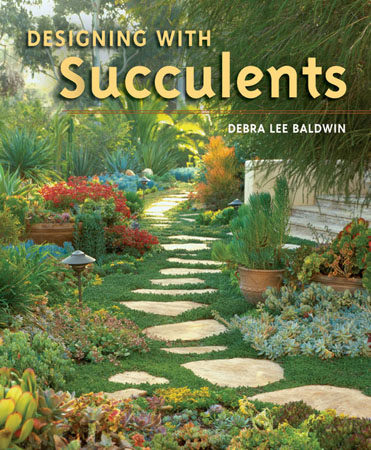 This is that book's finalized title and cover. It shows a garden that's in the book, photograhed by Lisa Romerein. I had scouted and written about the garden originally for Sunset magazine.  The cover elaborates on the title by showing that the book is about gardens that feature succulents and their companion plants.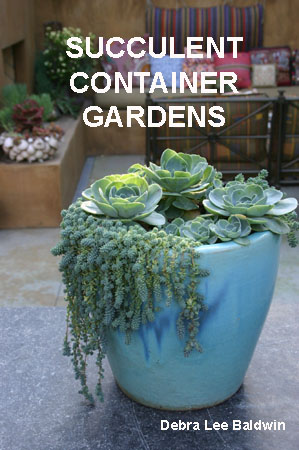 Designing with Succulents came out in 2007 and became a bestseller. In 2008 I proposed a sequel: Succulent Container Gardens. This is one of the cover shots I suggested.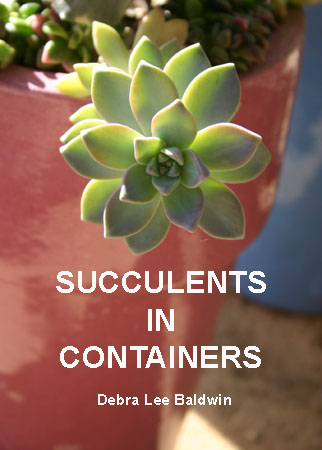 During the ensuing year, the title briefly was changed to Succulents in Containers. Here's one of the cover designs I suggested for that title.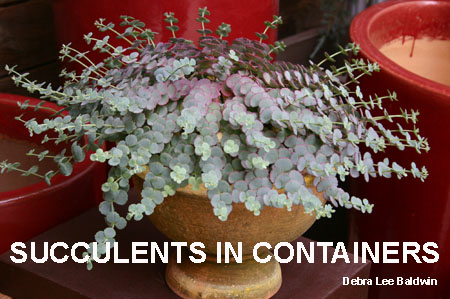 Of all the photos in the book, this is my favorite. But a horizontal image doesn't work well for a cover.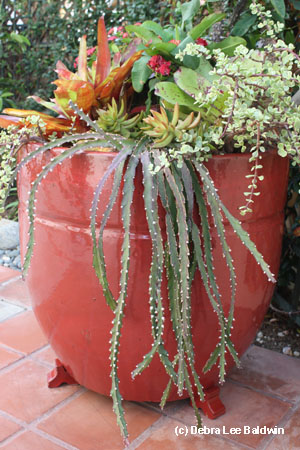 When the title was changed back to Succulent Container Gardens, the publisher evaluated each of the book's 300+ photos for its cover potential. This one met all the criteria. At first I thought it was too busy and the title might not stand out. Also, there's a broken stem on the right and some marred leaves. But my concerns were unfounded—as you can see by the cropped, corrected and finalized cover above.
Do you have a great idea for a gardening book? No doubt you're wondering how to interest a publisher. I recommend you follow the guidelines in a book that really helped me:  Nonfiction Book Proposals that Anybody Can Write, by Elizabeth Lyons.
Also, think visually. As you would for a blog post, choose outstanding photos that illustrate great ideas your readers might enjoy implementing in their own gardens.
I'll be giving presentations and doing book signings at the Northwest Flower & Garden Show in Seattle on Feb. 6; at the Philadelphia International Flower Show on March 6; and at the San Francisco Flower & Garden Show on March 24. (For a complete list of where I'll be, when, see the Presentations page of my website). If you're coming to any of these events, please say hello!
My goal is to share the beauty of waterwise, easy-care succulents in gardens, containers and landscapes via blog posts, newsletters, public speaking and workshops, photos, videos, merchandise, and social media (Facebook and Pinterest). My books: Designing with Succulents, Succulent Container Gardens, and Succulents Simplified.  www.debraleebaldwin.com