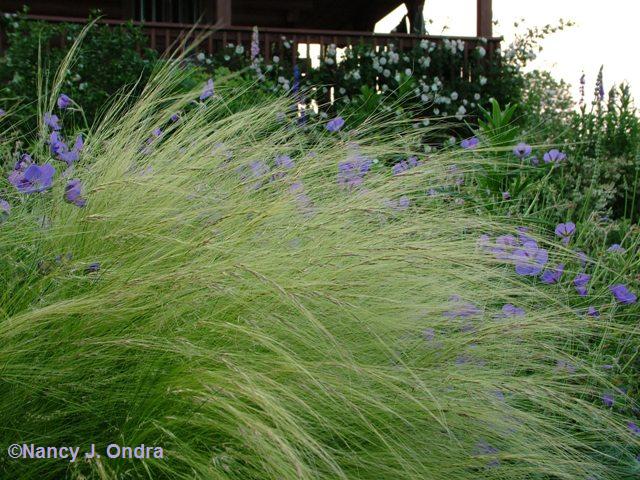 Many thanks to Shirl of Shirl's Gardenwatch for coming up with a great idea for a community activity: The Desert Island Plant Challenge. The concept of a warm desert island – as compared to the frozen wasteland we call Pennsylvania in January – sounds awfully good right now! We get to pick any three plants to take with us, ornamental or edible, though she assures us that there's already plenty of food on our island, so we don't have to choose purely for practical reasons. She also tells us that any plant will grow there, so we don't have to be nit-picky about our choices being appropriate for a real desert island. So, gee, that makes it easier, right? Not.
To be honest, I was surprised at what I ended up with for my must-have three. There's no fragrance from either flower or foliage, which is a bummer, and no chartreuse, either. If I'd had more time to ponder my three picks, maybe I would have chosen differently. But for today, here's what I'm packing for my desert-island garden.
Forsythia viridissima var. koreana 'Kumson'. Good grief – a forsythia, of all things? Well, I was going for multi-season interest, and this deciduous shrub has a lot to offer. It starts opening scattered blooms as early as November, taking a break during the coldest parts of December and January before beginning to open a few again on mild February and March days.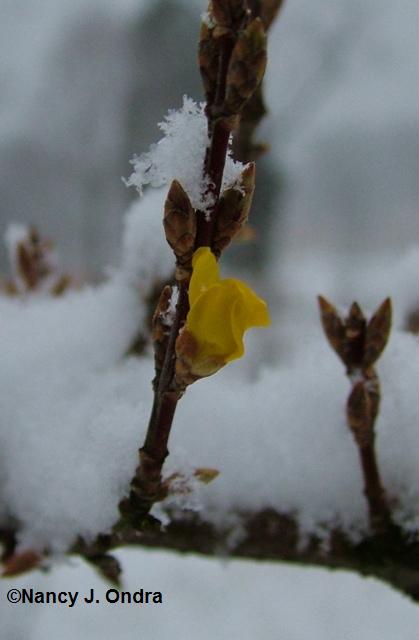 Bloom peaks in April, in a nice clear yellow that's easier on the eye than the brassy yellow of many other forsythias. After the blooms finish, the new leaves emerge green heavily netted with light yellow to ivory to white.
The markings of the leaves dull a bit as the foliage ages, but bright new growth through the summer continues the interest. And then in fall, the leaves take on nice purplish red shades, making a pretty complement to the autumn blooms. It's not a knock-your-socks-off thing, but there's enough seasonal change to make it interesting nearly all year 'round.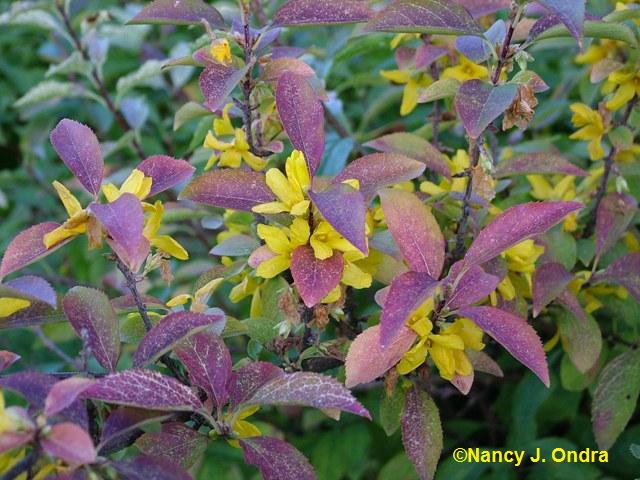 Stipa tenuissima. I call it pony tail grass; you may know it as Mexican feather grass. By any name, it's a beauty. I love the bright green color of its new growth, and the way its fine-textured foliage positively begs you to run your fingers through it.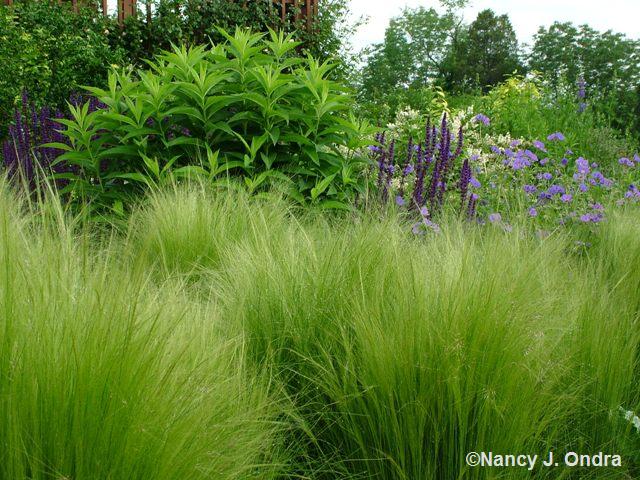 I love the way it catches even the lightest breeze.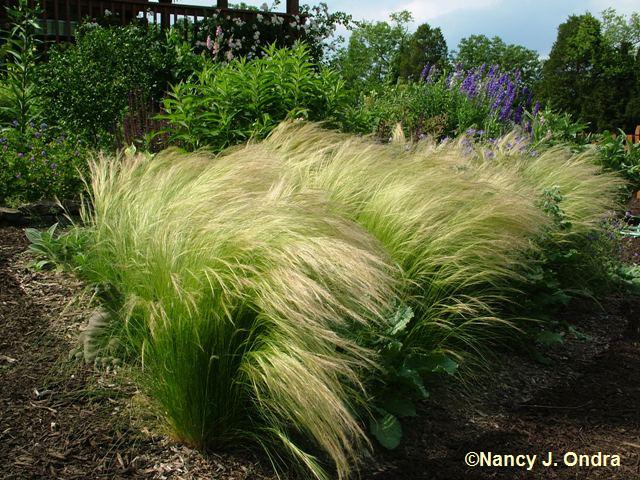 I love the way it appears silvery and then golden as the flower- and seedheads develop in summer.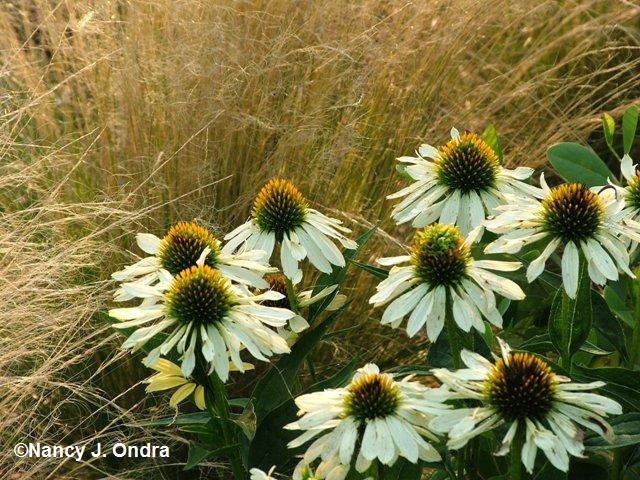 I love the way the swirling mounds of bleached foliage hold up so well through the winter, creating delicate sculptures when traced with ice…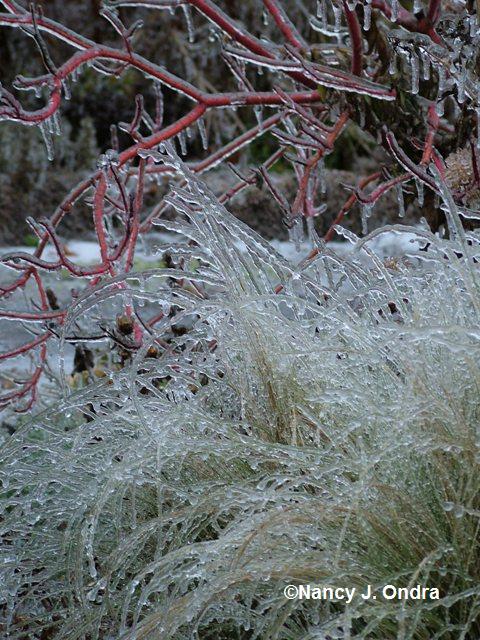 …and bouncing back even after being smothered by snow.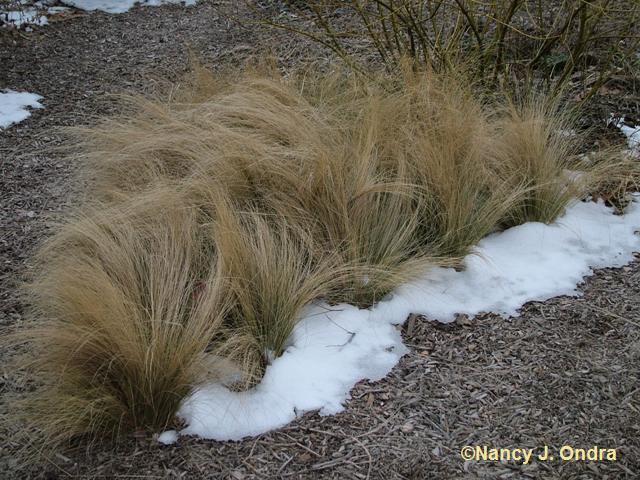 I don't love having to cut it down in spring, because it's sad to get rid of the still-nice old foliage. But new growth comes up quickly – often in just a few days – so there's practically no down time. It's fantastic in borders and absolutely splendid in containers. I've got a couple of clumps packed and ready to go!
Zinnia elegans. There's not much room left in my suitcase, but that's okay, because I need only enough space for a packet of zinnia seed. There was a time when I wouldn't have been caught dead admiring a zinnia, let alone growing one. I'm glad I got over that! They're big, they're bright, they're easy, and they're fun.
It would be especially good if the packet included a mix of flower forms as well as colors, so I could amuse myself with selecting different strains over the years. And just think of the money I could make selling the cut flowers to all the tourists who come to visit my desert-island garden.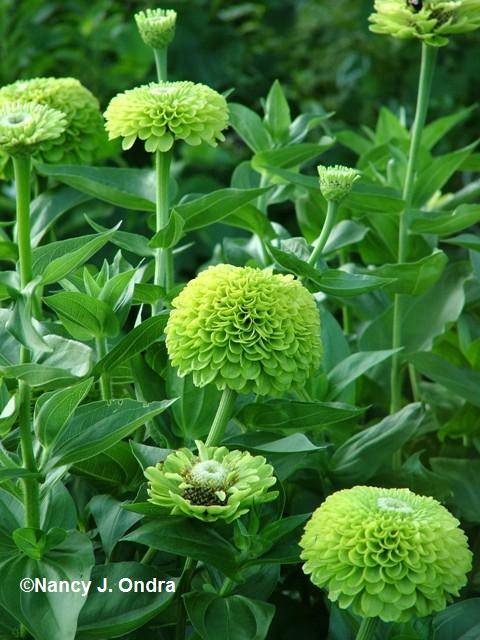 So, what would you take to your own island? Leave a link at Shirl's post so we can check out your picks!