I'm thrilled to have Christina as a Guest Contributor at GGW. I've been a fan of her work for a long time.
Christina is THE Personal Garden Coach. When she is not designing dramatic container gardens at a nursery in Newcastle, Washington, she is teaching clients about saving labor, time, and money with easy gardening techniques. Christina also writes for her own blog as well as being a founding member of The Garden Designer's Round Table. She contributes to to magazines, newspapers and blogs… Fran Sorin
When the cold, gray season rolls around here in my Zone 7 part of the Pacific Northwest, I take advantage of the opportunity to buy some small-scale conifers that I can design with in my Fall and Winter containers and add to my gardens in Spring.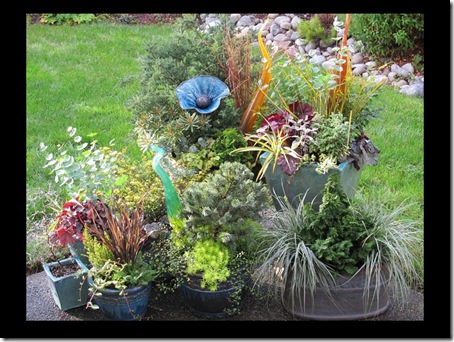 The advantages of this are:
1) Conifers tend to be available at great prices for the end of season clearance sales in nurseries, and they're cold hardy for great winter interest in my containers.
2) I buy selected Conifers that I have been coveting all season. Unless I have them on a drip system in the Spring and Summer, it's too warm to worry about them drying out in my containers during the hot season.
3) They have the cool wet season here to grow great roots in my container designs all winter long, then when they get planted out in the garden in early spring when they will still be fairly cool and wet here until the 4th of July! (It is Seattle J)
You can find conifers that are rich in color and texture from 4″ pots to 5 Gallon sizes that will give you an array of design options. Look at some of my container designs for fall and winter that I've recently planted for myself and for my clients.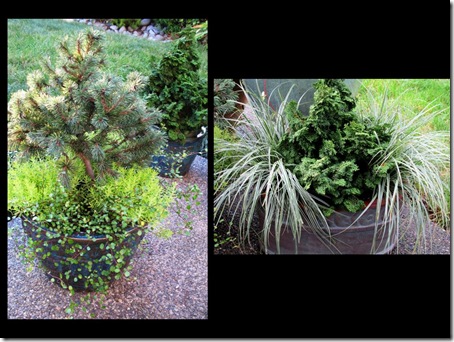 Remember that the conifer doesn't necessarily have to be the key component in your design either. It may play a supporting role if it's a small one. It could also be a larger one at the back with other plants in front of it. Or in this case, a lovely piece of glass art by Barbara Sanderson at Glass Gardens NW.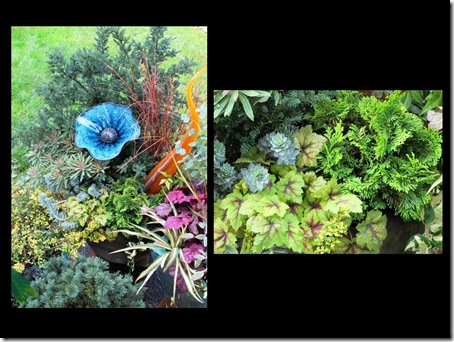 On the other hand, you can make them a knock out by putting ALL of the focus on the conifer as I did in this large scale pot with a Weeping Cedar as the focal point.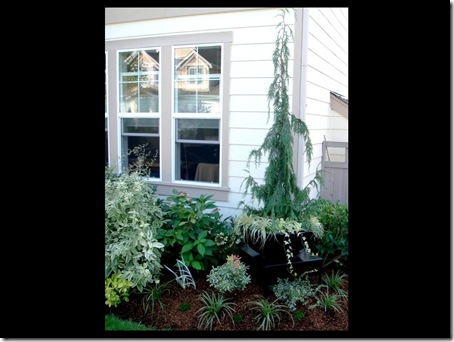 There are a wide variety of perennials and annuals that I have included in these designs. It is not my intention for all of them to be there through the entire season. When the truly cold weather and snow comes, the conifers will take center stage. But, you can have some drama, texture and color until then. In addition, those perennials will be great transplanted out for spring to bloom next summer or fall too.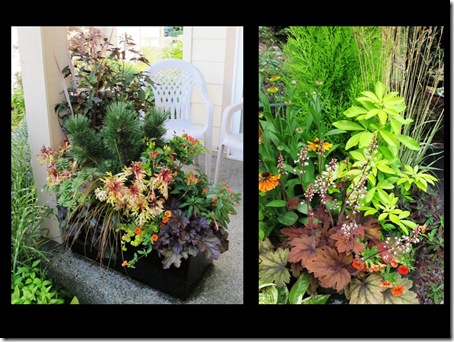 If your garden is heavy on deciduous shrubs and broadleaf evergreens, give the Conifers a go in your winter containers. When you plant them out in Spring, you will be happy that you have begun a collection of plants that will add visual weight and sense of permanence to your landscape. And when given the correct placement and space to fill out to their potential, a group of plants that gives much gratification for very little effort in return.