In my last post about ornamental grasses with great winter structure, I mentioned several that I think still look quite good, even after our mostly rainy/icy winter. As so often happens, once I started writing about my favorite plants, I couldn't limit myself to mentioning just a few, so here I'll offer a couple more for your consideration. To spare you from an endless gallery of closeups of brown grasses, I've put together a few through-the-seasons photo series to show the plants with other companions in garden settings. And before I go on, I must thank Shirl of Shirl's Gardenwatch for sharing her secret of making photo montages. Thanks, Shirl!
In my last post, I think I said that my top favorite grass for winter interest is 'Dallas Blues' switch grass (Panicum virgatum). I'd like to amend that, and say that it's my favorite tall grass. That way, I can also have a favorite short grass: Mexican feather grass (Stipa tenuissima). It's not supposed to be fully hardy here in mid-Zone 6, especially in winter-soggy soil, but so far, so good. It's not exciting from a color standpoint – basically, it's either bright green or bleached tan – but its swirly form and "please touch me" texture earn it a favored place in my side garden, flanking a frequently used path. Below is a series showing a bed on one side of that path, featuring a mass of the Mexican feather grass with a variegated-leaf, yellow-twigged dogwood (Cornus sericea 'Silver and Gold'), shown on July 15, November 18, and December 16 of 2007 and February 17 of 2008.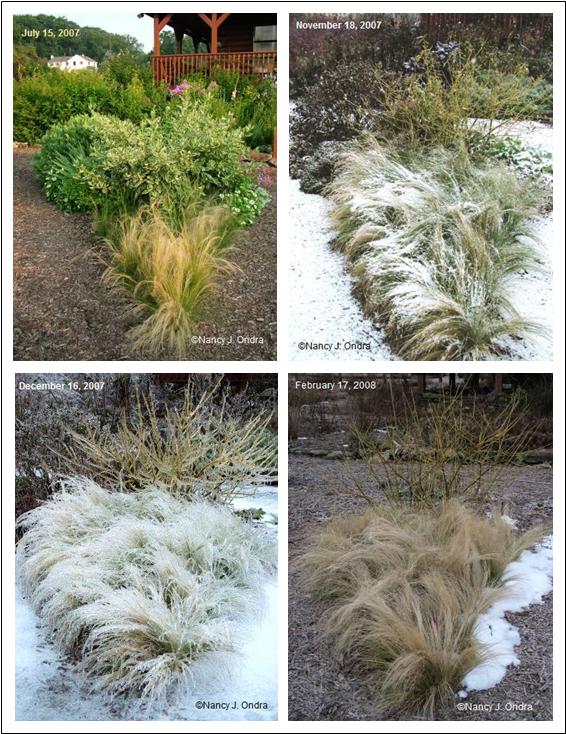 The series below is from an area I think of as the courtyard garden: the space I walk through on my many trips out to the barn and back. For much of the growing season, the area is quietly green, except for summer punctuation from some giant coneflowers (Rudbeckia maxima). As August progresses, the 'Cassian' fountain grass (Pennisetum alopecuroides) produces its brushy spikes, then turns bright yellow in September. By November, it's mostly beached out, but there's still lots of color from the pink plumes of muhly grass (Muhlenbergia capillaris), as well as the changing foliage of Arkansas bluestar (Amsonia hubrichtii). By now, the muhly grass is mostly broken down, and I'd cut the bluestar to the ground about a month ago. But the fountain grass still looks rather good, as does the grouping of 'Morning Light' miscanthus at the back. I think that's an excellent return of multi-season interest from a very simple selection of plants.

In this last grouping, there's only one grass, but I consider it to be the star of the scene. As far as I can tell, it's a fountain grass (Pennisetum alopecuroides), but I have no clue as to the cultivar because it arrived with no label (I guess that makes it Pennisetum "NoLa".) This mixed planting also includes a variety of annuals, perennials, and shrubs, but it's the form and color of the fountain grass that always catches my eye. Below is a series showing the last six months: September 20, October 19, November 18, and December 6 of 2007, and January 12 and February 17 of 2008.