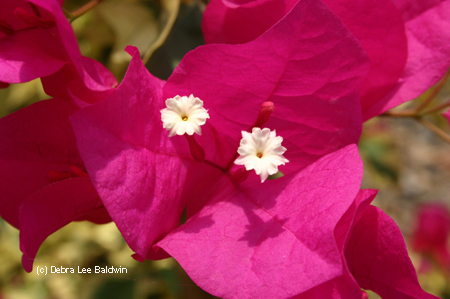 I have a motto: If it's beautiful, shoot it. This has resulted in an eclectic assortment of gorgeous photos that I didn't know what to do with…until I discovered a website that lets you upload 12 to 15 photos, select music to go with them, then alchemizes the whole shebang into a 30-second video. (Any longer, you have to pay for.) Now, this is not intended to be an advertisement for Animoto.com, but OMG, is it ever fun.  And trust me, if I can do it, so can you.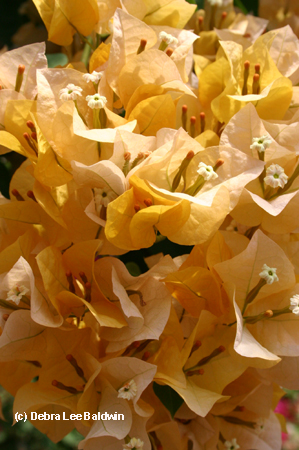 A nursery near my home has a greenhouse filled with every imaginable bougainvillea, including many with variegated leaves. I love being immersed in all those vibrant bracts.  I sold a story about it to Sunset magazine, but they didn't need my photos, which sat unused until I made "Bougainvillea Boogie."  Remember, all these videos are a mere half minute. As you'll see when you click on any of the links, an Animoto video is fast-pased and upbeat…very much a youth-oriented medium
Photos of flowers that appear to radiate light inspired my "Lit from Within" video.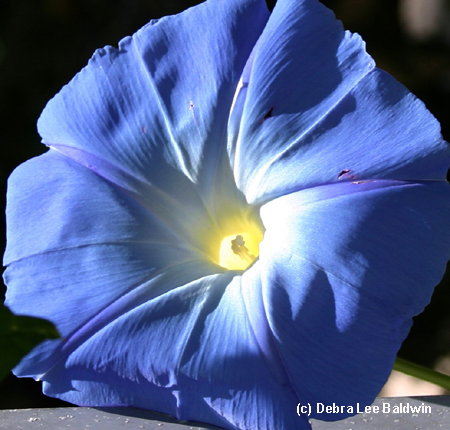 A garden photographer once told me that flowers usually are shot backlit—excellent advice. It really brings them to life. It's tricky to avoid getting sun in the lens, though. You have to shade it. I just use my hand rather than a bulky lens attachment.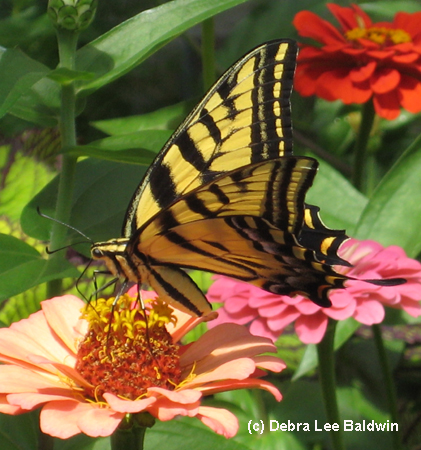 Several summers ago, when I was at the Denver Botanical Garden, I took photo after photo of a swallowtail butterfly sipping nectar from a bed of gerbera daisies.  Those images are now "Swallowtail Flutterby." Animoto conveniently had background art of a flitting butterfly as well as a music track about butterflies.
Of course I had to do something succulent-oriented. For "Sizzling Ice Plants" I chose the background music because of the tempo and lyrics. Picking music for the video is half the fun. Animoto provides an assortment of genres, from classical to oldies. You can listen to any selection with a mouse click…usually thinking to yourself, "nope." And then, amazingly, you find one that fits.
Want to give Animoto a whirl? I hope you do, for the fun of it…and that you agree it's Gardening Gone Wild in a whole new way!