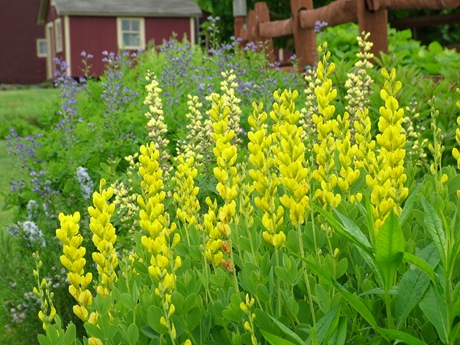 Until this year, baptisias (Baptisia), also known as false indigos, wouldn't have made it onto my list of favorite perennials. They bloom only in late spring, and once they're done, that's pretty much it: the foliage isn't all that exciting during the rest of the year. They're bulky, too, hogging several square feet of prime garden space through the rest of the growing season. After enjoying every minute of their bloom season this past month, though, I have to say that I now wouldn't be without them. Putting some effort into finding suitable companions for them has made all the difference.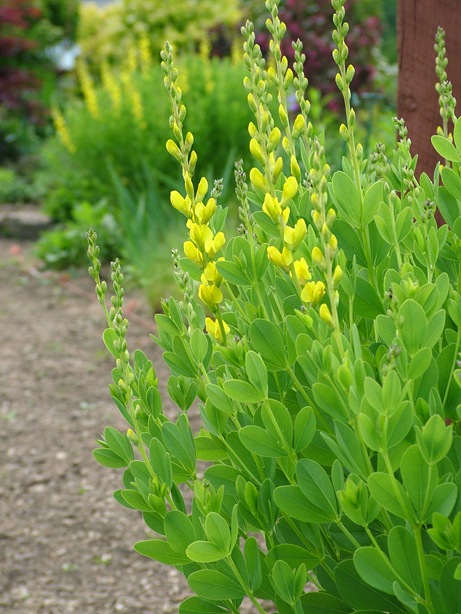 The show started with 'Screaming Yellow', a selection of Baptisia sphaerocarpa.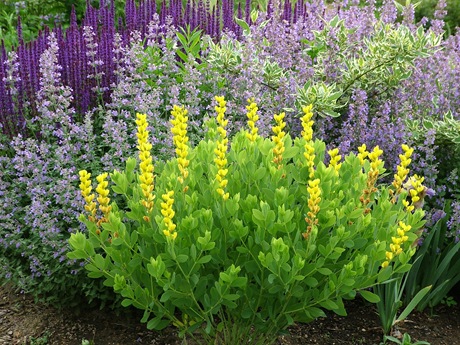 Above is a 3-year-old clump adding zip to an otherwise ho-hum pairing of 'Walker's Blue' catmint (Nepeta) and 'Caradonna' salvia.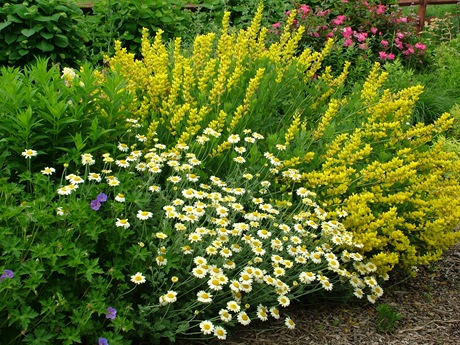 And here's a 6-year-old clump of 'Screaming Yellow' with 'Susanna Mitchell' marguerite (Anthemis) and Rozanne geranium (Geranium 'Gerwat').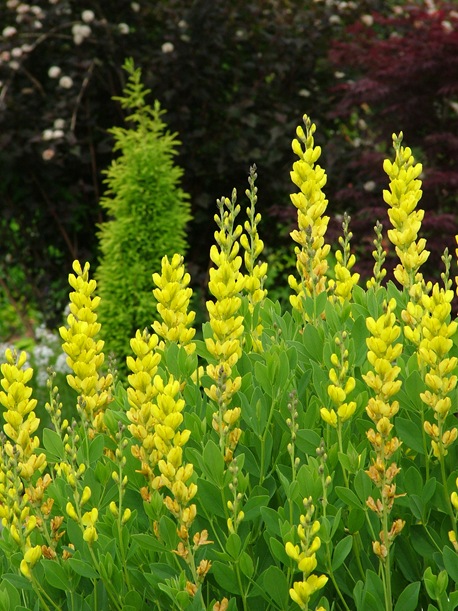 I liked it with blues and other yellows, but I thought it was really spectacular set against the dark foliage of Diabolo ninebark (Physocarpus opulifolius 'Monlo') and a red-leaved Japanese maple (Acer palmatum).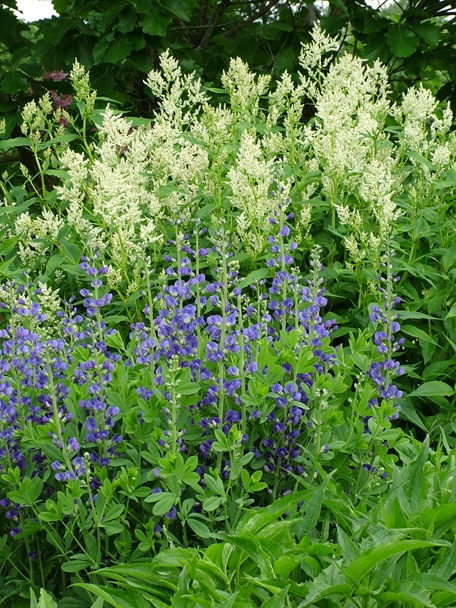 Ordinary blue false indigo (B. australis) started flowering about a week after 'Screaming Yellow' – just about the same time as giant fleeceflower (Persicaria polymorpha).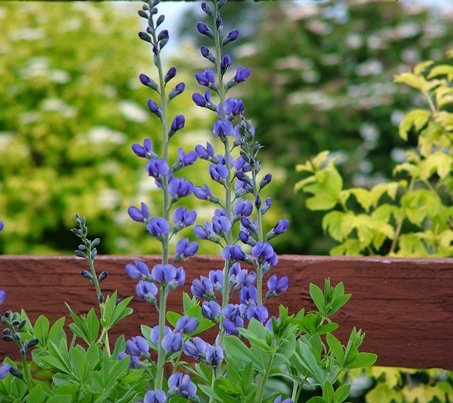 It was stately with the white but stunning against the bright yellow foliage of golden elderberry (Sambucus nigra 'Aurea') and golden cranberrybush viburnum (Viburnum opulus 'Aureum').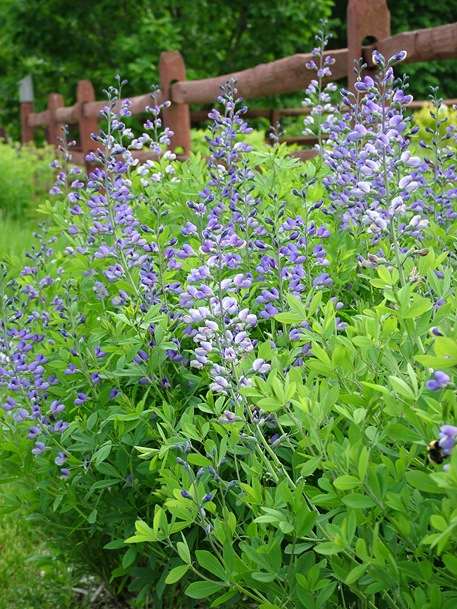 'Purple Smoke' isn't nearly as intensely colored and doesn't make much of a show on its own.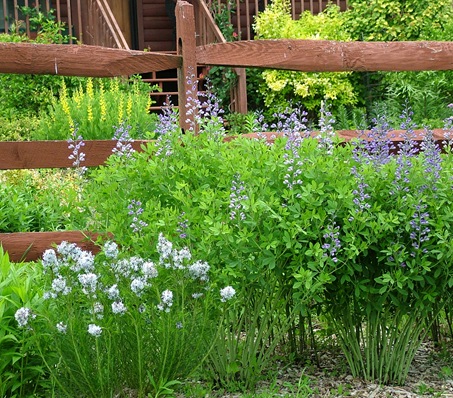 Pairing it with also pale Arkansas bluestar (Amsonia hubrichtii) didn't help much for the spring show. (It looks great in fall, though, when the bluestar foliage turns golden.)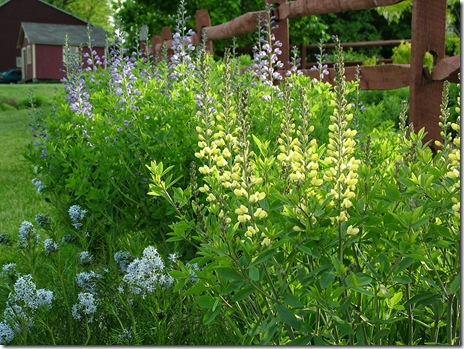 Adding soft yellow 'Carolina Moonlight' helped some, but so far, I haven't yet found the idea partner or background color for 'Purple Smoke'.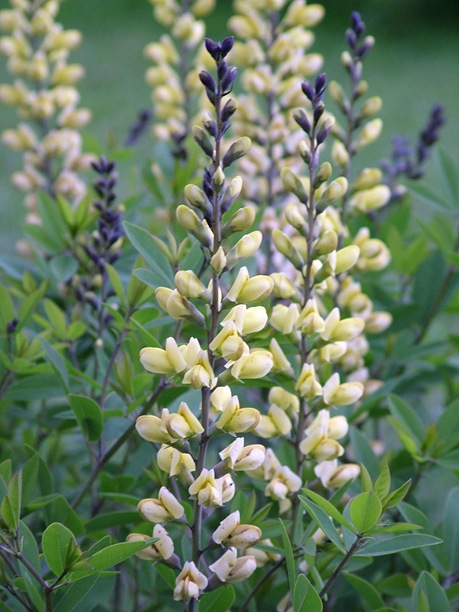 I need to do some work on finding a great backdrop color for 'Carolina Moonlight' too. Green is nice, but I'm thinking that a deep purple would really pop the pale blooms and echo the dark stems as well.
The grayish purple of hybrid 'Twilite Prairieblues' is another color that has puzzled me, so I decided to grab a piece and experiment with different companions.
| | |
| --- | --- |
| | |
| Against aromatic aster (Symphiotrichum oblongifolium) foliage | Against the backlit foliage of 'Grace' smokebush (Cotinus) |
| | |
| With blue false indigo (B. australis) | Against Arkansas bluestar (Amsonia hubrichtii) and giant fleeceflower (Persicaria polymorpha) |
| | |
| Against 'Screaming Yellow' | With 'Carolina Moonlight' |
| | |
| Against 'Isla Gold' tansy (Tanacetum vulgare) | Against 'Red Majestic' hazel (Corylus avellana) |
Mmmmm, that last one is the winner, I think. 'Twilite Prairieblues' better pack its bags, because it's probably going to be moving at some point. Anyone else have a better suggestion for showing off 'Twilite Prairieblues', or any of the other baptisias?