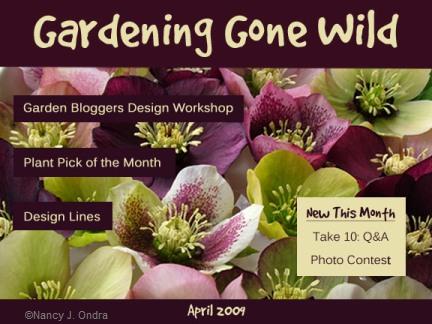 The beginning of spring is titillating to gardeners' senses. Even for those who are still ensconced in frigid weather or mounds of snow, there are smells, sights and sounds which indicate that nature is in the midst of a rebirth.
Along with this season of awakening, Gardening Gone Wild is going through a few changes. Our new first-of-the-month 'GGW Happenings and Tidbits' will keep you abreast of some of what will be happening within the pages of GGW for the coming month. This will include notices about the regular columns with which you are already familiar: Garden Bloggers Design Workshop (a reminder that it is now coming out on the 3rd of each month) and GGW Plant Pick of the Month, as well as new columns that we are adding into the mix: Design Lines, Take Ten: Q and A with a Great Gardener, and Picture This, a monthly themed photo contest. The lucky winner for April will receive a wonderful prize from High Country Gardens, so get your cameras ready!
Our Regular Contributors will be sharing news in this first-of-the-month post about what's going on with us professionally, what we're excited about in the gardening world and any events that we think are worth checking out. So, here it goes:
Nan Ondra was interviewed about her book Foliage: Astonishing Color and Texture Beyond Flowers for articles that appear in the April 2009 issue of This Old House magazine and the Spring 2009 issue of Small Gardens magazine. She also has an article in the Spring 2009 issue of Country Gardens magazine, on the blue-and-chartreuse border at Linden Hill Gardens in Ottsville, PA.
Nan would also like to remind GGW readers that registration is now open for the Native Plants in the Landscape Conference at Millersville University in Millersville, PA. The conference runs from June 4 through June 6, 2009. Full details are available here.
Hardy Succulents: Tough Plants For Every Climate, written by Gwen Moore Kelaidis and photographed by Saxon Holt, has received a Garden Writers of America award for outstanding book published in 2008, as well as an American Horticultural Society Award. Plants and Landscapes for Summer Dry Climates, another of Saxon's books, also received these two awards.
A meadow book written by John Greenlee and photographed by Saxon is in the proofing stage at Timber Press for an October release. The publisher has decided to release it with two different names.  In the US it will be The American Meadow Garden; in the UK, it will be Meadows by Design.
Saxon will be making an appearance at University Bookstore in Seattle on May 7.
And Saxon has this to say: "Great news for the garden show world. The San Francisco Flower and Garden Show, which was said to be in its last year, has been purchased from longtime producer Duane Kelly and will continue under the direction of a group of San Francisco garden professionals. Yeah!"
A reminder from Adam Woodruff that the Perennial Plant Association's 27th Perennial Plant Symposium will be held in St. Louis, MO July 19-24, 2009. The 6-day program will include lectures, professional tours, and trade show. More information is available here.
This month I'm traveling to Holland and Belgium with Sally Ferguson of the Netherlands Flower Bulbs Information Center. We'll be visiting several public and private gardens as well as flower markets and auctions. It should be a fascinating, informative and fun trip.
My weekly CBS Radio News features can be accessed by clicking on my site every Friday. An article that I wrote for USA Weekend Magazine titled 'Go Native' was published a few weeks ago. It can be read here.
We are delighted to have Debra Lee Baldwin, Rob Cardillo and Catherine Renzi join our growing list of Guest Contributors. Each adds a fresh perspective and expertise to GGW.
What's new in the gardening world? Plenty! With the White House Vegetable Garden in progress, there has already been and will continue to be a huge amount of press about this undertaking. I recently read that vegetable gardening has increased this past year by 800% in parts of Arizona. With the economy, the ever growing focus on the environment and our President's veggie garden, we should continue to see a radical increase in the edible gardening movement throughout this year.
In other news, the dates for this year's Washington Cherry Blossom Festival are March 28-April 14. The peak bloom period is forecasted for April 1-4. The timing of the cherry trees blooming has become almost as big of an event as when the groundhog sees its shadow on Groundhog Day. If you want to keep track of the progress of the blooms, click here. For more general information on the festival, click here.
A recommendation for a 'look-see' of a new blog that came across my desk: GardenGenetics. It's a company that does contract plant breeding and develops proprietary plant genetics in ornamentals. How cool is that?
If you want to see something really extraordinary, check out this post on an incredibly unique miniature garden.
A big thank you to you, our readers, who have allowed us into your gardening worlds so that we can share some of our experiences, information, ideas, joys and frustrations of gardening as well as listening to your stories. After all, aren't we all, to some degree, storytellers in the gardening blogosphere?