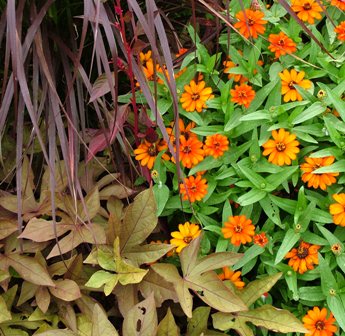 "Invention flags, his brain goes muddy, And black despair succeeds brown study."
William Congreve (1670-1729)
I can't pretend to know exactly what inspired Mr. Congreve's rhyme, but if he were alive today, he could easily be referring to a gardener confronted with some of the brown-leaved plants that have appeared in nurseries and garden centers over the past few years. Certainly, trying to figure out how to make good use of these already-dead-looking eccentricities is enough to turn one's brain a little muddy, but it's hardly cause for black despair.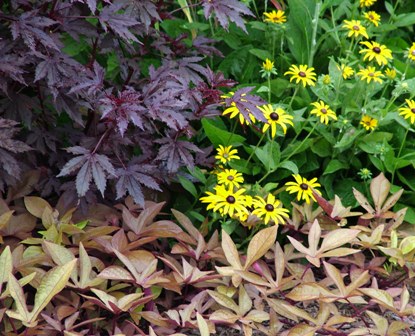 Part of the trick, I think, is making the color look intentional. If you plunk one brown-leaved plant next to others with rich green leaves, the brown one may look "wrong" simply because it's so different. Now, if you're looking for shock or amusement value, that can work just fine. But if you're a little concerned that your friends and neighbors already think you're a little south of normal, then you might want to put a bit more thought into how you use brown foliage.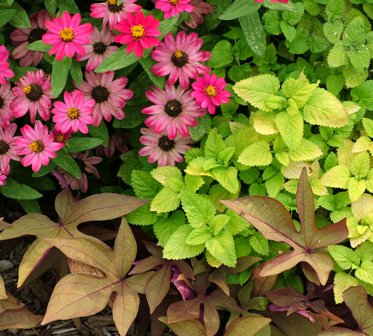 Just as there are all kinds of "green," simply describing a leaf as "brown" doesn't really help you much. It can be greenish brown, pinkish brown, yellowish brown, orangey brown, reddish brown, purplish brown, grayish brown, or any combination of any of those. 'Sweet Caroline Bronze' sweet potato vine (Ipomoea batatas), for instance, has somewhat reddish brown new leaves, gradually aging through greenish brown to yellowish brown, with pinkish undersides. That creates lots of options for interesting partnerships. And then there are the brown New Zealand sedges (Carex), which often have peachy or pinkish tones. Another of my favorite browns is Haloragis erecta 'Wellington Bronze', which is distinctly greenish brown in shady spots and a rich saddle-leather brown in full sun.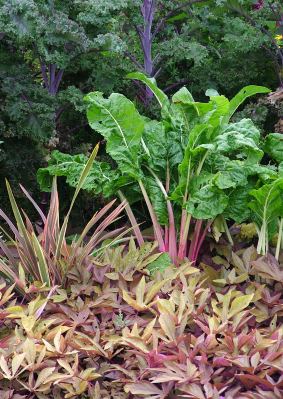 When I'm choosing flowering partners for brown foliage in sunny sites, I tend to stick with bright colors, such as vibrant 'Profusion Orange' or 'Profusion Cherry' zinnias or rich yellow black-eyed Susans (Rudbeckia). I also like to use Sundown coneflower (Echinacea 'Evan Saul'), because it includes both rich orange new blooms and rosy pink older ones on the same plant. For leafy bedmates, chartreuse foliage is outstanding for a touch of contrast, especially in some shade, while deep maroons and purples create moody partnerships. Pink foliage isn't very abundant, but pink-stemmed Swiss chard can work well instead for creating a gentle harmony in either full sun or light shade.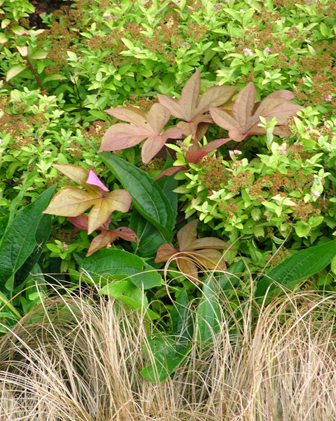 Using brown foliage to "echo" other browns in your garden is another way to make it appear that it belongs. I think it looks great with golden spireas, for instance, because it contrasts with the yellow leaves, then harmonizes with the pink flowers, and then echoes the browning seedheads. Lots of other seedheads that turn shades of deep brown to light tan repeat the colors of brown foliage, with the added benefit of making neglected deadheading into a benefit instead of cause for guilt. Coppery to bronzy ornaments, and brown-colored mulches and paving, can also help tie brown foliage into the rest of the garden.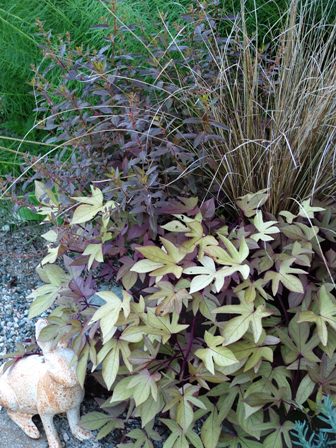 Still not sure about adding brown foliage to your borders? Then try it in containers! This combination of Haloragis 'Wellington Bronze', Carex buchananii, and 'Sweet Caroline Bronze' sweet potato vine was inspired by my neighbor, Nadeen McShane, who used Carex comans instead and displayed hers in a striking teal-colored pot. I went for more of a monochrome effect with a deep brown pot, and I like the combo so much that I've repeated it for several years in a row. Grouping browns together guarantees that they look intentional. And if you're as bad at remembering to water your container plantings as I am, then an all-brown one like this will fit in beautifully with all the others!