Natural Disguise, or in French, Desguisement naturel, has been on my bookshelf for at least the past ten years. It is a composite of one artist's work that is deeply entwined with nature. Judy Garfin is a Canadian artist who resides in Montreal. Natural Disguise is filled with astounding renderings of her paintings of Nature. No words can do these paintings justice but the description on the front cover flap is the closest to it: "Our eye moves from one detail to the next through an eclectic interweave of growth, colour and form. Nature, in all its ethereal chaos, disguised as a myriad of levels of surface pattern, texture, matter and living form, masks and reveals our relation to some absolute presence or absence."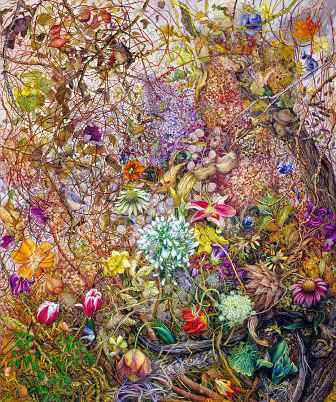 Within the contents of the book, there is an interview where the reader gets a clearer understanding of Judy's background, her motivations for doing particular paintings at certain junctures in her life and her deeply fluid relationship with nature. As she writes: "My paintings are my interpretation of nature as a layered and complex experience." Each painting is accompanied with an interpretation by Judy of what motivated her when painting a specific piece.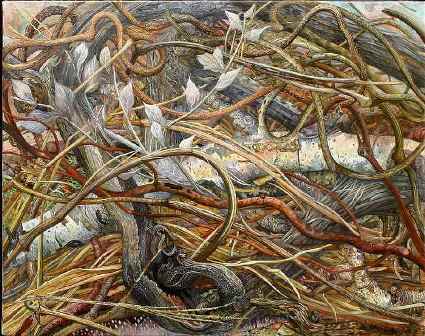 This book is not an easy 'find' but it is worth the effort. Because Judy lives in Montreal, the book is written in both English and French. If, like me, you are deeply affected by works of art, then this book is for you.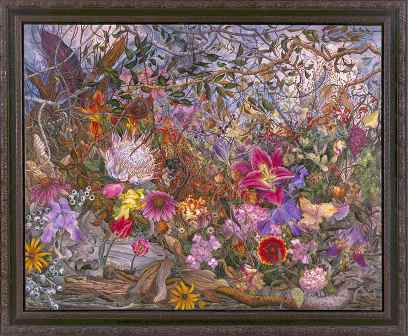 For several gardeners, including myself, the act of gardening is a profound spiritual experience. It is rare that I stumble upon a gardening book that is so emotionally delicious that I feel a sense of sadness and loss upon completing it.
Such is the case with Growing Myself: A Spiritual Journey Through Gardening by Judith Handelsman. It was sent to me this summer by a friend who was surprised that I didn't already have it in my gardening library. This book is a personal journey of one woman's travels around the world throughout different phases of her life. Her gardens, wherever she lived, stimulated her senses, nurtured her and acted as a metaphor in other realms of her life. Judith takes the spiritual relationship between humans and plants to a deeper level by discussing her belief that talking and touching plants can be critical to their health and survival. She then proceeds to show several instances where she incorporated this technique in relating to plants with positive results: whether it be when she divided a plant, when rescuing a sickly looking plant or when transplanting.
At one point in my life, I might have found Judith's interpersonal relationships with plants to be a bit sappy. But no more! Because of her, I have found myself touching and talking to my sickly looking Pyrus salicifolia 'Pendula' whose leaves were rapidly dropping a few weeks ago. I knew it was not for lack of water. When inspecting its leaves, I thought its sorry state might be due to some type of fungus. Determined to experiment with Judith's technique before spraying with an organic fungicide, I began to talk to the tree each day, telling it to get better and that its presence in my life means a great deal to me. I also made sure to touch its leaves, hoping that it felt my positive energy and would respond to it. Lo and behold, after a few weeks, I have noticed new buds on its lower limbs: nothing drastic but definitely noteworthy.
By the time you finish reading Growing Myself, you will feel that Judith has allowed you to get to know her intimately. She inspired this reader to relate to plants and access feelings in ways that I had never done before.