Over the years I've gone through a slew of spring blooming trees that either got knocked down by storms or that I had removed due to landscape renovations. Those years allowed me to experiment with a variety of plant material and learn what it was that I didn't want in my garden. It wasn't until about ten years ago that I began to hit my stride in selecting some spring blooming trees that I felt could be 'lifers' in my garden as well as in gardens that I design. And even now, I still have trees in my garden that, although I may love, I would not choose to have in my garden if I were planting them today.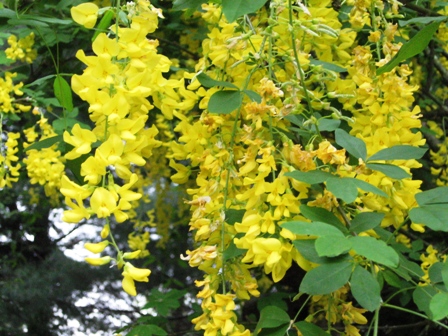 When I first saw Laburnum x watereri, commonly known as the Golden chain tree, at Rosemary Verey's Barnsley House, along with a multitude of Allium aflatunense under the canopy of the hanging laburnum flowers, it took my breath away. It was one of those 'must have' trees. Each spring, the pair at the end of my cutting garden gives me a great thrill while in bloom but are inconsequential afterwards. I would not choose to have this tree in another garden. It only shows well for one month and is a non-native. For a tree to land in my own garden today, it needs to offer multi-season interest, work well in conjunction with other plant material and be native.
Halesia carolina, (Halesia tetraptera) commonly known as Carolina silverbell, is well known for being draped with thousands of clusters of nodding, bell shaped white flowers up to close to one inch long. In mid-late spring, they hang in abundance from the branches, before its green leaves, which turn yellow in the fall, emerge. Flowers are followed by 4-winged, pear shaped fruits. Carolina silverbell grows up to 30 feet at a pretty rapid pace. In the native woodland, it works beautifully as an understory tree, along with Cercis candedensis 'Forest Pansy'. It is hardy in Zones 4-8. It is one of those dream trees that offers all of the attributes I look for in understory spring bloomers.In the first picture below, it is difficult to distinguish the Carolina silverbell interspersed with the other trees. But in the second photo, which is a close up of the flowers, you can see what a stunner its blossoms are.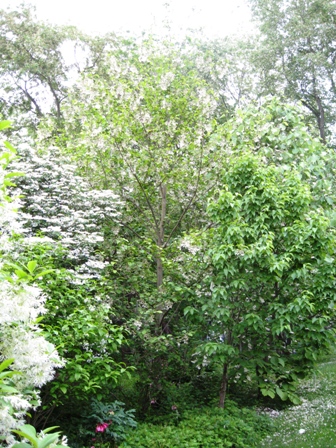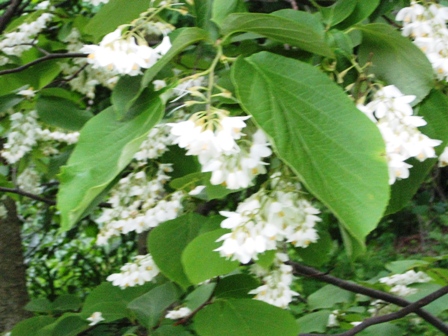 Pterostyrax corymbosa, commonly known as Little Epaulette Tree, is a deciduous tree with peeling bark that is native to the mountain woodlands of China and Japan. It has alternate, oblong, pale green leaves, with panicles of pendulous, extremely fragrant, 5 lobed white flowers on 3-6″ panicles in May-June, along with winged fruit. It thrives in neutral to acidic soil in full sun or partial shade: it's perfect for the edge of a woodland. As much as I love this tree, I think if I were re-planting that area today, I would use Carolina, Mountain or Two Winged Silver Bell in its place. As much as I find its fragrance intoxicating, planting native trees is at the top of my list of priorities. It is hady in Zones 5-7.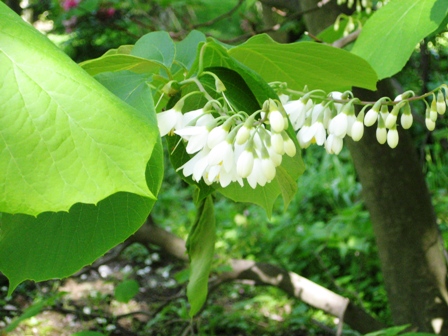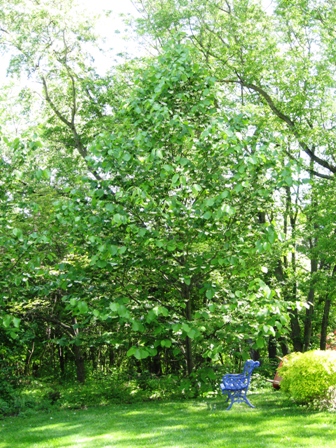 Chionanthus virginicus, commonly known as Old Man's Beard or White Fringe Tree, is perfect in practically any garden. It is a small rounded tree, having the ability at maturity to grow to both a height and width of 10 feet (although in certain reference books I've read where it can reach 20′). It has an amazing amount of extremely fragrant, fluffy white flowers on losse panicles of 6 inches or longer from mid-May through June, followed by purple/blackish fruits. In the fall, its leaves turn yellow and stay on the tree often after leaves of other trees have already dropped. It fits beautifully in herbaceous borders (as shown below). White Fringe Tree can either be used as a small tree (prune lower branches) or in a shrub border. It thrives in full in fertile, well-drained soil. I have 3 of them dotted about my front perennial/rose border. As a native specimen with multi-season interest, without a doubt, I would use it again in a hearbeat.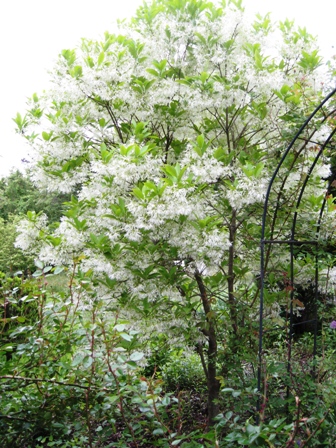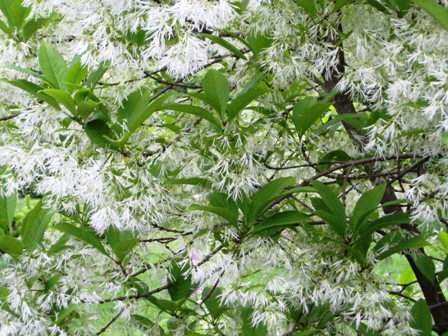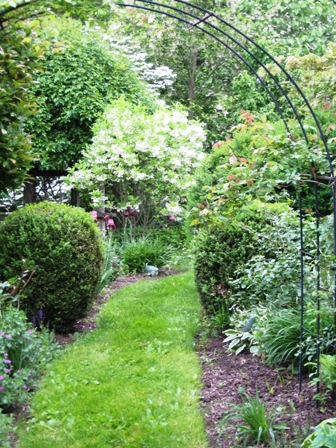 In a post from several months ago, you heard me voice my complaints about the Robinisa pseudocacia 'Frisia'. Initially, I was so in love with this tree that I proceeded to plant 4 Robinia hispida 'Idaho' as street specimens, at the front edge of my property. I believe that I had seen some variation of them in one of the gardens at Hidcote several years ago and it became one of those trees that left an indelible print on me. The good news with robinia, commonly known as Black locust, is that it is a fast grower, often adding on more than one foot of new growth per year, with lovely pinnate, dark green leaves. While in bloom, from May-June, there is few other trees that can 'stop you in your tracks' the way that a robinia can. The 4 pink robinias that I have out front are show stoppers. Cars literally come to a stop in front of my home to get a good look at these specimens. Their fragrance is overwhelmingly intoxicating and the bloom is followed by smooth brown seed pods. The downside of these trees is that they can become incredibly invasive, shooting up in unwanted places at a rapid pace. They are extremely brittle, breaking easily when windy and are so fast growing that unless you maintain a strict schedule of hard pruning after flowering, they can become unwieldly. Another plus going for this tree though is that it is native, found in woodlands and thickets in North America. Depending on the specmen, it is hardy in Zones anywhere from 4-9 and does well in a sunny location. The jury is out on whether or not I would use robinias again in my landscape.